Abstract

Micropropagation is an important tool for rapid multiplication and the creation of genetic variability in African violets (Saintpaulia ionantha Wendl.). Successful in vitro propagation depends on the specific requirements and precise manipulation of various factors such as the type of explants used, physiological state of the mother plant, plant growth regulators in the culture medium, and growth conditions. Development of cost-effective protocols with a high rate of multiplication is a crucial requirement for commercial application of micropropagation. The current chapter describes an optimized protocol for micropropagation of African violets using leaf explants obtained from in vitro grown plants. In this process, plant regeneration occurs via both somatic embryogenesis and shoot organogenesis simultaneously in the explants induced with the growth regulator thidiazuron (TDZ; N-phenyl-N′-1,2,3-thidiazol-5-ylurea). The protocol is simple, rapid, and efficient for large-scale propagation of African violet and the dual routes of regeneration allow for multiple applications of the technology from simple clonal propagation to induction or selection of variants to the production of synthetic seeds.
Key words
African violet

Saintpaulia ionantha

Micropropagation

Somatic embryogenesis

Organogenesis

Regeneration

Root initiation

Thidiazuron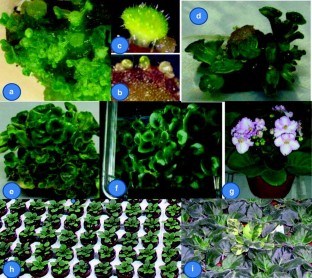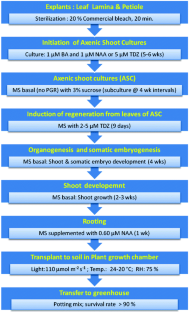 References
Al-Hussein S, Shibli RA, Karam NS (2006) Regeneration in African violet (Saintpaulia ionantha Wendl.) using different leaf explants, cytokinins sources, and light regimes. Jordan J Agric Sci 2:361–371

Bilkey PC, Cocking EC (1981) Increased plant vigor by in vitro propagation of Saintpaulia ionantha Wendl. from sub-epidermal tissue. HortScience 16:643–644

Harney PM, Knop A (1979) A technique for the in vitro propagation of African violets using petioles. Can J Plant Sci 59:263–266

Lo KH (1997) Factors affecting shoot organogenesis in leaf disc cultures of African violets. Sci Hortic 72:49–57

Start ND, Cumming BG (1976) In vitro propagation of Saintpaulia ionantha Wendl. HortScience 11:204–206

Vazquez AM, Davey MR, Short KC (1977) Organogenesis in cultures of Saintpaulia ionantha. Acta Hortic 78:249–259

Mithila J, Hall JC, Victor JMR, Saxena PK (2003) Thidiazuron induces shoot organogenesis at low concentrations and somatic embryogenesis at high concentrations on leaf and petiole explants of African violet (Saintpaulia ionantha Wendl.). Plant Cell Rep 21:408–414

Murch SJ, Victor JMR, Saxena PK (2003) Auxin, calcium and sodium in somatic embryogenesis of African violet (Saintpaulia ionantha Wendl. Cv. Benjamin). Acta Hortic 625:201–209

Daud N, Taha RM, Hasbullah NA (2008) Studies on plant regeneration and somaclonal variation in Saintpaulia ionanttha Wendl (African violet). Pak J Biol Sci 11:1240–1245

Taha RM, Daud N, Hasbullah NA (2010) Establishment of efficient regeneration system, acclimatization and somaclonal variation in Saintpaulia ionantha H. Wendl. Acta Hortic 865:115–121

Jain SM (1993) Somacloal variation in Begonia x elatior and Saintpaulia ionantha L. Sci Hortic 54:221–231

Jain SM (1997) Micropropagation of selected somaclones of Begonia and Saintpaulia. J Biosci 22:585–592

Khan S, Naseeb S, Ali K (2007) Callus induction, plant regeneration and acclimatization of African violet (Saintpaulia ionantha) using leaves as explants. Pak J Bot 39:1263–1268

Shajiee K, Tehranifar A, Naderi R, Khalighi A (2006) Somaclonal variation induced de novo leaf chimeric mutants during in vitro propagation of African violet (Saintpaulia ionantha Wendl.). Acta Hortic 725:337–340

Fiola JA, Hassan MA, Swartz HJ, Bors RH, McNicols R (1990) Effects of thidiazuron, light influence rates and kanamycin on in vitro shoot organogenesis from excised Rubus cotyledons and leaves. Plant Cell Tissue Organ Cult 20:223–228

Malik KA, Saxena PK (1992) Thidiazuron induces high frequency shoot regeneration in intact seedlings of pea (Pisum sativum), chickpea (Cicer arietinum) and lentil (Lens culinaris). Aust J Plant Physiol 19:731–740

Murthy BNS, Murch SJ, Saxena PK (1998) Thidiazuron: a potent regulator of in vitro plant morphogenesis. In Vitro Cell Dev Biol Plant 34:267–275

Panaia M, Senaratna T, Dixon KW, Sivasithamparam A (2004) The role of cytokinins and thidiazuron in the stimulation of somatic embryogenesis in key members of the Restionaceae. Aust J Bot 52:257–262

Sharma VK, Hansch R, Mendel RR, Schulze J (2005) Influence of Picloram and Thidiazuron on high frequency plant regeneration in elite cultivars of wheat with long-term retention of morphogenecity using meristematic shoot segments. Plant Breed 124:242

Sheibani M, Nemati SH, Davarinejad GH, Azghandi AV, Habashi AA (2007) Induction of somatic embryogenesis in saffron using thidiazuron (TDZ). Acta Hortic 739:259–268

Chhabra G, Chaudhary D, Varma M, Sainger M, Jaiwal PK (2008) TDZ-induced direct shoot organogenesis and somatic embryogenesis on cotyledonary node explants of lentil (Lens culinaris Medik.). Physiol Mol Biol Plants 14:347–353

Ma G, Lu J, da Silva JAT, Zhang X, Zhao J (2011) Shoot organogenesis and somatic embryogenesis from leaf and shoot explants of Ochna integerrima (Lour). Plant Cell Tissue Organ Cult 104:157–162

Magyar-Tabori K, Dobranszki J, da Silva JAT, Bulley SM, Hudak I (2010) The role of cytokinins in shoot organogenesis in apple. Plant Cell Tissue Organ Cult 101:251–267

Jones MPA, Cao J, O'Brien R, Murch SJ, Saxena PK (2007) The mode of action of thidiazuron: auxins, indoleamines, and ion channels in regeneration of Echinacea purpurea L. Plant Cell Rep 26:1481–1490

Murashige T, Skoog F (1962) A revised medium for rapid growth and bioassays with tobacco tissue cultures. Physiol Plant 15:473–497

Murthy BNS, Victor JMR, Singh RP, Fletcher RA, Saxena PK (1996) In vitro regeneration of chickpea (Cicer arietinum L):stimulation of direct organogenesis and somatic embryogenesis by thidiazuron. Plant Growth Regul 19:233–240
Acknowledgement

This research was supported by grants from the Ontario Ministry of Agriculture, Food and Rural Affairs and the Natural Sciences and Engineering Council of Canada.
Copyright information

© 2012 Springer Science+Business Media New York
About this protocol
Cite this protocol
Shukla, M., Sullivan, J.A., Jain, S.M., Murch, S.J., Saxena, P.K. (2012). Micropropagation of African Violet (Saintpaulia ionantha Wendl.). In: Lambardi, M., Ozudogru, E., Jain, S. (eds) Protocols for Micropropagation of Selected Economically-Important Horticultural Plants. Methods in Molecular Biology, vol 994. Humana Press, Totowa, NJ. https://doi.org/10.1007/978-1-62703-074-8_22
DOI: https://doi.org/10.1007/978-1-62703-074-8_22

Published:

Publisher Name: Humana Press, Totowa, NJ

Print ISBN: 978-1-62703-073-1

Online ISBN: 978-1-62703-074-8

eBook Packages: Springer Protocols