Abstract

Usually proteins are separated by polyacrylamide gel electrophoresis (PAGE) in the presence of a detergent and under (heat-) denaturing and (non- or) reducing conditions. The most commonly used detergent is sodium dodecyl sulfate (SDS). The major function of SDS is to shield the respective charge of the proteins present in the mixture to be analyzed and to provide all proteins with a negative charge. As a consequence, the proteins will be separated according to their molecular weight. Electrophoresis of proteins can also be performed in the absence of SDS. Using such "native" conditions, the charge of each of the proteins, which will depend on the primary amino acid sequence of the protein (isoelectric point) and the pH during electrophoresis, will mainly influence the mobility of the respective protein during electrophoresis. Here we describe a starting protocol for "native" PAGE.
Key words
"Native" polyacrylamide gels

"Blue native" polyacrylamide gels

Proteins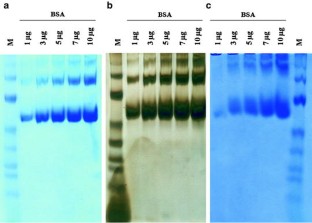 References
Laemmli UK (1970) Cleavage of structural proteins during the assembly of the head of bacteriophage T4. Nature 227:680–685

Studier FW (1973) Analysis of bacteriophage T7 early RNAs and proteins on slab gels. J Mol Biol 79:237–248

Niepmann M, Zheng J (2006) Discontinuous native protein gel electrophoresis. Electro­phoresis 27:3949–3951

He XM, Carter DC (1992) Atomic structure and chemistry of human serum albumin. Nature 358:209–215
Acknowledgments

Special thanks for excellent technical support to Christin Gräfe, Livia Schulze, und Barbara Uteß (Inst. Immunology, Dresden, Germany).
Copyright information

© 2012 Springer Science+Business Media, LLC
About this protocol
Cite this protocol
Arndt, C., Koristka, S., Bartsch, H., Bachmann, M. (2012). Native Polyacrylamide Gels. In: Kurien, B., Scofield, R. (eds) Protein Electrophoresis. Methods in Molecular Biology, vol 869. Humana Press, Totowa, NJ. https://doi.org/10.1007/978-1-61779-821-4_5
DOI: https://doi.org/10.1007/978-1-61779-821-4_5

Published:

Publisher Name: Humana Press, Totowa, NJ

Print ISBN: 978-1-61779-820-7

Online ISBN: 978-1-61779-821-4

eBook Packages: Springer Protocols