Adeno-Associated Virus Mediated Gene Therapy for Retinal Degenerative Diseases
Part of the Methods in Molecular Biology book series (MIMB, volume 807)
Abstract
Retinal gene therapy holds great promise for the treatment of inherited and noninherited blinding diseases such as retinitis pigmentosa and age-related macular degeneration. The most widely used vectors for ocular gene delivery are based on adeno-associated virus (AAV) because it mediates long-term transgene expression in a variety of retinal cell types and elicits minimal immune responses. Inherited retinal diseases are nonlethal and have a wide level of genetic heterogeneity. Many of the genes have now been identified and their function elucidated, providing a major step towards the development of gene-based treatments. Extensive preclinical evaluation of gene transfer strategies in small and large animal models is key to the development of successful gene-based therapies for the retina. These preclinical studies have already allowed the field to reach the point where gene therapy to treat inherited blindness has been brought to clinical trial.
In this chapter, we focus on AAV-mediated specific gene therapy for inherited retinal degenerative diseases, describing the disease targets, the preclinical studies in animal models and the recent success of the LCA-RPE65 clinical trials.
Key words
Inherited retinal diseases 
Retina 
Gene therapy 
AAV 
AAV serotypes 
Animal models 
RPE65 clinical trial 
1

Introduction

Several human clinical trials are ongoing or in preparation using recombinant Adeno-Associated Virus (rAAV), derived from a nonpathogenic virus, as a vehicle to treat or cure disease. rAAV has proven to be effective for treatments of a variety of eye disorders in preclinical studies (reviewed by refs.

1

,

2

,

3

) partly because its ability to transduce nondividing cells has made it especially suitable for the retina. Indeed retinal tissue has distinct advantages for rAAV-mediated therapy: the tissue can be easily imaged and researchers have a contralateral eye as the ideal internal control for an in vivo experiment. The diverse populations of retinal cells are arranged in discrete layers and their connections are so well mapped that investigators can determine the specific tropism of the injected virus (see Fig.

1

for retinal anatomy). Apart from these practical advantages, a less well understood but potentially critical benefit to retinal gene delivery is the relative naivety of the tissue to the innate and adaptive immune system. Corneal transplantation already takes advantage of the eye's "immune privileged" status. Re-administration studies in mice, dogs, and in nonhuman primates have verified the lack of inflammatory response after delivery and repeated delivery of AAV to the retina (

4

,

5

,

6

). Thus there are many contributing factors that have motivated investigators to make the retina an early candidate tissue for human gene therapy. Recent successes in this field have shown it to be a judicious choice. In fact AAV's promise in the retina may give renewed validity to gene therapy in general, as it has allowed lessons learned from early clinical trials to ultimately be put into practice.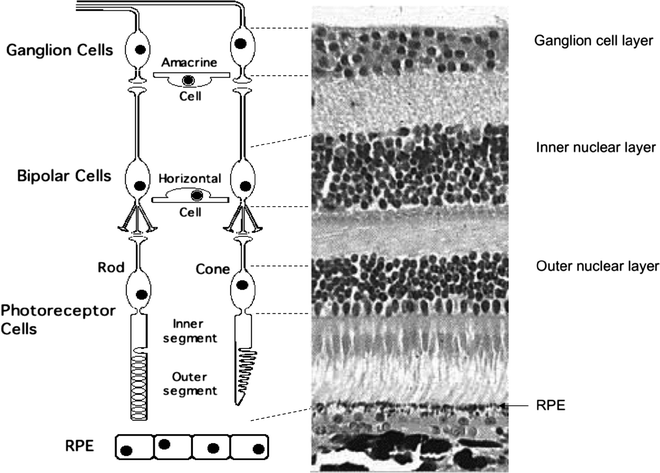 Retinal diseases are non-lethal and do not in general have a significant adverse effect on fertility or reproduction within a population. This accounts for the wide level of genetic heterogeneity, which presents the pathologies with an equally broad range of clinical guises; in brief, retinal degeneration (RD) as a disease group is a challenge to categorize. Nonetheless, this mutational complexity has attracted the attention of molecular and clinical geneticists worldwide. Oftentimes their research efforts are supported by highly motivated patient groups. In addition to tireless fund raising, these groups provide information on family genealogy, enabling projects that map linked genes and reveal the identity of many causal mutations. Emerging alongside this gene discovery effort has been the advances in transgenic animal modelling, primarily using mice, frogs and zebrafish. This has helped investigators to elucidate the molecular pathology that leads from a mutant gene to such conditions as choroidemia (7), Stargardt's disease (8), retinitis pigmentosa (9, 10) and X-linked juvenile retinoschisis (11). The molecular genetics behind these diseases will be discussed in greater depth in Subheading 2. In many cases it is the naturally occurring animal models that have been more relevant in discerning the physiopathological bases of the degeneration. While the Royal College of Surgeons (RCS) rat is the first known animal model of inherited RD, the rd1 mouse is the best characterised, having been studied for well over 80 years (12). Screens for spontaneous mutations in zebrafish have helped in the understanding of retinal development (13) and have been used to test therapeutic agents (14). However, timing therapeutic rescue in the animal models can be complicated, with the pathology being either too severe where it arises early in development, or too mild where it arises late in the lifespan of the animal.
The move to large animal testing marked a critical turning point in the research and accelerated the pace of discovery to clinical application. This was largely due to the many differences in retinal anatomy across species and the reality that direct comparisons cannot be made between a mouse and a man. While dogs do not have the highly pigmented macular region near the center of the retina found in primates, they do have a cone-enriched portion of the area (area centralis). Because of the size, surgical approaches similar to those that would be used in a human can be used (15). Further, canine models of inherited RDs have been very informative with respect to AAV therapies. The rescue of the disease in one such model, the Briard dog, established the therapeutic window available for the successful treatment of a form of retinal degeneration, Leber's congenital amaurosis (LCA), by gene augmentation therapy (16, 17, 18, 19, 20, 21). This therapeutic approach has taken advantage of the long-term stability of transgene expression mediated by AAV. Where the dog model has been important in treatment design, the nonhuman primate has been important for preclinical testing of toxicity and immune response to both AAV and the therapeutic transgene it delivers (6, 22).
Furthermore, the work in large animal models has allowed investigators to optimise technical aspects of the injection procedure, retinal function testing, and imaging used to evaluate efficacy. All this has brought the field to the point where gene therapy to treat inherited blindness has been brought to clinical trial (23, 24, 25); a point that would not yet have been reached but for the animals with naturally occurring and engineered retinal phenotypes. Although challenges lie ahead, it is only a matter of time before proof-of-concept of gene augmentation therapy for other forms of retinal degeneration brings other blinding diseases to clinical trial.
2

Disease Targets

The retinal diseases can be divided into two groups, the hereditary degenerative disorders, and the neovascular disorders. While the first group of diseases is solely due to mutations in certain genes, the second group has its origins in a more complex mix of genetic and environmental causes.

In the following chapter, the authors will present the hereditary retinal disorders, which have been targeted for gene therapy using AAV vectors (Table

1

).

Table 1

Retinal degenerative diseases that have been targeted by AAV-mediated gene therapy
| Disease | Prevalence | Inheritance pattern | Target genes for gene therapy | Location of mutated gene |
| --- | --- | --- | --- | --- |
| Rod-cone dystrophy | 1:4,000 | ar, ad, X | Rho, PDE6ß, ABCA4, RPE65, LRAT, RDS/Peripherin, MERTK, IMPDH1 | RPE, PR |
| Cone-rod dystrophy | 1:40,000 | ar, ad, X | GUCY2D, RDS/Peripherin, AIPL1, ABCA4, RPGRIP1 | RPE, PR |
| LCA/EOSRD | 1:80,000 | ar, (ad) | IMPDH1, AIPL1, GUCY2D, LRAT, MERTK, RPGRIP1, RPE65 | RPE, PR |
| Juvenile maculopathy (M. Stargardt) | 1:10,000 | ar | ABCA4 | PR |
| Stationary cone dystrophy (achromatopsia) | 1:30,000 | ar | GNAT2, CNGB3 | PR |
| Juvenile retinoschisis | 1:15,000–30,000 | X | Rs1 | PR |
| Ocular albinism | 1:60,000 | X | OA1 | RPE |
| Oculocutaneous albinism | Not known | ar | (OCA1) tyrosinase | RPE |
The hereditary degenerative disorders of the retina are primarily divided into three groups, depending on which type of photoreceptor manifests the initial insult, rods, or cones. These three groups include rod-cone dystrophies (Retinitis pigmentosa, RP), cone-rod dystrophies and cone dystrophies (maculopathies). In addition, the wide range of clinical symptoms in these diseases has resulted in the definition of two subgroups, in which the most severe forms of the degenerative disorders are included, LCA and early onset severe retinal dystrophy (EOSRD). However, more hereditary retinal diseases exist that have been subjected to the development of retinal gene therapy strategies. They include the stationary cone dysfunction disorder achromatopsia, retinoschisis, which is due to the separation of retinal layers and subsequent loss of retinal circuits, and albinism.
The visual symptoms in retinal degenerative disorders indicate the gradual loss of the two photoreceptor types: rods, which are present in the periphery and mediate achromatic vision under poor lightning conditions; and cones, which are concentrated in the central area (macula) and are important for color vision and fine visual acuity in daylight.
The different forms of hereditary retinal disorders will be shortly presented with prevalence, clinical symptoms and genetic situation with the aim to provide the reader with some background for the better understanding of the therapeutic applications.
4

Conclusion

There has been great progress over the past decade in characterizing and generating animal models for retinal degeneration, developing and testing strategies for ameliorating the disease process and moving the promising proof-of-concept data into clinical trials. Because of these strides, there is great promise for future applications of AAV-mediated gene therapy for blindness. There are a number of technical and economic challenges that must be tackled to be able to successfully ameliorate these inherited conditions. In addition, there are still a number of safety concerns, including issues relating to immune response, stability, and long-term effects of high levels of transgene expression. However, meticulous preclinical safety and efficacy studies combined with a cautious, stepwise translational approach based on a careful evaluation of risk: benefit ratios will lead the way to the ultimate goal of being able to use rAAV to ameliorate or possibly even cure forms of inherited blindness.
Copyright information
© Springer Science+Business Media, LLC 2012