Abstract

Polo-like kinase 1 (Plk1) is a key player in mitosis and has been widely recognized as a therapeutic target for many human cancer types. Apart from its kinase domain, Plk1 harbors a protein–protein interaction domain dubbed "polo-box domain" (PBD), by which the enzyme binds to its intracellular anchorage sites and to at least a fraction of its substrates. Recent evidence indicates that the inhibition of the PBD by small molecules is feasible and might allow for the discovery of highly specific inhibitors of the enzyme. This chapter details the practical work necessary to set up an assay based on fluorescence polarization for the discovery of inhibitors of the Plk1 PBD, which can be used for high-throughput screening in a 384-well format.
Key words
Binding assay

Fluorescence polarization

High-throughput screening

Polo-box domain

Polo-like kinase 1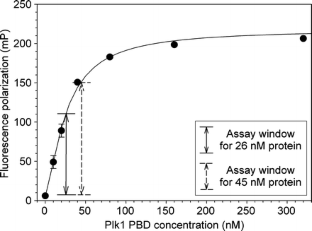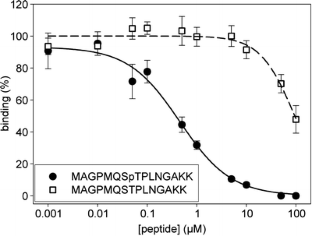 References
Barr, F. A., Sillje, H. H., and Nigg, E. A. (2004) Polo-like kinases and the orchestration of cell division. Nat. Rev. Mol. Cell Biol. 5, 429–40.

Petronczki, M., Lénárt, P., and Peters, J. M. (2008) Polo on the Rise – from Mitotic Entry to Cytokinesis with Plk1. Dev. Cell 14, 646–59.

Strebhardt, K., and Ullrich, A. (2006) Targeting polo-like kinase 1 for cancer therapy. Nat. Rev. Cancer 6, 321–30.

Elia, A. E., Cantley, L. C., and Yaffe, M. B. (2003) Proteomic screen finds pSer/pThr-binding domain localizing Plk1 to mitotic substrates. Science 299, 1228–31.

Elia, A. E., Rellos, P., Haire, L. F., Chao, J. W., Ivins, F. J., Hoepker, K., Mohammad, D., Cantley, L. C., Smerdon, S. J., and Yaffe, M. B. (2003) The molecular basis for phosphodependent substrate targeting and regulation of Plks by the Polo-box domain. Cell 115, 83–95.

Reindl, W., Yuan, J., Kramer, A., Strebhardt, K., and Berg, T. (2008) Inhibition of Polo-like Kinase 1 by Blocking Polo-Box Domain-Dependent Protein-Protein Interactions. Chem. Biol. 15, 459–66.

Watanabe, N., Sekine, T., Takagi, M., Iwasaki, J., Imamoto, N., Kawasaki, H., and Osada, H. (2009) Deficiency in chromosome congression by the inhibition of Plk1 polo box domain-dependent recognition. J. Biol. Chem. 284, 2344–53.

Reindl, W., Yuan, J., Kramer, A., Strebhardt, K., and Berg, T. (2009) A Pan-Specific Inhibitor of the Polo-Box Domains of Polo-like Kinases Arrests Cancer Cells in Mitosis. Chembiochem 10, 1145–48.

Reindl, W., Strebhardt, K., and Berg, T. (2008) A high-throughput assay based on fluorescence polarization for inhibitors of the polo-box domain of polo-like kinase 1. Anal. Biochem. 383, 205–9.

Owicki, J. C. (2000) Fluorescence polarization and anisotropy in high throughput screening: perspectives and primer. J. Biomol. Screen. 5, 297–306.
Acknowledgments

This work was generously supported by the Department of Molecular Biology (director: Axel Ullrich) at the Max Planck Institute of Biochemistry, and the Bundesministerium für Bildung und Forschung (NGFN-2, grant 01GS0453 to K.S. and grant 01GS0451 to T.B.).
Copyright information

© 2012 Springer Science+Business Media, LLC
About this protocol
Cite this protocol
Reindl, W., Strebhardt, K., Berg, T. (2012). A Fluorescence Polarization Assay for the Discovery of Inhibitors of the Polo-Box Domain of Polo-Like Kinase 1. In: Kuster, B. (eds) Kinase Inhibitors. Methods in Molecular Biology, vol 795. Humana Press. https://doi.org/10.1007/978-1-61779-337-0_5
DOI: https://doi.org/10.1007/978-1-61779-337-0_5

Published:

Publisher Name: Humana Press

Print ISBN: 978-1-61779-336-3

Online ISBN: 978-1-61779-337-0

eBook Packages: Springer Protocols