Abstract

The studies of molecular events that occur in single cell types within a tissue often require the disaggregation of the tissue into a single cell suspension, followed by isolation of distinct cell populations. The germinal epithelium of mammals is composed of several cell types, which divide mitotically, before entering meiosis. In this chapter, we describe the isolation of five mouse germ-cell fractions by centrifugal elutriation, and characterize them by their DNA content (flow cytometry), cell morphology (DAPI staining of nuclei, Giemsa staining of squashed cells) and deposition of stage-specific meiotic markers (SYCP3, H1t, SAM68) on chromosome spreads and whole cells. Within 2 h it is possible to obtain enriched populations of elongated spermatids (up to ∼50% of the fraction), round spermatids (up to ∼80%), primary spermatocytes (up to ∼89%), and secondary spermatocytes (up to ∼17%). Furthermore, most of the collected spermatocytes of the primary spermatocyte fraction are in early-mid pachytene stage as judged by chromosome spreads, enriched up to ∼89%. Elutriation and techniques used for characterization of germ cell fractions are described.
Key words
Centrifugal elutriation

sedimentation velocity

germ cell purification

meiosis

mouse

germ cells

SYCP3

H1t

SAM68

testis

spermatogenesis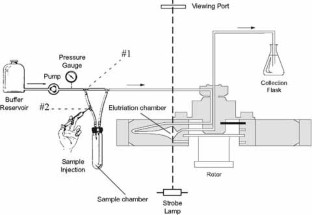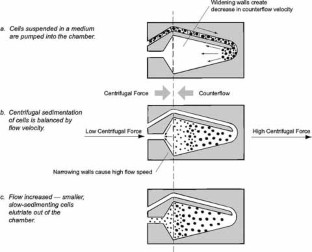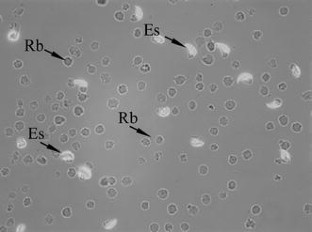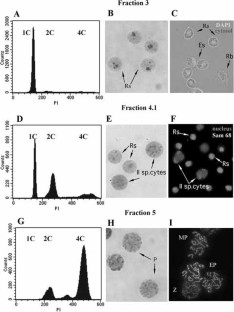 References
Letts, P.J., Meistrich, M.L., Bruce, W.R., and Schachter, H. (1974). Glycoprotein glycosyltransferase levels during spermatogenesis in mice. Biochim. Biophys. Acta 343, 192–207.

Miller, R.G. and Phillips, R.A. (1969). Separation of cells by velocity sedimentation. J. Cell Physiol. 73, 191–201.

Lam, D.M., Furrer, R., and Bruce, W.R. (1970). The separation, physical characterization, and differentiation kinetics of spermatogonial cells of the mouse. Proc. Natl. Acad. Sci. USA 65, 192–199.

Geremia, R., Boitani, C., Conti, M., and Monesi, V. (1977). RNA synthesis in spermatocytes and spermatids and preservation of meiotic RNA during spermiogenesis in the mouse. Cell Differ. 5, 343–355.

Grippo, P., Geremia, R., Locorotondo, G., and Monesi, V. (1978). DNA-dependent DNA polymerase species in male germ cells of the mouse. Cell Differ. 7, 237–248.

Wyrobek, A.J., Meistrich, M.L., Furrer, R., and Bruce, W.R. (1976). Physical characteristics of mouse sperm nuclei. Biophys. J. 16, 811–825.

Meistrich, M.L. (1977). Separation of spermatogenic cells and nuclei from rodent testes. Methods Cell Biol. 15, 15–54.

Beckman Coulter, I. (2007). The JE-5.0 Elutriator System. Instruction Manual JE-5.0 Elutriator System.

Beckman Coulter, I. (2005). The JE6-B Elutriation System and Rotor. Beckman Coulter JE6-B Instruction Manual.

Glick, D., Von Redlich, D., Juhos, E.T., and McEwen, C.R. (1971). Separation of mast cells by centrifugal elutriation. Exp. Cell. Res. 65, 23–26.

Meistrich, M.L., Grdina, D.J., Meyn, R.E., and Barlogie, B. (1977). Separation of cells from mouse solid tumors by centrifugal elutriation. Cancer Res. 37, 4291–4296.

Grabske, R.J., Lake, S., Gledhill, B.L., and Meistrich, M.L. (1975). Centrifugal elutriation: separation of spermatogenic cells on the basis of sedimentation velocity. J. Cell Physiol. 86, 177–189.

Bucci, L.R., Brock, W.A., Johnson, T.S., and Meistrich, M.L. (1986). Isolation and biochemical studies of enriched populations of spermatogonia and early primary spermatocytes from rat testes. Biol. Reprod. 34, 195–206.

Jansen, J., Olsen, A.K., Wiger, R., Naegeli, H., de Boer, P., van Der Hoeven, F., Holme, J.A., Brunborg, G., and Mullenders, L. (2001). Nucleotide excision repair in rat male germ cells: low level of repair in intact cells contrasts with high dual incision activity in vitro. Nucleic Acids Res. 29, 1791–1800.

Bellve, A.R., Cavicchia, J.C., Millette, C.F., O'Brien, D.A., Bhatnagar, Y.M., and Dym, M. (1977). Spermatogenic cells of the prepuberal mouse. Isolation and morphological characterization. J. Cell Biol. 74, 68–85.

Russell, L.D. (1990). Histological and histopathological evaluation of the testis, 1st Edition (Clearwater: Cache River Press).

Barchi, M., Mahadevaiah, S.K., Di Giacomo, M., Baudat, F., de Rooij, D.G., Burgoyne, P.S., Jasin, M., and Keeney, S. (2005). Surveillance of different recombination defects in mouse spermatocytes yields distinct responses despite elimination at an identical developmental stage. Mol. Cell. Biol. 25, 7203–7215.

Barchi, M., Roig, I., Di Giacomo, M., de Rooij, D.G., Keeney, S., and Jasin, M. (2008). ATM promotes the obligate XY crossover and both crossover control and chromosome axis integrity on autosomes. PLoS Genet. 4, e1000076.

Inselman, A., Eaker, S., and Handel, M.A. (2003). Temporal expression of cell cycle-related proteins during spermatogenesis: establishing a timeline for onset of the meiotic divisions. Cytogenet. Genome Res. 103, 277–284.

Spyropoulos, B. and Moens, P.B. (1994). In situ hybridization of meiotic prophase chromosomes. Methods Mol. Biol. 33, 131–139.

Petukhova, G.V., Romanienko, P.J., and Camerini-Otero, R.D. (2003). The Hop2 protein has a direct role in promoting interhomolog interactions during mouse meiosis. Dev. Cell 5, 927–936.

Paronetto, M.P., Zalfa, F., Botti, F., Geremia, R., Bagni, C., and Sette, C. (2006). The nuclear RNA-binding protein Sam68 translocates to the cytoplasm and associates with the polysomes in mouse spermatocytes. Mol. Biol. Cell 17, 14–24.
Acknowledgments

We thank Prof. Claudio Sette and Dr. Monica Di Giacomo for critical reading of the manuscript. This work was supported by the grant "Rientro dei cervelli 2005" from the Italian education council (MIUR) to M.B., and by "My First AIRC Grant" (MFAG) 2007, from Associazione Italiana Ricerca sul Cancro (AIRC) to M.B.
Copyright information

© 2009 Humana Press, a part of Springer Science+Business Media, LLC
About this protocol
Cite this protocol
Barchi, M., Geremia, R., Magliozzi, R., Bianchi, E. (2009). Isolation and Analyses of Enriched Populations of Male Mouse Germ Cells by Sedimentation Velocity: The Centrifugal Elutriation. In: Keeney, S. (eds) Meiosis. Methods in Molecular Biology, vol 558. Humana Press, Totowa, NJ. https://doi.org/10.1007/978-1-60761-103-5_18
DOI: https://doi.org/10.1007/978-1-60761-103-5_18

Published:

Publisher Name: Humana Press, Totowa, NJ

Print ISBN: 978-1-60761-102-8

Online ISBN: 978-1-60761-103-5

eBook Packages: Springer Protocols