Abstract

Glycosylation is one of the most common posttranslational modifications, with more than half of all known proteins thought to be glycoproteins. Alterations in glycosylation play a role in a diverse set of biological phenomena including tumor cell metastasis, intracellular communication, and inflammation. The complexity of glycosylation at the molecular level and the lack of rapid analytical tools complicate the study of glycan function. We have recently developed a lectin microarray for the high-throughput analysis of glycosylation. Lectins are carbohydrate-binding proteins that have been used for decades as a detection method for glycans. By placing the lectins in a microarray format and using standard microarray printing and scanning technology, we have created a simple yet powerful technique for glycan profiling.
Key Words
Lectin microarray

glycomics

carbohydrate analysis

glycan profiling

array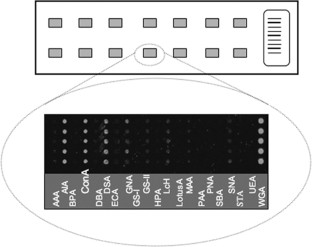 References
Varki, A. (1993) Biological roles of oligosaccharides: all of the theories are correct. Glycobiology 3, 97–130.

Apweiler, R., Hermjakob, H., and Sharon, N. (1999) On the frequency of protein glycosylation, as deduced from analysis of the SWISS-PROT database. Biochim. Biophys. Acta 1473, 4–8.

Pilobello, K. T., Krishnamoorthy, L., Slawek, D., and Mahal, L. K. (2005) Development of a lectin microarray for the rapid analysis of protein glycopatterns. ChemBiochem 6, 985–989.

Rudiger, H. and Gabius, H. J. (2001) Plant lectins: occurrence, biochemistry, functions and applications. Glycoconj. J. 18, 589–613.

Weiskopf, A. S., Vouros, P., and Harvey, D. J. (1998) Electrospray ionization-ion trap mass spectrometry for structural analysis of complex N-linked glycoprotein oligosaccharides. Anal. Chem. 70, 4441–4447.

Che, F. Y., Song, J. F., Shao, X. X., Wang, K. Y., and Xia, Q. C. (1999) Comparative study on the distribution of ovalloumin glycoforms by capillary electrophoresis. J. Chromatogr. A 849, 599–608.

Johnson, W. V. and Heath, E. C. (1986) Evidence for posttranslational O-glycosylation of fetuin. Biochemistry 25, 5518–5525.

Karlsson, N. G. and Packer, N. H. (2002) Analysis of O-linked reducing oligosaccharides released by an in-line flow system. Anal. Biochem. 305, 173–185.

Schulz, B. L., Packer, N. H., and Karlsson, N. G. (2002) Small-scale analysis of O-linked oligosaccharides from glycoproteins and mucins separated by gel electrophoresis. Anal. Chem. 74, 6088–6097.

Gerken, T. A., Gilmore, M., and Zhang, J. (2002) Determination of the site-specific oligosaccharide distribution of the O-glycans attached to the porcine submaxillary mucin tandem repeat. Further evidence for the modulation of O-glycans side chain structures by peptide sequence. J. Biol.Chem. 277, 7736–7751.

Walz, A., Odenbreit, S., Mahdavi, J., Boren, T., and Ruhl, S. (2005) Identification and characterization of binding properties of Helicobacter pylori by glycoconjugate arrays. Glycobiology 15, 700–708.
Copyright information

© 2007 Humana Press Inc., Totowa, NJ
About this protocol
Cite this protocol
Pilobello, K.T., Mahal, L.K. (2007). Lectin Microarrays for Glycoprotein Analysis. In: Floriano, P.N. (eds) Microchip-Based Assay Systems. Methods in Molecular Biology™, vol 385. Humana Press. https://doi.org/10.1007/978-1-59745-426-1_14
DOI: https://doi.org/10.1007/978-1-59745-426-1_14

Publisher Name: Humana Press

Print ISBN: 978-1-58829-588-0

Online ISBN: 978-1-59745-426-1

eBook Packages: Springer Protocols