Abstract

Cryptosporidium parvum can be reliably genetically manipulated using CRISPR/Cas9-driven homologous repair coupled to in vivo propagation within immunodeficient mice. Recent modifications have simplified the initial protocol significantly. This chapter will guide through procedures for excystation, transfection, infection, collection, and purification of transgenic Cryptosporidium parvum.
Keywords
Transfection

Transgenics

CRISPR

Cas9

Genetics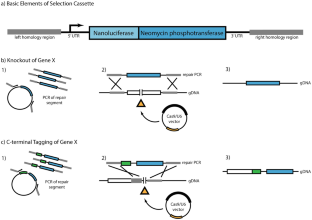 References
Jinek M, Chylinski K, Fonfara I, Hauer M, Doudna JA, Charpentier E (2012) A programmable dual-RNA-guided DNA endonuclease in adaptive bacterial immunity. Science 337(6096):816–821. https://doi.org/10.1126/science.1225829

van Gent DC, Hoeijmakers JH, Kanaar R (2001) Chromosomal stability and the DNA double-stranded break connection. Nat Rev Genet 2(3):196–206. https://doi.org/10.1038/35056049

Abrahamsen MS, Templeton TJ, Enomoto S, Abrahante JE, Zhu G, Lancto CA, Deng M, Liu C, Widmer G, Tzipori S, Buck GA, Xu P, Bankier AT, Dear PH, Konfortov BA, Spriggs HF, Iyer L, Anantharaman V, Aravind L, Kapur V (2004) Complete genome sequence of the apicomplexan, Cryptosporidium parvum. Science 304(5669):441–445. https://doi.org/10.1126/science.1094786

Vinayak S, Pawlowic MC, Sateriale A, Brooks CF, Studstill CJ, Bar-Peled Y, Cipriano MJ, Striepen B (2015) Genetic modification of the diarrhoeal pathogen Cryptosporidium parvum. Nature 523(7561):477–480. https://doi.org/10.1038/nature14651

Pawlowic MC, Vinayak S, Sateriale A, Brooks CF, Striepen B (2017) Generating and maintaining transgenic Cryptosporidium parvum parasites. Curr Protoc Microbiol 46:20B 22 21–20B 22 32. https://doi.org/10.1002/cpmc.33

Robertson LJ, Campbell AT, Smith HV (1993) In vitro excystation of Cryptosporidium parvum. Parasitology 106:13–19

Jothikumar N, da Cilva AJ, Moura I, Qvarnstrom Y, Hill VR (2008) Detection and differentiation of Cryptosporidium hominis and Cryptosporidium parvum by dual TaqMan assays. J Med Microbiol 57(Pt 9):1099–1105. https://doi.org/10.1099/jmm.0.2008/001461-0

Arrowood MJ, Donaldson K (1996) Improved purification methods for calf-derived Cryptosporidium parvum oocysts using discontinuous sucrose and cesium chloride gradients. J Eukaryot Microbiol 43(5):89S

Peng D, Tarleton R (2015) EuPaGDT: a web tool tailored to design CRISPR guide RNAs for eukaryotic pathogens. Microb Genom 1(4):e000033. https://doi.org/10.1099/mgen.0.000033
Acknowledgments

Our work on Cryptosporidium transgenesis was supported by grants from the National Institutes of Health, the Wellcome Trust, and the Bill & Melinda Gates Foundation to B.S. MCP was supported by NIH T32AI060546 training grant, and AS received F32AI116053 and K99AI37442 career fellowships from the National Institutes of Health.
Copyright information

© 2020 Springer Science+Business Media, LLC, part of Springer Nature
About this protocol
Cite this protocol
Sateriale, A., Pawlowic, M., Vinayak, S., Brooks, C., Striepen, B. (2020). Genetic Manipulation of Cryptosporidium parvum with CRISPR/Cas9. In: Mead, J., Arrowood, M. (eds) Cryptosporidium. Methods in Molecular Biology, vol 2052. Humana, New York, NY. https://doi.org/10.1007/978-1-4939-9748-0_13
DOI: https://doi.org/10.1007/978-1-4939-9748-0_13

Published:

Publisher Name: Humana, New York, NY

Print ISBN: 978-1-4939-9747-3

Online ISBN: 978-1-4939-9748-0

eBook Packages: Springer Protocols