Abstract

Extracellular vesicles (EVs) have gained increased attention over the last decade due to their potential as biomarkers and therapeutic entities. However, the characterization and development of EV research has been hampered by the lack of sufficiently effective purification methods. Several concerns have been raised toward the gold standard purification method ultracentrifugation, such as operator-dependent yields, crushing and aggregation of vesicles, poor scalability, and relative lack of purity. Here, we describe, in details, the use of an alternative purification technique: tangential flow filtration with or without subsequent bind-elute size exclusion chromatography that we have previously shown to be reproducible and scalable for purification of EVs.
Key words
Extracellular vesicles

Exosomes

Microvesicles

Apoptotic bodies

Tangential flow filtration

Bind-elute size exclusion chromatography

Size exclusion chromatography

Purification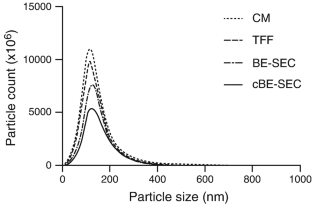 References
Ratajczak J, Miekus K, Kucia M et al (2006) Embryonic stem cell-derived microvesicles reprogram hematopoietic progenitors: evidence for horizontal transfer of mRNA and protein delivery. Leukemia 20(5):847–856. https://doi.org/10.1038/sj.leu.2404132

Valadi H, Ekstrom K, Bossios A et al (2007) Exosome-mediated transfer of mRNAs and microRNAs is a novel mechanism of genetic exchange between cells. Nat Cell Biol 9(6):654–659. https://doi.org/10.1038/ncb1596

Skog J, Wurdinger T, van Rijn S et al (2008) Glioblastoma microvesicles transport RNA and proteins that promote tumour growth and provide diagnostic biomarkers. Nat Cell Biol 10(12):1470–1476. https://doi.org/10.1038/ncb1800

El Andaloussi S, Mager I, Breakefield XO et al (2013) Extracellular vesicles: biology and emerging therapeutic opportunities. Nat Rev Drug Discov 12(5):347–357. https://doi.org/10.1038/nrd3978

Thery C, Amigorena S, Raposo G et al (2006) Isolation and characterization of exosomes from cell culture supernatants and biological fluids. Curr Protoc Cell Biol Chapter 3:Unit 3.22. https://doi.org/10.1002/0471143030.cb0322s30

Nordin JZ, Lee Y, Vader P et al (2015) Ultrafiltration with size-exclusion liquid chromatography for high yield isolation of extracellular vesicles preserving intact biophysical and functional properties. Nanomedicine 11(4):879–883. https://doi.org/10.1016/j.nano.2015.01.003

Linares R, Tan S, Gounou C et al (2015) High-speed centrifugation induces aggregation of extracellular vesicles. J Extracell Vesicles 4:29509. https://doi.org/10.3402/jev.v4.29509

Momen-Heravi F, Balaj L, Alian S et al (2013) Current methods for the isolation of extracellular vesicles. Biol Chem 394(10):1253–1262. https://doi.org/10.1515/hsz-2013-0141

Li P, Kaslan M, Lee SH et al (2017) Progress in exosome isolation techniques. Theranostics 7(3):789–804. https://doi.org/10.7150/thno.18133

Corso G, Mager I, Lee Y et al (2017) Reproducible and scalable purification of extracellular vesicles using combined bind-elute and size exclusion chromatography. Sci Rep 7(1):11561. https://doi.org/10.1038/s41598-017-10646-x

Iwamoto S, Mihara K, Downing JR et al (2007) Mesenchymal cells regulate the response of acute lymphoblastic leukemia cells to asparaginase. J Clin Invest 117(4):1049–1057. https://doi.org/10.1172/JCI30235

Mihara K, Imai C, Coustan-Smith E et al (2003) Development and functional characterization of human bone marrow mesenchymal cells immortalized by enforced expression of telomerase. Br J Haematol 120(5):846–849
Conflict of Interest

J.Z.N. and S.E.A. are consultants for and have equity interests in Evox Therapeutics Ltd.
Copyright information

© 2019 Springer Science+Business Media, LLC, part of Springer Nature
About this protocol
Cite this protocol
Nordin, J.Z., Bostancioglu, R.B., Corso, G., EL Andaloussi, S. (2019). Tangential Flow Filtration with or Without Subsequent Bind-Elute Size Exclusion Chromatography for Purification of Extracellular Vesicles. In: Moll, J., Carotta, S. (eds) Target Identification and Validation in Drug Discovery. Methods in Molecular Biology, vol 1953. Humana Press, New York, NY. https://doi.org/10.1007/978-1-4939-9145-7_18
DOI: https://doi.org/10.1007/978-1-4939-9145-7_18

Published:

Publisher Name: Humana Press, New York, NY

Print ISBN: 978-1-4939-9144-0

Online ISBN: 978-1-4939-9145-7

eBook Packages: Springer Protocols