Abstract

Over the past 10 years, the number of metabolomics based publications in the available scientific literature has exponentially grown, a large portion of which describing new biomarkers better elucidating microbial disease mechanisms and improved diagnostics and treatment thereof. Here, we describe a metabolomics method for extracting the total metabolome (all compounds present in the microbial cell irrespective of the compound class), for analysis in a single analytical run using only one analytical instrument. This method includes disruption of robust microbial cell walls, and the precipitation of proteins and cell debris using a combination of mechanical methods and solvents. These extracts are subsequently derivatized, in order to improve the volatility of polar compounds for efficient gas chromatography-mass spectrometry (GC-MS) analysis. This methodology can be applied to all microbes, including those with robust cell walls, such as M. tuberculosis. To date, the biomarkers identified using this approach have led to improved tuberculosis (TB) diagnostics, improved TB treatment approaches, and better understanding of host–microbe interactions and associated mycobacterial genomics.
Key words
Metabolomics

Total metabolome extraction

GC-MS

Mycobacteria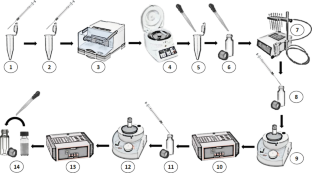 References
Wishart DS, Tzur D, Knox C, Eisner R, Guo AC, Young N, Cheng D, Jewell K, Arndt D, Sawhney S, Fung C, Nikolai L, Lewis M, Coutouly M, Forsythe I, Tang P, Shrivastava S, Jeroncic K, Stothard P, Amegbey G, Block D, Hau DD, Wagner J, Miniaci J, Clements M, Gebremedhin M, Guo N, Zhang Y, Duggan E, MacInnis GD, Weljie AM, Dowlatabadi R, Bamforth F, Clive D, Greiner R, Li L, Marrie T, Sykes BD, Vogel HJ, Querengesser L (2007) HMDB: the human Metabolome database. Nucleic Acids Res 35:D521–D526

Dunn WB, Bailey NJC, Johnson HE (2005) Measuring the metabolome: current analytical technologies. Analyst 30:606–625

Olivier I, Loots DT (2012) A comparison of two extraction methods for differentiating and characterising various Mycobacterium species and Pseudomonas aeruginosa using GC-MS metabolomics. Afr J Microbiol Res 6:3159–3172

Du Preez I, Loots DT (2013) Detection limit for differentiating between various Mycobacterium species and Pseudomonas aeruginosa using gas chromatography-mass spectrometry (GC-MS) metabolomics: a comparison of two extraction methods. Afr J Microbiol Res 7:797–801

Loots DT, Meissner-Roloff RJ, Newton-Foot M, van Pittius G, Nicolaas C (2013) A metabolomics approach exploring the function of the ESX-3 type VII secretion system of M. smegmatis. Metabolomics 9:631–641

Loots DT, Swanepoel CC, Newton-Foot M, Gey van Pittius NC (2016) A metabolomics investigation of the function of the ESX-1 gene cluster in mycobacteria. Microb Pathog 100:268–275

Meissner-Rolloff RJ, Koekemoer G, Warren RM, Loots DT (2012) A metabolomics investigation of a hyper- and hypo-virulent phenotype of Beijing lineage M. tuberculosis. Metabolomics 8:1194–1203

Loots DT (2014) An altered Mycobacterium tuberculosis metabolome induced by katG mutations resulting in isoniazid resistance. J Antimicrob Chemother 58(4):2144–2149

Loots DT (2016) New insights into the survival mechanisms of rifampicin-resistant Mycobacterium tuberculosis. J Antimicrob Chemother 71(3):655–660

Du Preez I, Loots DT (2013) New sputum metabolite markers implicating adaptations of the host to Mycobacterium tuberculosis, and vice versa. Tuberculosis 93(3):330–337

Luies L, Loots D (2016) Tuberculosis metabolomics reveals adaptations of man and microbe in order to outcompete and survive. Metabolomics 2(3):1–9

World Health Organization (2012) Tuberculosis laboratory biosafety manual. http://www.who.int/tb/publications/2012/tb_biosafety/en/

Brown M, Dunn WB, Ellis DI, Goodacre R, Handl J, Knowles JD et al (2005) A metabolome pipeline: from concept to data to knowledge. Metabolomics 1(1):39–51

Mashego MR, Rumbold K, De Mey M, Vandamme E, Soetaert W, Heijnen JJ (2007) Microbial metabolomics: past, present and future methodologies. Biotechnol Lett 29(1):1–16
Acknowledgments

The financial assistance of the National Research Foundation (NRF) of South Africa for this research is gratefully acknowledged (UID: 95269). The opinions expressed and conclusions derived are those of the authors and are not necessarily those of the NRF.
Copyright information

© 2019 Springer Science+Business Media, LLC, part of Springer Nature
About this protocol
Cite this protocol
Beukes, D., du Preez, I., Loots, D.T. (2019). Total Metabolome Extraction from Mycobacterial Cells for GC-MS Metabolomics Analysis. In: Baidoo, E. (eds) Microbial Metabolomics. Methods in Molecular Biology, vol 1859. Humana Press, New York, NY. https://doi.org/10.1007/978-1-4939-8757-3_6
DOI: https://doi.org/10.1007/978-1-4939-8757-3_6

Published:

Publisher Name: Humana Press, New York, NY

Print ISBN: 978-1-4939-8756-6

Online ISBN: 978-1-4939-8757-3

eBook Packages: Springer Protocols