Abstract

This chapter proposes a simple, standardized protocol for generating RNA viromes from complex host-associated biological samples of various origins. Compared to other existing protocols to generate RNA viromes, this protocol preserves the infectivity of viral particles and allows for downstream applications such as viral characterization and isolation tests.
Key words
Virome

Arthropods

Metagenomics

RNA viruses

Sucrose density gradient

Viral zoonosis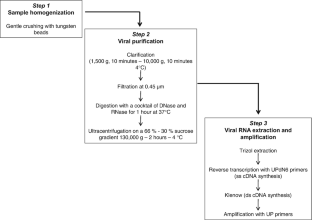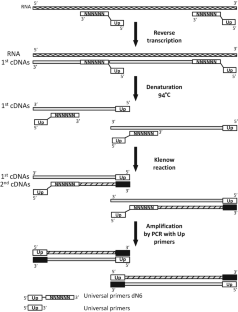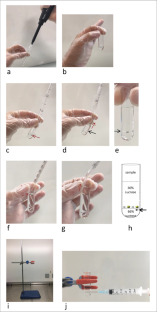 References
Jones KE, Patel NG, Levy MA et al (2008) Global trends in emerging infectious diseases. Nature 451:990–993

Angly FE, Felts B, Breitbart M et al (2006) The marine viromes of four oceanic regions. PLoS Biol 4:e368

Djikeng A, Kuzmickas R, Anderson NG et al (2009) Metagenomic analysis of RNA viruses in a fresh water lake. PLoS One 4(9):e7264

Fancello L, Trape S, Robert C et al (2013) Viruses in the desert: a metagenomic survey of viral communities in four perennial ponds of the Mauritanian Sahara. ISME J 7:359–369

Rosario K, Breitbart M (2011) Exploring the viral world through metagenomics. Curr Opin Virol 1:289–297

Whon TW, Kim MS, Roh SW et al (2012) Metagenomic characterization of airborne viral DNA diversity in the near-surface atmosphere. J Virol 86:8221–8231

Barzon L, Lavezzo E, Militello V et al (2011) Applications of next-generation sequencing technologies to diagnostic virology. Int J Mol Sci 12:7861–7884

Belák S, Karlsson OE, Blomström AL et al (2013) New viruses in veterinary medicine, detected by metagenomic approaches. Vet Microbiol 165:95–101

Blomström AL (2011) Viral metagenomics as an emerging and powerful tool in veterinary medicine. Vet Q 31(3):107–114

Capobianchi MR, Giombini E (2013) Rozera G (2013) next-generation sequencing technology in clinical virology. Clin Microbiol Infect 19:15–22

Chiu CY (2013) Viral pathogen discovery. Curr Opin Microbiol 16:468–478

Temmam S, Davoust B, Berenger JM et al (2014) Viral metagenomics on animals as a tool for the detection of zoonoses prior to human infection? Int J Mol Sci 15:10377–10397

Conceição-Neto N, Zeller M, Lefrère H et al (2015) Modular approach to customise sample preparation procedures for viral metagenomics: a reproducible protocol for virome analysis. Sci Rep 5:16532

Hall RJ, Wang J, Todd AK et al (2014) Evaluation of rapid and simple techniques for the enrichment of viruses prior to metagenomic virus discovery. J Virol Methods 195:194–204

Kohl C, Brinkmann A, Dabrowski PW et al (2015) Protocol for metagenomic virus detection in clinical specimens. Emerg Infect Dis 21(1):48–57

Lewandowska DW, Zagordi O, Geissberger F-D et al (2017) Optimization and validation of sample preparation for metagenomic sequencing of viruses in clinical samples. Microbiome 5:94

Li L, Deng X, Mee ET et al (2015) Comparing viral metagenomics methods using a highly multiplexed human viral pathogens reagent. J Virol Methods 213:139–146

Manso CF, Bibby DF, Mbisa JL (2017) Efficient and unbiased metagenomic recovery of RNA virus genomes from human plasma samples. Sci Rep 7:4173

Rosseel T, Ozhelvaci O, Freimanis G et al (2015) Evaluation of convenient pretreatment protocols for RNA virus metagenomics in serum and tissue samples. J Virol Methods 222:72–80

Thurber RV, Haynes M, Breitbart M et al (2009) Laboratory procedures to generate viral metagenomes. Nat Protoc 4(4):470–483

Weynberg KD, Wood-Charlson EM, Suttle CA et al (2014) Generating viral metagenomes from the coral holobiont. Front Microbiol 5:206

Temmam S, Monteil-Bouchard S, Robert C et al (2015) Host-associated metagenomics: a guide to generating infectious RNA Viromes. PLoS One 10(10):e0139810

Froussard P (1993) rPCR: a powerful tool for random amplification of whole RNA sequences. PCR Methods Appl 2(3):185–190
Acknowledgments

This work was supported by a grant from the Agence Nationale de la Recherche number ANR-13-JSV6-0004 to CD.
Copyright information

© 2018 Springer Science+Business Media, LLC, part of Springer Nature
About this protocol
Cite this protocol
Monteil-Bouchard, S., Temmam, S., Desnues, C. (2018). Protocol for Generating Infectious RNA Viromes from Complex Biological Samples. In: Moya, A., Pérez Brocal, V. (eds) The Human Virome. Methods in Molecular Biology, vol 1838. Humana Press, New York, NY. https://doi.org/10.1007/978-1-4939-8682-8_3
DOI: https://doi.org/10.1007/978-1-4939-8682-8_3

Published:

Publisher Name: Humana Press, New York, NY

Print ISBN: 978-1-4939-8681-1

Online ISBN: 978-1-4939-8682-8

eBook Packages: Springer Protocols