Abstract

Internal chloroplast structures present complex and various characteristics, which are still largely undetermined due to insufficient imaging investigation. Information on chloroplast morphology has traditionally been collected using light microscopy (LM), confocal laser scanning microscopy (CLSM), transmission electron microscopy (TEM), and scanning electron microscopy (SEM) techniques. However, recent technological progresses in the field of microscopy have made it possible to visualize the internal structure of chloroplast in far greater detail and in 3D. Here we recapitulate protocols to visualize chloroplasts from Arabidopsis leaves and Phaeodactylum tricornutum cells with confocal and transmission electron microscopy together with a new technique using a focused ion beam-scanning electron microscope (FIB-SEM) allowing for 3D imaging.
Key words
Confocal imaging

Transmission electron microscopy (TEM)

Scanning electron microscopy (SEM)

Focused ion beam (FIB)

Tomography

Arabidopsis

Phaeodactylum tricornutum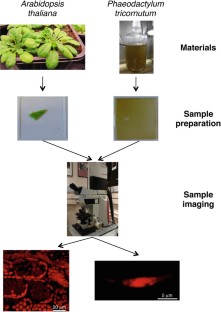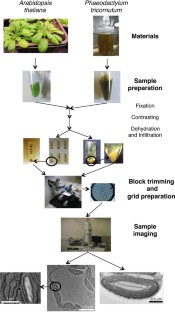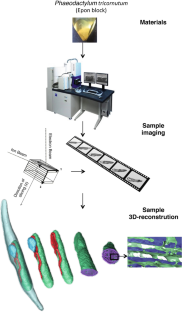 References
Gunning B, Koenig F, Govindjee G (2006) A dedication to pionners of research on chloroplast structure. In: Wise RR, Hoober JK (eds) The structure and function of plastids. Advances in photosynthesis and respiration, vol 23. Springer, Dordrecht, pp xxiii–xxxxi

Gris JBA (1857) Recherches microscopiques sur la chlorophylle. Ann Sci Nat Bot Ser IV 7:179–219

Trécul AAL (1858) Des formations vésiculaires dans les cellules végétales. Ann Sci Nat Bot Ser IV 8(20–163):205–382

Doutreligne J (1935) Note sur la structure des chloroplastes. Porc Akad Wetensch Amsterd 38:886–896

Kausche GA, Ruska H (1940) Zur Frage der Chloroplastenstruktur. Naturwiss 28:303–304

Menke W (1940) Untersuchungen über den Feinbau des Protoplasmas mit dem Universal-Elektronenmikroskop. Protoplasma 35:115–130

Steahelin LA (2003) Chloroplast structure: from chlorophyll granules to supra-molecular architecture of thylakoid membranes. Photosynth Res 76:185–196

Giannuzzi L, Stevie F (eds) (2005) Introduction to focus ion beam. Springer, New York

Kizilyaprak C, Loussert C, Daraspe J, Humbel BM (2013) Focused ion beam scanning electron microscopy in biology. Microsc Microanal 19:874–875

Narayan K, Subramaniam S (2015) Focused ion beams in biology. Nat Methods 12:1021–1031

Berges J, Franklin PJ, Harrison PJ (2001) Evolution of an artificial seawater medium: improvements in enriched seawater, artificial water over the last two decades. J Phycol 37:1138–1145

Flori S, Jouneau PH, Finazzi G, Maréchal E, Falconet D (2016) Ultrastructure of the periplastidial compartment of the diatom Phaeodactylum tricornutum. Protist 167(3):254–267

Flori S, Jouneau PH, Bailleul B, Gallet B, Estrozi LF, Moriscot C et al (2017) Plastid thylakoid architecture optimizes photosynthesis in diatoms. Nat Commun 8:15885
Acknowledgments

Didier Grunwald and Jean-Philippe Kleman are acknowledged for their help with confocal microscopy. We are grateful to Maryse Block for critical reading of the manuscript. DF would like to thank Pr. Paul Mandaron for introducing him to plant imaging. Presented examples were obtained with support from the CEA DRF-Impulsion Fib-Bio program 2016 and the French National Research Agency (ANR-10-LABEX-04 GRAL Labex, Grenoble Alliance for Integrated Structural Cell Biology).
Copyright information

© 2018 Springer Science+Business Media, LLC, part of Springer Nature
About this protocol
Cite this protocol
Flori, S. et al. (2018). Imaging Plastids in 2D and 3D: Confocal and Electron Microscopy. In: Maréchal, E. (eds) Plastids. Methods in Molecular Biology, vol 1829. Humana Press, New York, NY. https://doi.org/10.1007/978-1-4939-8654-5_7
DOI: https://doi.org/10.1007/978-1-4939-8654-5_7

Published:

Publisher Name: Humana Press, New York, NY

Print ISBN: 978-1-4939-8653-8

Online ISBN: 978-1-4939-8654-5

eBook Packages: Springer Protocols