Abstract

Chemoinformatic methods, such as multivariable explorative techniques and quantitative structure–activity relationship (QSAR) modeling, allow for discovering relationships between the activity and the structure of chemical compounds. These techniques can be applied, as preliminary screening methods for designing and/or selecting new compounds with defined activity.

Here we describe step by step how to preliminarily screen ionic liquids (a set of 13 ILs) and assess their cytotoxic activity against leukemia cell line IPC-81 as well as ILs' potential to inhibit acetylcholinesterase enzyme using the TRIC method (toxicity ranking index of cations) combined with the QSAR approach.
Key words
Ionic liquids

Multivariable explorative technique

TRIC

Quantitative structure–activity relationship

Molecular descriptors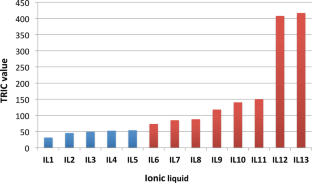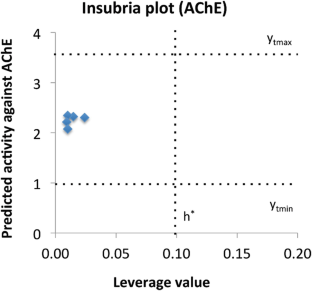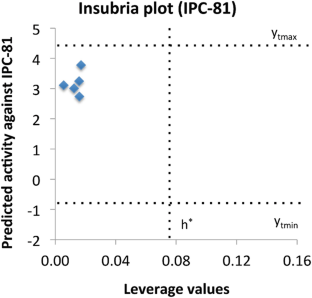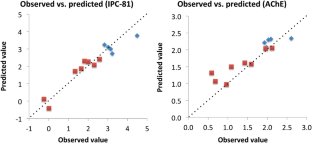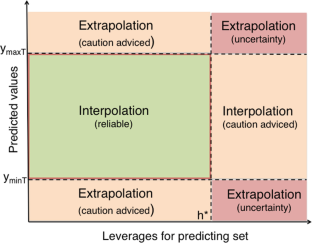 References
Wasserscheid P, Welton T (2002) Ionic liquids in synthesis. Wiley-VCH, Weinheim, Germany

Endres F, El Abedin SZ (2006) Air and water stable ionic liquids in physical chemistry. Phys Chem Chem Phys 8(18):2101–2116

Aschenbrenner O, Supasitmongkol S, Taylor M, Styring P (2009) Measurement of vapour pressures of ionic liquids and other low vapour pressure solvents. Green Chem 11(8):1217–1221

Welton T (1999) Room-temperature ionic liquids. Solvents for synthesis and catalysis. Chem Rev 99(8):2071–2084

Sheldon RA, Lau RM, Sorgedrager MJ, van Rantwijk F, Seddon KR (2002) Biocatalysis in ionic liquids. Green Chem 4(2):147–151

Tan SS, Macfarlane DR (2010) Ionic liquids in biomass processing. Top Curr Chem 290:311–339

Adawiyah N, Moniruzzaman M, Hawatulailaa S, Goto M (2016) Ionic liquids as a potential tool for drug delivery systems. MedChemComm 7:1881–1897

Gilmore BF, Earle MJ (2011) Development of ionic liquid biocides against microbial biofilms Designer microbicides for infection control. Chim Oggi 29:50–53

Das RN, Roy K (2013) Advances in QSPR/QSTR models of ionic liquids for the design of greener solvents of the future. Mol Divers 17:151–196. https://doi.org/10.1007/s11030-012-9413-y

Dukhande VA, Choksi TS, Sabnis SU, Patwardhan AW, Patwardhan AV (2013) Separation of toluene from n-heptane using monocationic and dicationic ionic liquids. Fluid Phase Equilib 342:75–81

Viboud S, Papaiconomou N, Cortesi A, Chatel G, Draye M, Fontvieille D (2012) Correlating the structure and composition of ionic liquids with their toxicity on Vibrio fischeri: a systematic study. J Hazard Mater 215:40–48

Stasiewicz M, Mulkiewicz E, Tomczak-Wandzel R, Kumirska J, Siedlecka EM, Golebiowski M, Gajdus J, Czerwicka M, Stepnowski P (2008) Assessing toxicity and biodegradation of novel, environmentally benign ionic liquids (1-alkoxymethyl-3-hydroxypyridinium chloride, saccharinate and acesulfamates) on cellular and molecular level. Ecotoxicol Environ Saf 71:157–165

Stock F, Hoffmann J, Ranke J, Stormann R, Ondruschka B, Jastorff B (2004) Effects of ionic liquids on the acetylcholinesterase – a structure-activity relationship consideration. Green Chem 6:286–290

Ranke J, Molter K, Stock F, Bottin-Weber U, Poczobutt J, Hoffmann J, Ondruschka B, Filser J, Jastorff B (2004) Biological effects of imidazolium ionic liquids with varying chain lengths in acute Vibrio fischeri and WST-1 cell viability assays. Ecotoxicol Environ Saf 58:396–404

Frade RFM, Matias A, Branco LC, Afonso CAM, Duarte CMM (2007) Effect of ionic liquids on human colon carcinoma HT-29 and CaCo-2 cell lines. Green Chem 9(8):873–877

Latala A, Nedzi M, Stepnowski P (2010) Toxicity of imidazolium ionic liquids towards algae. Influence of salinity variations. Green Chem 12:60–64

Gramatica P, Pilutti P, Papa E (2004) A tool for the assessment of VOC degradability by tropospheric oxidants starting from chemical structure. Atmos Environ 38:6167–6175

Sosnowska A, Barycki M, Zaborowska M, Rybinska A, Puzyn T (2014) Towards designing environmentally safe ionic liquids: the influence of the cation structure. Green Chem 16:4749–4757

Hansch C, Fujita T (1964) Rho-sigma-pi analysis. Method for correlation of biological activity + chemical structure. J Am Chem Soc 86:1616–1626

Sosnowska A, Grzonkowska M, Puzyn T (2017) Global versus local QSAR models for predicting ionic liquids toxicity against IPC-81 leukemia rat cell line: the predictive ability. J Mol Liq 231:333–340

ACD/ChemSketch v, Advanced Chemistry Development, Inc., Toronto, ON, Canada. http://www.acdlabs.com, 2008

http://avogadro.cc/ Aao-smbavtVX, 2012

Dragon Software for Molecular Descriptor Calculation hwtmi, Milano, 2014

Yap CW (2011) PaDEL-descriptor: an open source software to calculate molecular descriptors and fingerprints. J Comput Chem 32:1466–1474

Stewart JJP (2012) Stewart computational chemistry, Colorado Springs, CO, USA

O'Boyle NM, Banck M, James CA, Morley C, Vandermeersch T, Hutchison GR (2011) Open babel: an open chemical toolbox. J Cheminform 3:33

Schaftenaar G, Noordik JH (2000) Molden: a pre- and post-processing program for molecular and electronic structures. J Comput Aided Mol Des 14:123–134
Acknowledgments

This material is based on research funded by the National Science Center (Poland) (Grant No. UMO-2012/05/E/NZ7/01148).
Copyright information

© 2018 Springer Science+Business Media, LLC, part of Springer Nature
About this protocol
Cite this protocol
Sosnowska, A., Rybinska-Fryca, A., Barycki, M., Jagiello, K., Puzyn, T. (2018). Chemoinformatic Approach to Assess Toxicity of Ionic Liquids. In: Nicolotti, O. (eds) Computational Toxicology. Methods in Molecular Biology, vol 1800. Humana Press, New York, NY. https://doi.org/10.1007/978-1-4939-7899-1_26
DOI: https://doi.org/10.1007/978-1-4939-7899-1_26

Published:

Publisher Name: Humana Press, New York, NY

Print ISBN: 978-1-4939-7898-4

Online ISBN: 978-1-4939-7899-1

eBook Packages: Springer Protocols