Abstract

The bone marrow is a unique microenvironment where blood cells are produced and released into the circulation. At the top of the blood cell lineage are the hematopoietic stem cells (HSC), which are thought to reside in close association with the bone marrow vascular endothelial cells (Morrison and Scadden, Nature 505:327–334, 2014). Recent efforts at characterizing the HSC niche have prompted us to make close examinations of two distinct types of blood vessel in the bone marrow, the arteriolar vessels originating from arteries and sinusoidal vessels connected to veins. We found the two vessel types to exhibit different vascular permeabilites, hemodynamics, cell trafficking behaviors, and oxygen content (Itkin et al., Nature 532:323–328, 2016; Spencer et al., Nature 508:269–273, 2014). Here, we describe a method to quantitatively measure the permeability and hemodynamics of arterioles and sinusoids in murine calvarial bone marrow using intravital microscopy.
Key words
Bone marrow blood vessel

Arterioles

Sinusoids

Permeability

Hemodynamics

Flow speed

Blood vessel diameter

Mouse restraint

Intravital imaging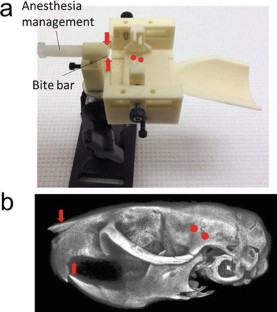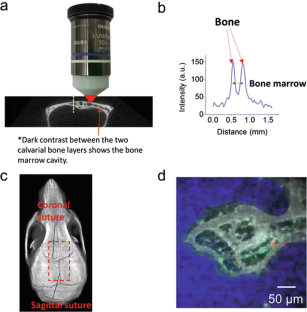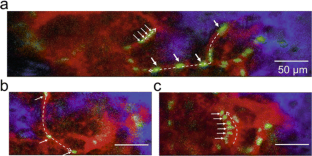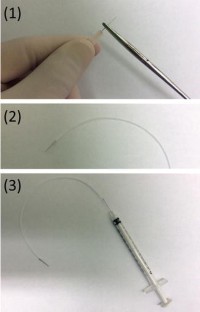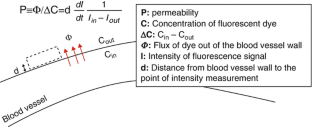 References
Spencer JA, Ferraro F, Roussakis E et al (2014) Direct measurement of local oxygen concentration in the bone marrow of live animals. Nature 508:269–273

Kunisaki Y et al (2013) Arteriolar niches maintain haematopoietic stem cell quiescence. Nature 502:637–643

Nombela-Arrieta C et al (2013) Quantitative imaging of haematopoietic stem and progenitor cell localization and hypoxic status in the bone marrow microenvironment. Nat Cell Biol 15:533–543

Li XM, Hu Z, Jorgenson ML, Slayton WB (2009) High levels of acetylated low-density lipoprotein uptake and low tyrosine kinase with immunoglobulin and epidermal growth factor homology domains-2 (Tie2) promoter activity distinguish sinusoids from other vessel types in murine bone marrow. Circulation 120:1910–1918

Itkin T, Gur-Cohen S, Spencer JA et al (2016) Distinct bone marrow blood vessels differentially regulate haematopoiesis. Nature 532:323–328

Veilleux I, Spencer JA, Biss DP et al (2008) In vivo cell tracking with video rate multimodality laser scanning microscopy. IEEE J Sel Top Quantum Electron 14:10–18

Lo Celso C, Lin CP, Scadden DT (2011) In vivo imaging of transplanted hematopoietic stem and progenitor cells in mouse calvarium bone marrow. Nat Protoc 6:1–14

Wu JW, Runnels JM, Lin CP (2014) Intravital imaging of hematopoietic stem cells in the mouse skull. Methods Mol Biol 1185:247–265

Morrison SJ, Scadden DT (2014) The bone marrow niche for haematopoietic stem cells. Nature 505:327–334

Schindelin J, Arganda-Carreras I, Frise E et al (2012) Fiji: an open-source platform for biological-image analysis. Nat Methods 9:676–682

Tseng Q, Wang I, Duchemin-Pelletier E et al (2011) A new micropatterning method of soft substrates reveals that different tumorigenic signals can promote or reduce cell contraction levels. Lab Chip 11:2231

Schneider CA, Rasband WS, Eliceiri KW (2012) NIH image to ImageJ: 25 years of image analysis. Nat Methods 9:671–675

Berg HC (1993) Random walks in biology. Princeton University Press, Princeton
Acknowledgement

This work is supported in part by NIH grant EB017274, DK103074, and HL 095489 (to C.P.L.), by IBS-R023-Y1 (to Y.J.), and by the Australian National Health and Medical Research Council (NHMRC), Early Career Fellowship #APP1088318 (to A.P.R.).
Copyright information

© 2018 Springer Science+Business Media, LLC
About this protocol
Cite this protocol
Jung, Y. et al. (2018). Intravital Imaging of Mouse Bone Marrow: Hemodynamics and Vascular Permeability. In: Ishii, M. (eds) Intravital Imaging of Dynamic Bone and Immune Systems . Methods in Molecular Biology, vol 1763. Humana Press, New York, NY. https://doi.org/10.1007/978-1-4939-7762-8_2
DOI: https://doi.org/10.1007/978-1-4939-7762-8_2

Published:

Publisher Name: Humana Press, New York, NY

Print ISBN: 978-1-4939-7761-1

Online ISBN: 978-1-4939-7762-8

eBook Packages: Springer Protocols