Abstract

Correlative super-resolution light and electron microscopy (super-resolution CLEM) is a powerful and emerging tool in biological research. The practical realization of these two very different microscopy techniques with their individual requirements remains a challenging task. There is a broad range of approaches to choose from, each with their own advantages and limitations. Here, we present a detailed protocol for in-resin super-resolution CLEM of high-pressure frozen and freeze substituted cultured cells. The protocol makes use of a strategy to preserve the fluorescence and photo-switching capabilities of standard fluorescent proteins, such as GFP and YFP, to enable single-molecule localization microscopy (SMLM) in-resin sections followed by transmission electron microscopy (TEM) imaging. This results in a fivefold improvement in resolution in the fluorescence image and a more precise correlation of the distribution of fluorescently labeled molecules with EM ultrastructure compared with conventional CLEM.
Key words
Correlative light and electron microscopy

Super-resolution microscopy

Transmission electron microscopy

Single-molecule localization microscopy

SMLM

GFP

Tannic acid

High pressure freezing

In-resin fluorescence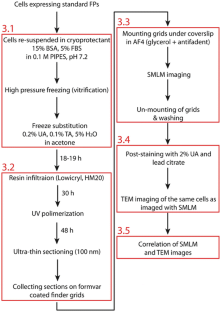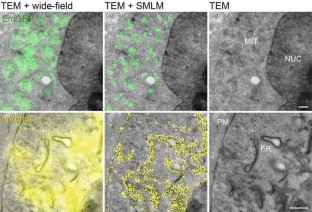 References
Müller-Reichert T, Verkade P (eds) (2014) Correlative light and electron microscopy II. Academic Press, Amsterdam

Betzig E, Patterson GH, Sougrat R, Lindwasser OW, Olenych S, Bonifacino JS, Davidson MW, Lippincott-Schwartz J, Hess HF (2006) Imaging intracellular fluorescent proteins at nanometer resolution. Science 313(5793):1642–1645

Watanabe S, Punge A, Hollopeter G, Willig KI, Hobson RJ, Davis MW, Hell SW, Jorgensen EM (2011) Protein localization in electron micrographs using fluorescence nanoscopy. Nat Methods 8(1):80–84

Kopek BG, Shtengel G, Xu CS, Clayton DA, Hess HF (2012) Correlative 3D superresolution fluorescence and electron microscopy reveal the relationship of mitochondrial nucleoids to membranes. Proc Natl Acad Sci U S A 109(16):6136–6141

Löschberger A, Franke C, Krohne G, van de Linde S, Sauer M (2014) Correlative super-resolution fluorescence and electron microscopy of the nuclear pore complex with molecular resolution. J Cell Sci 127(20):4351–4355

Segala MGP, Sun MG, Shtengel G, Viswanathan S, Baird MA, Macklin JJ, Patel R, Allen JR, Howe ES, Piszczek G (2015) Fixation-resistant photoactivatable fluorescent proteins for correlative light and electron microscopy. Nat Methods 12(3):215

Lidke DS, Lidke KA (2012) Advances in high-resolution imaging–techniques for three-dimensional imaging of cellular structures. J Cell Sci 125(11):2571–2580

de Boer P, Hoogenboom JP, Giepmans BN (2015) Correlated light and electron microscopy: ultrastructure lights up! Nat Methods 12(6):503–513

Wolff G, Hagen C, Grünewald K, Kaufmann R (2016) Towards correlative super-resolution fluorescence and electron cryo-microscopy. Biol Cell. doi:10.1111/boc.201600008

Johnson E, Seiradake E, Jones EY, Davis I, Grünewald K, Kaufmann R (2015) Correlative in-resin super-resolution and electron microscopy using standard fluorescent proteins. Sci Rep 5. doi:10.1038/srep09583

McDonald K, Schwarz H, Müller-Reichert T, Webb R, Buser C, Morphew M (2010) "Tips and tricks" for high-pressure freezing of model systems. Methods Cell Biol 96:671–693

Reynolds ES (1963) The use of lead citrate at high pH as an electron-opaque stain in electron microscopy. J Cell Biol 17(1):208–212

Hawes P, Netherton C, Mueller M, Wileman T, Monaghan P (2007) Rapid freeze-substitution preserves membranes in high-pressure frozen tissue culture cells. J Microsc 226(2):182–189

Simionescu N, Simionescu M (1976) Galloylglucoses of low molecular weight as mordant in electron microscopy. I. Procedure, and evidence for mordanting effect. J Cell Biol 70(3):608–621

Reipert S, Fischer I, Wiche G (2004) High-pressure freezing of epithelial cells on sapphire coverslips. J Microsc 213(1):81–85

Jimenez N, Humbel B, Van Donselaar E, Verkleij A, Burger K (2006) Aclar discs: a versatile substrate for routine high-pressure freezing of mammalian cell monolayers. J Microsc 221(3):216–223

Morphew M, McIntosh J (2003) The use of filter membranes for high-pressure freezing of cell monolayers. J Microsc 212(1):21–25

Vanhecke D, Zuber B, Brugger S, Studer D (2012) Safe high-pressure freezing of infectious micro-organisms. J Microsc 246(2):124–128

Schwarz H, Humbel BM (2014) Correlative light and electron microscopy using immunolabeled sections. In: Electron microscopy: methods and protocols. Springer, New York, pp 559–592

Grüll F, Kirchgessner M, Kaufmann R, Hausmann M, Kebschull U (2011) Accelerating image analysis for localization microscopy with FPGAs. In: 2011 21st international conference on field programmable logic and applications, IEEE, p 1–5
Acknowledgments

We are grateful to Elena Seiradake and Marek Drozdz for culture and transfection of cells, and to Ilan Davis, Ian Dobbie, Kay Grünewald, Christoph Hagen, E. Yvonne Jones, Richard Parton, and Jordan Raff for their continuous support and constructive discussions. This work was supported by Wellcome Trust Senior Research Fellowships (090895/Z/09/Z; 096144/Z/11/Z), the Wellcome Trust core award to the Wellcome Trust Centre for Human Genetics (090532/Z/09/Z), a Cancer Research UK programme grant (A10976) and the Micron Strategic Award from the Wellcome Trust (091911).
Copyright information

© 2017 Springer Science+Business Media LLC
About this protocol
Cite this protocol
Johnson, E., Kaufmann, R. (2017). Correlative In-Resin Super-Resolution Fluorescence and Electron Microscopy of Cultured Cells. In: Erfle, H. (eds) Super-Resolution Microscopy. Methods in Molecular Biology, vol 1663. Humana Press, New York, NY. https://doi.org/10.1007/978-1-4939-7265-4_14
DOI: https://doi.org/10.1007/978-1-4939-7265-4_14

Publisher Name: Humana Press, New York, NY

Print ISBN: 978-1-4939-7264-7

Online ISBN: 978-1-4939-7265-4

eBook Packages: Springer Protocols