Abstract

Cyclic di-GMP is an important regulatory messenger molecule that often directly interacts with proteins to alter function. It is therefore important to find potential c-di-GMP binding proteins and verify a direct interaction between them. Here, we describe a pull-down assay using biotinylated-c-di-GMP to capture a specific protein of interest followed by immunoblot analysis to determine relative protein abundance. This method also allows for addition of both specific and nonspecific competitors to determine specificity of c-di-GMP–protein binding. We also discuss using densitometry analysis on resulting immunoblots to calculate the dissociation constant (KD) of the binding reaction, allowing for a determination of binding affinity.
Key words
Cyclic di-GMP

Pull-down assay

Western blot

Immunoblot

Biotinylated-c-di-GMP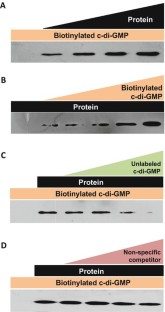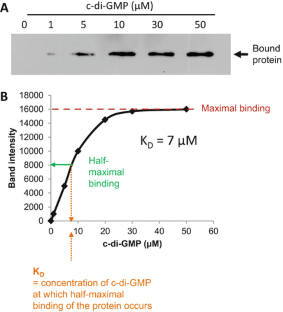 References
D'Argenio DA, Miller SI (2004) Cyclic di-GMP as a bacterial second messenger. Microbiology 150:2497–2502

Mills E, Pultz IS, Kulasekara HD, Miller SI (2011) The bacterial second messenger c-di-GMP: mechanisms of signalling. Cell Microbiol 13:1122–1129

Boyd CD, O'Toole GA (2012) Second messenger regulation of Biofilm formation: breakthroughs in understanding c-di-GMP effector systems. Annu Rev Cell Dev Biol 28:439–462

Amikam D, Galperin MY (2006) PilZ domain is part of the bacterial c-di-GMP binding protein. Bioinformatics 22:3–6

Nesper J, Reinders A, Glatter T, Schmidt A, Jenal U (2012) A novel capture compound for the identification and analysis of cyclic di-GMP binding proteins. J Proteome 75:4874–4878

An SQ, Caly DL, McCarthy Y, Murdoch SL, Ward J, Febrer M, Dow JM, Ryan RP (2014) Novel cyclic di-GMP effectors of the YajQ protein family control bacterial virulence. PLoS Pathog 10:e1004429

Chou S-H, Galperin MY (2016) Diversity of cyclic di-GMP-binding proteins and mechanisms. J Bacteriol 198:32–46

Krasteva PV, Giglio KM, Sondermann H (2012) Sensing the messenger: the diverse was that bacteria signal through c-di-GMP. Protein Sci 21:929–948

Hickman JW, Harwood CS (2008) Identification of FleQ from Pseudomonas aeruginosa as a c-di-GMP-responsive transcription factor. Mol Microbiol 69:376–389

Li W, He Z-G (2012) LtmA, a novel cyclic di-GMP-responsive activator, broadly regulates the expression of lipid transport and metabolism genes in Mycobacterium smegmatis. Nucleic Acids Res 40:11292–11307

Roelofs KG, Jones CL, Helman SR, Shang X, Orr MW, Goodson JR, Galperin MY, Yildiz FH, Lee VT (2015) Systematic identification of cyclic-di-GMP binding proteins in Vibrio cholerae reveals a novel class of cyclic-di-GMP-binding ATPases associated with type II secretion systems. PLoS Pathog 11:e1005232

Chambers JR, Liao J, Schurr MJ, Sauer K (2014) BrlR from Pseudomonas aeruginosa is a c-di-GMP-responsive transcription factor. Mol Microbiol 92:471–487

Chan C, Paul R, Samoray D, Amiot NC, Giese B, Jenal U, Schirmer T (2004) Structural basis of activity and allosteric control of diguanylate cyclase. Proc Natl Acad Sci U S A 101:17084–17089

Wassmann P, Chan C, Paul R, Beck A, Heerklotz H, Jenal U, Schirmer T (2007) Structure of BeF3-modified response regulator PleD: implications for diguanylate cyclase activation, catalysis, and feedback inhibition. Structure 15:915–927

De N, Pirruccello M, Krasteva PV, Bae N, Raghavan RV, Sondermann H (2008) Phosphorylation-independent regulation of the diguanylate cyclase WspR. PLoS Biol 6:e67
Acknowledgments

This work was supported by a grant from the National Institute of Health (R01AI080710).
Copyright information

© 2017 Springer Science+Business Media LLC
About this protocol
Cite this protocol
Chambers, J.R., Sauer, K. (2017). Detection of Cyclic di-GMP Binding Proteins Utilizing a Biotinylated Cyclic di-GMP Pull-Down Assay. In: Sauer, K. (eds) c-di-GMP Signaling. Methods in Molecular Biology, vol 1657. Humana Press, New York, NY. https://doi.org/10.1007/978-1-4939-7240-1_25
DOI: https://doi.org/10.1007/978-1-4939-7240-1_25

Published:

Publisher Name: Humana Press, New York, NY

Print ISBN: 978-1-4939-7239-5

Online ISBN: 978-1-4939-7240-1

eBook Packages: Springer Protocols