Abstract

Animal and plant pathogenic bacteria use type III secretion systems to translocate proteinaceous effectors to subvert innate immunity of their host organisms. Type III secretion/effector systems are a crucial pathogenicity factor in many bacterial pathogens of plants and animals. Pseudomonas syringae pv. tomato (Pst) DC3000 injects a total of 36 protein effectors that target a variety of host proteins. Studies of a subset of Pst DC3000 effectors demonstrated that bacterial effectors, once inside the host cell, are localized to different subcellular compartments, including plasma membrane, cytoplasm, mitochondria, chloroplast, and Trans-Golgi network, to carry out their virulence functions. Identifying the subcellular localization of bacterial effector proteins in host cells could provide substantial clues to understanding the molecular and cellular basis of the virulence activities of effector proteins. In this chapter, we present methods for transient or stable expression of bacterial effector proteins in tobacco and/or Arabidopsis thaliana for live cell imaging as well as confirming the subcellular localization in plants using fluorescent organelle markers or chemical treatment.
Key words
Plant pathogen

Bacterial pathogenesis

Type III secretion

Plant immunity

Tobacco

Arabidopsis thaliana

Agrobacterium

Confocal microscopy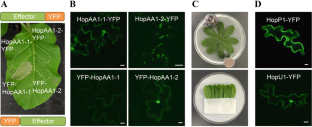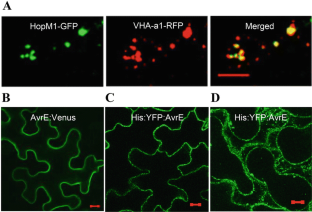 Acknowledgement

This work was supported by funding from the National Institutes of Health R01 GM109928; the Chemical Sciences, Geosciences, Department of Energy DE–FG02–91ER20021 (support of research infrastructure); U.S. Department of Agriculture/National Institute of Food and Agriculture AFRI-004412; and the Gordon and Betty Moore Foundation GBMF3037. SYH is a Howard Hughes Medical Institute-Gordon Betty Moore Foundation Investigator.
Copyright information

© 2017 Springer Science+Business Media New York
About this protocol
Cite this protocol
Aung, K., Xin, X., Mecey, C., He, S.Y. (2017). Subcellular Localization of Pseudomonas syringae pv. tomato Effector Proteins in Plants. In: Nilles, M., Condry, D. (eds) Type 3 Secretion Systems. Methods in Molecular Biology, vol 1531. Humana Press, New York, NY. https://doi.org/10.1007/978-1-4939-6649-3_12
DOI: https://doi.org/10.1007/978-1-4939-6649-3_12

Published:

Publisher Name: Humana Press, New York, NY

Print ISBN: 978-1-4939-6647-9

Online ISBN: 978-1-4939-6649-3

eBook Packages: Springer Protocols