Abstract

Tyrosine kinase inhibitors (TKIs) are the effective treatments for chronic myeloid leukemia (CML). However, clinical resistance to TKIs that leads to patient relapse remains a challenge. Acquisition of BCR-ABL mutations is crucial in the resistance but the underlying molecular mechanisms are poorly understood. Here we describe a cell culture model for CML acquired resistance in which blast crisis CML cells undergo initial apoptosis upon treatment with therapeutically effective doses of TKIs, but the cells regrow quickly with development of resistance through BCR-ABL mutations. This model mimics the clinical process of acquisition of BCR-ABL mutations and will be an important tool to dissect molecular mechanisms of CML drug resistance and to explore strategies to overcome resistance.
Key words
Chronic myeloid leukemia

Acquired resistance

BCR-ABL

Mutation

Colony formation assay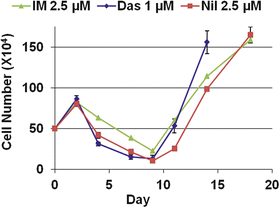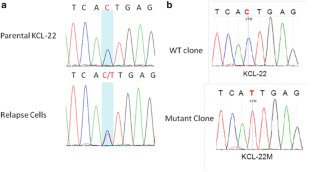 References
Gorre ME, Mohammed M, Ellwood K, Hsu N, Paquette R, Rao PN et al (2001) Clinical resistance to STI-571 cancer therapy caused by BCR-ABL gene mutation or amplification. Science 293:876–880

Shah NP, Nicoll JM, Nagar B, Gorre ME, Paquette RL, Kuriyan J et al (2002) Multiple BCR-ABL kinase domain mutations confer polyclonal resistance to the tyrosine kinase inhibitor imatinib (STI571) in chronic phase and blast crisis chronic myeloid leukemia. Cancer Cell 2:117–125

Branford S, Rudzki Z, Walsh S, Grigg A, Arthur C, Taylor K et al (2002) High frequency of point mutations clustered within the adenosine triphosphate-binding region of BCR/ABL in patients with chronic myeloid leukemia or Ph-positive acute lymphoblastic leukemia who develop imatinib (STI571) resistance. Blood 99:3472–3475

Weisberg E, Manley PW, Breitenstein W, Bruggen J, Cowan-Jacob SW, Ray A et al (2005) Characterization of AMN107, a selective inhibitor of native and mutant Bcr-Abl. Cancer Cell 7:129–141

von Bubnoff N, Manley PW, Mestan J, Sanger J, Peschel C, Duyster J (2006) Bcr-Abl resistance screening predicts a limited spectrum of point mutations to be associated with clinical resistance to the Abl kinase inhibitor nilotinib (AMN107). Blood 108:1328–1333

Shah NP, Tran C, Lee FY, Chen P, Norris D, Sawyers CL (2004) Overriding imatinib resistance with a novel ABL kinase inhibitor. Science 305:399–401

Mahon FX, Deininger MW, Schultheis B, Chabrol J, Reiffers J, Goldman JM et al (2000) Selection and characterization of BCR-ABL positive cell lines with differential sensitivity to the tyrosine kinase inhibitor STI571: diverse mechanisms of resistance. Blood 96:1070–1079

von Bubnoff N, Veach DR, van der Kuip H, Aulitzky WE, Sanger J, Seipel P et al (2005) A cell-based screen for resistance of Bcr-Abl-positive leukemia identifies the mutation pattern for PD166326, an alternative Abl kinase inhibitor. Blood 105:1652–1659

La Rosee P, Corbin AS, Stoffregen EP, Deininger MW, Druker BJ (2002) Activity of the Bcr-Abl kinase inhibitor PD180970 against clinically relevant Bcr-Abl isoforms that cause resistance to imatinib mesylate (Gleevec, STI571). Cancer Res 62:7149–7153

Bradeen HA, Eide CA, O'Hare T, Johnson KJ, Willis SG, Lee FY et al (2006) Comparison of imatinib mesylate, dasatinib (BMS-354825), and nilotinib (AMN107) in an N-ethyl-N-nitrosourea (ENU)-based mutagenesis screen: high efficacy of drug combinations. Blood 108:2332–2338

Ray A, Cowan-Jacob SW, Manley PW, Mestan J, Griffin JD (2007) Identification of BCR-ABL point mutations conferring resistance to the Abl kinase inhibitor AMN107 (nilotinib) by a random mutagenesis study. Blood 109:5011–5015

Azam M, Latek RR, Daley GQ (2003) Mechanisms of autoinhibition and STI-571/imatinib resistance revealed by mutagenesis of BCR-ABL. Cell 112:831–843

Burgess MR, Skaggs BJ, Shah NP, Lee FY, Sawyers CL (2005) Comparative analysis of two clinically active BCR-ABL kinase inhibitors reveals the role of conformation-specific binding in resistance. Proc Natl Acad Sci U S A 102:3395–3400

Koptyra M, Falinski R, Nowicki MO, Stoklosa T, Majsterek I, Nieborowska-Skorska M et al (2006) BCR/ABL kinase induces self-mutagenesis via reactive oxygen species to encode imatinib resistance. Blood 108:319–327

Jiang X, Saw KM, Eaves A, Eaves C (2007) Instability of BCR-ABL gene in primary and cultured chronic myeloid leukemia stem cells. J Natl Cancer Inst 99:680–693

Yuan H, Wang Z, Gao C, Chen W, Huang Q, Yee JK et al (2010) BCR-ABL gene expression is required for its mutations in a novel KCL-22 cell culture model for acquired resistance of chronic myelogenous leukemia. J Biol Chem 285:5085–5096
Acknowledgement

This study was supported by grants from the US Department of Defense W81XWH-06-1-0268, the STOPCANCER Foundation, the V-Foundation, and the National Cancer Institute R01 CA143421. The core facilities including Analytical Cytometry Core and DNA Sequencing Core were supported by NCI P30 CA033572. The contents are solely the responsibility of the authors and do not represent the official views of the National Cancer Institute or NIH.
Copyright information

© 2016 Springer Science+Business Media New York
About this protocol
Cite this protocol
Wang, Z., Chen, W. (2016). A Convenient Cell Culture Model for CML Acquired Resistance Through BCR-ABL Mutations. In: Li, S., Zhang, H. (eds) Chronic Myeloid Leukemia. Methods in Molecular Biology, vol 1465. Humana Press, New York, NY. https://doi.org/10.1007/978-1-4939-4011-0_13
DOI: https://doi.org/10.1007/978-1-4939-4011-0_13

Published:

Publisher Name: Humana Press, New York, NY

Print ISBN: 978-1-4939-4009-7

Online ISBN: 978-1-4939-4011-0

eBook Packages: Springer Protocols