Abstract

A number of chemical mediators regulate neutrophil recruitment to inflammatory sites either positively or negatively. Although the actions of each chemical mediator on the intracellular signaling networks controlling cell migration have been studied with neutrophils cultured in vitro, how such chemical mediators act cooperatively or counteractively in vivo remains largely unknown. To understand the mechanisms regulating neutrophil recruitment to the inflamed intestine in vivo, we recently generated transgenic mice expressing biosensors based on FRET (Förster resonance energy transfer) and set up two-photon excitation microscopy to observe the gastrointestinal tract in living mice. By measuring FRET in neutrophils, we showed activity changes of protein kinases in the neutrophils recruited to inflamed intestines. In this chapter, we describe the protocol used to visualize the protein kinase activities in neutrophils of the inflamed intestine of transgenic mice expressing the FRET biosensors.
Key words
FRET

Two-photon microscopy

Intravital imaging

Neutrophil recruitment

Intestinal inflammation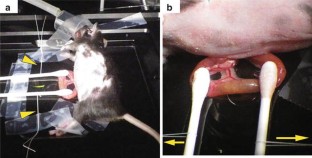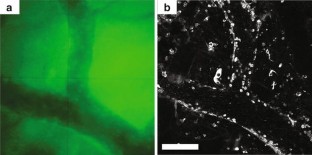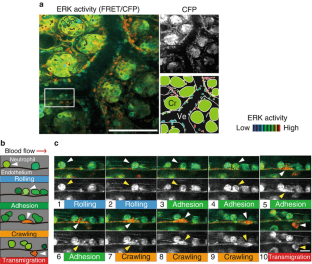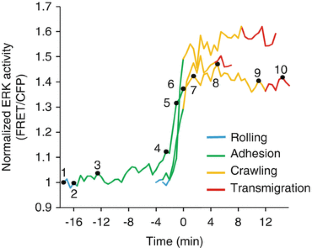 References
Borregaard N (2010) Neutrophils, from marrow to microbes. Immunity 33:657–670

Sanz MJ, Kubes P (2012) Neutrophil-active chemokines in in vivo imaging of neutrophil trafficking. Eur J Immunol 42:278–283

Megens RT, Kemmerich K, Pyta J, Weber C, Soehnlein O (2011) Intravital imaging of phagocyte recruitment. Thromb Haemost 105:802–810

Germain RN, Robey EA, Cahalan MD (2012) A decade of imaging cellular motility and interaction dynamics in the immune system. Science 336:1676–1681

Kolaczkowska E, Kubes P (2013) Neutrophil recruitment and function in health and inflammation. Nat Rev Immunol 13:159–175

Kamioka Y, Sumiyama K, Mizuno R, Sakai Y, Hirata E et al (2012) Live imaging of protein kinase activities in transgenic mice expressing FRET biosensors. Cell Struct Funct 37:65–73

Mizuno R, Kamioka Y, Kabashima K, Imajo M, Sumiyama K et al (2014) In vivo imaging reveals PKA regulation of ERK activity during neutrophil recruitment to inflamed intestines. J Exp Med 211:1123–1136

Swartz DE, Seely AJ, Ferri L, Giannias B, Christou NV (2000) Decreased systemic polymorphonuclear neutrophil (PMN) rolling without increased PMN adhesion in peritonitis at remote sites. Arch Surg 135:959–966

Wang MX, Liu YY, Hu BH, Wei XH, Chang X et al (2010) Total salvianolic acid improves ischemia-reperfusion-induced microcirculatory disturbance in rat mesentery. World J Gastroenterol 16:5306–5316

Han JY, Horie Y, Fan JY, Sun K, Guo J et al (2009) Potential of 3,4-dihydroxy-phenyl lactic acid for ameliorating ischemia-reperfusion-induced microvascular disturbance in rat mesentery. Am J Physiol Gastrointest Liver Physiol 296:G36–G44

Suzuki M, Mori M, Fukumura D, Suzuki H, Miura S et al (1999) Omeprazole attenuates neutrophil-endothelial cell adhesive interaction induced by extracts of Helicobacter pylori. J Gastroenterol Hepatol 14:27–31

Ritsma L, Steller EJ, Ellenbroek SI, Kranenburg O, Borel Rinkes IH et al (2013) Surgical implantation of an abdominal imaging window for intravital microscopy. Nat Protoc 8:583–594

Klinger A, Orzekowsky-Schroeder R, von Smolinski D, Blessenohl M et al (2012) Complex morphology and functional dynamics of vital murine intestinal mucosa revealed by autofluorescence 2-photon microscopy. Histochem Cell Biol 137:269–278

Toiyama Y, Mizoguchi A, Okugawa Y, Koike Y, Morimoto Y et al (2010) Intravital imaging of DSS-induced cecal mucosal damage in GFP-transgenic mice using two-photon microscopy. J Gastroenterol 45:544–553

McDole JR, Wheeler LW, McDonald KG, Wang B et al (2012) Goblet cells deliver luminal antigen to CD103+ dendritic cells in the small intestine. Nature 483:345–349

Watson AJ, Chu S, Sieck L, Gerasimenko O, Bullen T et al (2005) Epithelial barrier function in vivo is sustained despite gaps in epithelial layers. Gastroenterology 129:902–912

Yardeni T, Eckhaus M, Morris HD, Huizing M, Hoogstraten-Miller S (2011) Retro-orbital injections in mice. Lab Anim (NY) 40:155–160

Stirling DP, Liu S, Kubes P, Yong VW (2009) Depletion of Ly6G/Gr-1 leukocytes after spinal cord injury in mice alters wound healing and worsens neurological outcome. J Neurosci 29:753–764
Acknowledgements

This work was supported by the Platform for Dynamic Approaches to Living System from the Ministry of Education, Culture, Sports, Science and Technology, Japan. We thank K. Otani for assisting with the jugular vein cannulation.
Copyright information

© 2016 Springer Science+Business Media New York
About this protocol
Cite this protocol
Mizuno, R., Kamioka, Y., Sakai, Y., Matsuda, M. (2016). Visualization of Signaling Molecules During Neutrophil Recruitment in Transgenic Mice Expressing FRET Biosensors. In: Ivanov, A. (eds) Gastrointestinal Physiology and Diseases. Methods in Molecular Biology, vol 1422. Humana Press, New York, NY. https://doi.org/10.1007/978-1-4939-3603-8_14
DOI: https://doi.org/10.1007/978-1-4939-3603-8_14

Published:

Publisher Name: Humana Press, New York, NY

Print ISBN: 978-1-4939-3601-4

Online ISBN: 978-1-4939-3603-8

eBook Packages: Springer Protocols