Abstract

The ability to capture, enrich, and propagate circulating cancer cells/circulating tumor cells (CTCs) for downstream analyses such as ex vivo drug-sensitivity testing of short-term cultures of CTCs, single cell sorting of CTCs by fluorescence activated cell sorting (FACS), animal injection tumor and/or metastasis formation studies, next generation sequencing (NGS), gene expression profiling, gene copy number determination, and epigenomic analyses is of high priority and of immense importance to both the basic research and translational/clinical research communities. Vitatex Inc.'s functional cell separation technology, constructed as Vita-Assay™ (AG6W, AN6W, AR6W) culture plates, is based on the preferential adhesion of invasive rare blood cells of tissue origin to a tissue or tumor microenvironment mimic—the so-called cell adhesion matrix (CAM), which has a demonstrated ability to enrich viable CTCs from blood up to one-million fold.

The CAM-scaffold allows for the functional capture and identification of invasive CTCs (iCTCs) including invasive tumor progenitor (TP) cells from cancer-patients' blood. CAM-captured CTCs are capable of ingesting the CAM (CAM+) itself. Green and red fluorescent versions of Vita-Assay™ (AG6W and AR6W) allow for direct visualization of CAM-uptake by cancer cells. Vita-Assay™ CAM-enrichment has allowed for sensitive multiplex flow cytometric and microscopic detection of iCTCs from patients with cancers of the breast, ovary, prostate, pancreas, colorectum, and lung; it has also been successfully utilized for ex vivo drug-sensitivity testing of ovarian-cancer patient CTCs. The CAM enrichment method is equally suitable for the separation of iCTCs and TP cells in ascites and pleural fluid.
Key words
Cancer cell capture

Cell invasion

Metastasis detection

Rare-cell enrichment

Circulating cancer cells

Circulating tumor cells

iCTCs

Vita-Assay™

Cell-adhesion matrix

Vitatex Inc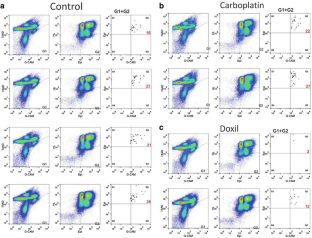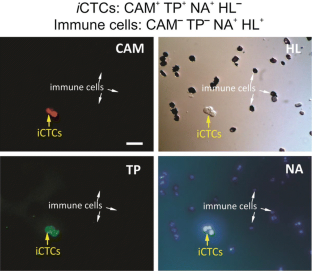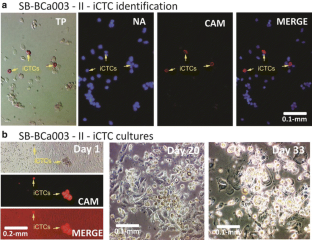 References
Hanahan D, Weinberg RA (2011) Hallmarks of cancer: the next generation. Cell 144(5):646–674. doi:10.1016/j.cell.2011.02.013, S0092-8674(11)00127-9 [pii]

Hanahan D, Weinberg RA (2000) The hallmarks of cancer. Cell 100(1):57–70, S0092-8674(00)81683-9 [pii]

Gupta GP, Massague J (2006) Cancer metastasis: building a framework. Cell 127(4):679–695. doi:10.1016/j.cell.2006.11.001, S0092-8674(06)01414-0 [pii]

Oskarsson T, Batlle E, Massague J (2014) Metastatic stem cells: sources, niches, and vital pathways. Cell Stem Cell 14(3):306–321. doi:10.1016/j.stem.2014.02.002, S1934-5909(14)00053-8 [pii]

Spano D, Heck C, De AP, Christofori G, Zollo M (2012) Molecular networks that regulate cancer metastasis. Semin Cancer Biol 22(3):234–249. doi:10.1016/j.semcancer.2012.03.006, S1044-579X(12)00055-7 [pii]

Fidler IJ (2003) The pathogenesis of cancer metastasis: the 'seed and soil' hypothesis revisited. Nat Rev Cancer 3(6):453–458. doi:10.1038/nrc1098, nrc1098 [pii]

Chambers AF, Groom AC, MacDonald IC (2002) Dissemination and growth of cancer cells in metastatic sites. Nat Rev Cancer 2(8):563–572. doi:10.1038/nrc865, nrc865 [pii]

Mehlen P, Puisieux A (2006) Metastasis: a question of life or death. Nat Rev Cancer 6(6):449–458. doi:10.1038/nrc1886, nrc1886 [pii]

Monteiro J, Fodde R (2010) Cancer stemness and metastasis: therapeutic consequences and perspectives. Eur J Cancer 46(7):1198–1203. doi:10.1016/j.ejca.2010.02.030, S0959-8049(10)00157-7 [pii]

Nguyen DX, Bos PD, Massague J (2009) Metastasis: from dissemination to organ-specific colonization. Nat Rev Cancer 9(4):274–284. doi:10.1038/nrc2622, nrc2622 [pii]

Pantel K, Brakenhoff RH (2004) Dissecting the metastatic cascade. Nat Rev Cancer 4(6):448–456. doi:10.1038/nrc1370, nrc1370 [pii]

Kang Y, Pantel K (2013) Tumor cell dissemination: emerging biological insights from animal models and cancer patients. Cancer Cell 23(5):573–581. doi:10.1016/j.ccr.2013.04.017, S1535-6108(13)00182-7 [pii]

Joosse SA, Gorges TM, Pantel K (2014) Biology, detection, and clinical implications of circulating tumor cells. EMBO Mol Med. doi: 10.15252/emmm.201303698. emmm.201303698 [pii]

Fidler IJ (1970) Metastasis: quantitative analysis of distribution and fate of tumor emboli labeled with 125 I-5-iodo-2′-deoxyuridine. J Natl Cancer Inst 45(4):773–782

Bockhorn M, Jain RK, Munn LL (2007) Active versus passive mechanisms in metastasis: do cancer cells crawl into vessels, or are they pushed? Lancet Oncol 8(5):444–448. doi:10.1016/S1470-2045(07)70140-7, S1470-2045(07)70140-7 [pii]

Butler TP, Gullino PM (1975) Quantitation of cell shedding into efferent blood of mammary adenocarcinoma. Cancer Res 35(3):512–516

Zhe X, Cher ML, Bonfil RD (2011) Circulating tumor cells: finding the needle in the haystack. Am J Cancer Res 1(6):740–751

Lu J, Fan T, Zhao Q, Zeng W, Zaslavsky E, Chen JJ, Frohman MA, Golightly MG, Madajewicz S, Chen WT (2010) Isolation of circulating epithelial and tumor progenitor cells with an invasive phenotype from breast cancer patients. Int J Cancer 126(3):669–683. doi:10.1002/ijc.24814

Alix-Panabieres C, Schwarzenbach H, Pantel K (2012) Circulating tumor cells and circulating tumor DNA. Annu Rev Med 63:199–215. doi:10.1146/annurev-med-062310-094219

Alix-Panabieres C (2012) EPISPOT assay: detection of viable DTCs/CTCs in solid tumor patients. Recent Results Cancer Res 195:69–76. doi:10.1007/978-3-642-28160-0_6

Miller MC, Doyle GV, Terstappen LW (2010) Significance of circulating tumor cells detected by the cell search system in patients with metastatic breast colorectal and prostate cancer. J Oncol 2010:617421. doi:10.1155/2010/617421

Ghossein RA, Bhattacharya S, Rosai J (1999) Molecular detection of micrometastases and circulating tumor cells in solid tumors. Clin Cancer Res 5(8):1950–1960

Pearl ML, Zhao Q, Yang J, Dong H, Tulley S, Zhang Q, Golightly M, Zucker S, Chen WT (2014) Prognostic analysis of invasive circulating tumor cells (iCTCs) in epithelial ovarian cancer. Gynecol Oncol 134(3):581–590. doi:10.1016/j.ygyno.2014.06.013, S0090-8258(14)01053-1 [pii]

Friedlander TW, Ngo VT, Dong H, Premasekharan G, Weinberg V, Doty S, Zhao Q, Gilbert EG, Ryan CJ, Chen WT, Paris PL (2014) Detection and characterization of invasive circulating tumor cells derived from men with metastatic castration-resistant prostate cancer. Int J Cancer 134(10):2284–2293. doi:10.1002/ijc.28561

Paris PL, Kobayashi Y, Zhao Q, Zeng W, Sridharan S, Fan T, Adler HL, Yera ER, Zarrabi MH, Zucker S, Simko J, Chen WT, Rosenberg J (2009) Functional phenotyping and genotyping of circulating tumor cells from patients with castration resistant prostate cancer. Cancer Lett 277(2):164–173. doi:10.1016/j.canlet.2008.12.007, S0304-3835(08)00940-3 [pii]

Fan T, Zhao Q, Chen JJ, Chen WT, Pearl ML (2009) Clinical significance of circulating tumor cells detected by an invasion assay in peripheral blood of patients with ovarian cancer. Gynecol Oncol 112(1):185–191. doi:10.1016/j.ygyno.2008.09.021, S0090-8258(08)00732-4 [pii]
Acknowledgement

This study was supported by Small Business Innovative Research (SBIR) grant R44CA140047 from the NCI awarded to Vitatex Inc . that holds a subcontract with Stony Brook Medicine.
Copyright information

© 2016 Springer Science+Business Media New York
About this protocol
Cite this protocol
Tulley, S., Zhao, Q., Dong, H., Pearl, M.L., Chen, WT. (2016). Vita-Assay™ Method of Enrichment and Identification of Circulating Cancer Cells/Circulating Tumor Cells (CTCs). In: Cao, J. (eds) Breast Cancer. Methods in Molecular Biology, vol 1406. Humana Press, New York, NY. https://doi.org/10.1007/978-1-4939-3444-7_9
DOI: https://doi.org/10.1007/978-1-4939-3444-7_9

Published:

Publisher Name: Humana Press, New York, NY

Print ISBN: 978-1-4939-3442-3

Online ISBN: 978-1-4939-3444-7

eBook Packages: Springer Protocols