Abstract

Protein phosphorylation has traditionally been detected by radioisotope phosphate labeling of proteins with radioactive ATP. Several nonradioactive assays with phosphorylation site-specific antibodies are now available for the analysis of phosphorylation status at target sites. However, due to their high specificity, these antibodies they cannot be used to detect unidentified phosphorylation sites. Recently, Phos-tag technology has been developed to overcome the disadvantages and limitations of phosphospecific antibodies. Phos-tag and its derivatives conjugated to biotin, acrylamide, or agarose, form alkoxide-bridged dinuclear metal complexes, which can capture phosphate monoester dianions bound to serine, threonine, and tyrosine residues, in an amino acid sequence-independent manner. Here, we describe our method, which is based on in vitro kinase assay and Western blotting analysis using biotinylated Phos-tag and horseradish peroxidase-conjugated streptavidin, to determine the sites of TRPC6 (transient receptor potential canonical 6) channel phosphorylated by protein kinase A.
Key words
Protein phosphorylation

Phos-tag

Western blotting

In vitro kinase assay

Biotin

Horseradish peroxidase-conjugated streptavidin

Protein kinase A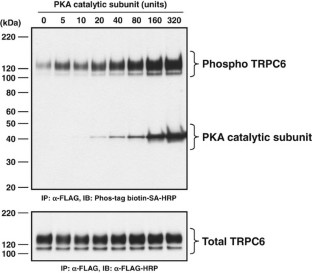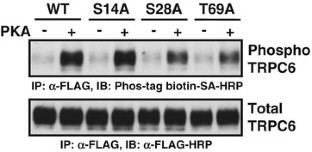 References
Hunter T (2000) Signaling—2000 and beyond. Cell 100:113–127

Cohen P (2002) Protein kinases— the major drug targets of the twenty-first century? Nat Rev Drug Discov 1:309–315

Noble ME, Endicott JA, Johnson LN (2004) Protein kinase inhibitors: insights into drug design from structure. Science 303:1800–1805

Newman RH, Zhang J, Zhu H (2014) Toward a systems-level view of dynamic phosphorylation networks. Front Genet 5:263

Hunter T (2012) Why nature chose phosphate to modify proteins. Philos Trans R Soc Lond B Biol Sci 367:2513–2516

Kinoshita E, Kinoshita-Kikuta E, Takiyama K et al (2006) Phosphate-binding tag, a new tool to visualize phosphorylated proteins. Mol Cell Proteomics 5:749–757

Kinoshita E, Kinoshita-Kikuta E, Sugiyama Y et al (2012) Highly sensitive detection of protein phosphorylation by using improved Phos-tag Biotin. Proteomics 12:932–937

Kinoshita E, Kinoshita-Kikuta E, Koike T (2009) Separation and detection of large phosphoproteins using Phos-tag SDS-PAGE. Nat Protoc 4:1513–1521

Abramowitz J, Birnbaumer L (2009) Physiology and pathophysiology of canonical transient receptor potential channels. FASEB J 23:297–328

Shi J, Mori E, Mori Y et al (2004) Multiple regulation by calcium of murine homologues of transient receptor potential proteins TRPC6 and TRPC7 expressed in HEK293 cells. J Physiol 561:415–432

Hisatsune C, Kuroda Y, Nakamura K et al (2004) Regulation of TRPC6 channel activity by tyrosine phosphorylation. J Biol Chem 279:18887–18894

Kim JY, Saffen D (2005) Activation of M1 muscarinic acetylcholine receptors stimulates the formation of a multiprotein complex centered on TRPC6 channels. J Biol Chem 280:32035–32047

Kinoshita H, Kuwahara K, Nishida M et al (2010) Inhibition of TRPC6 channel activity contributes to the antihypertrophic effects of natriuretic peptides-guanylyl cyclase-A signaling in the heart. Circ Res 106:1849–1860

Nishioka K, Nishida M, Ariyoshi M et al (2011) Cilostazol suppresses angiotensin II-induced vasoconstriction via protein kinase A-mediated phosphorylation of the transient receptor potential canonical 6 channel. Arterioscler Thromb Vasc Biol 31:2278–2286

Horinouchi T, Higa T, Aoyagi H et al (2012) Adenylate cyclase/cAMP/protein kinase A signaling pathway inhibits endothelin type A receptor-operated Ca2+ entry mediated via transient receptor potential canonical 6 channels. J Pharmacol Exp Ther 340:143–151

Songyang Z, Blechner S, Hoagland N et al (1994) Use of an oriented peptide library to determine the optimal substrates of protein kinases. Curr Biol 4:973–982

Bradford MM (1976) A rapid and sensitive method for the quantitation of microgram quantities of protein utilizing the principle of protein-dye binding. Anal Biochem 72:248–254
Acknowledgement

This work was supported in part by Grants-in-Aid for Young Scientists (B) from Japan Society for the Promotion of Science [grant 21790236] (to T. Horinouchi); Grants-in-Aid for Scientific Research (B) from Japan Society for the Promotion of Science [grant 21390068] (to S.M.); and grants from Smoking Research Foundation of Japan (to S.M.), Mitsubishi Pharma Research Foundation (to T. Horinouchi), the Pharmacological Research Foundation, Tokyo (to T. Horinouchi), the Shimabara Science Promotion Foundation (to T. Horinouchi), and Actelion Pharmaceuticals Japan Ltd. (to T. Horinouchi).
Copyright information

© 2016 Springer Science+Business Media New York
About this protocol
Cite this protocol
Horinouchi, T., Terada, K., Higashi, T., Miwa, S. (2016). Using Phos-Tag in Western Blotting Analysis to Evaluate Protein Phosphorylation. In: Hewitson, T., Smith, E., Holt, S. (eds) Kidney Research. Methods in Molecular Biology, vol 1397. Humana Press, New York, NY. https://doi.org/10.1007/978-1-4939-3353-2_18
DOI: https://doi.org/10.1007/978-1-4939-3353-2_18

Published:

Publisher Name: Humana Press, New York, NY

Print ISBN: 978-1-4939-3351-8

Online ISBN: 978-1-4939-3353-2

eBook Packages: Springer Protocols