Abstract

The use of controlled, structured vocabularies (ontologies) has become a critical tool for scientists in the post-genomic era of massive datasets. Adoption and integration of common vocabularies and annotation practices enables cross-species comparative analyses and increases data sharing and reusability. The Plant Ontology (PO; http://www.plantontology.org/) describes plant anatomy, morphology, and the stages of plant development, and offers a database of plant genomics annotations associated to the PO terms. The scope of the PO has grown from its original design covering only rice, maize, and Arabidopsis, and now includes terms to describe all green plants from angiosperms to green algae.

This chapter introduces how the PO and other related ontologies are constructed and organized, including languages and software used for ontology development, and provides an overview of the key features. Detailed instructions illustrate how to search and browse the PO database and access the associated annotation data. Users are encouraged to provide input on the ontology through the online term request form and contribute datasets for integration in the PO database.
Key words
Bioinformatics

Ontology

Plant anatomy

Plant development

Comparative genomic s

Genome annotation

Transcriptomics

Phenomics

Semantic web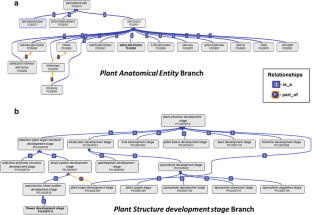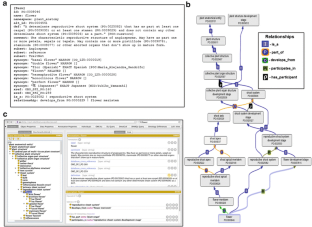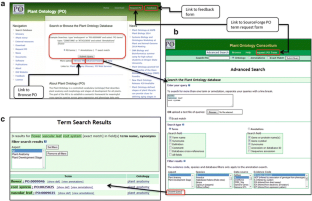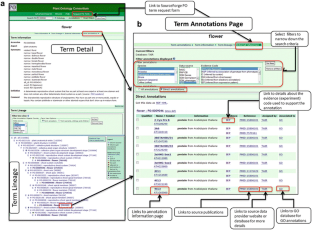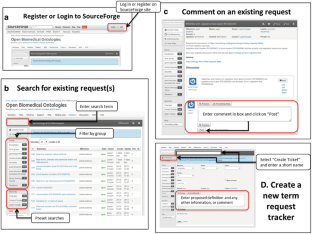 References
Michael TP, Jackson S (2013) The first 50 plant genomes. Plant Genome 6:1–7. doi:10.3835/plantgenome2013.03.0001in

Fox SE, Geniza M, Hanumappa M et al (2014) De novo transcriptome assembly and analyses of gene expression during photomorphogenesis in diploid wheat Triticum monococcum. PLoS One 9:e96855. doi:10.1371/journal.pone.0096855

Fox SE, Preece J, Kimbrel JA et al (2013) Sequencing and de novo transcriptome assembly of Brachypodium sylvaticum (Poaceae). Appl Plant Sci 1:1200011. doi:10.3732/apps.1200011

Mishima K, Fujiwara T, Iki T et al (2014) Transcriptome sequencing and profiling of expressed genes in cambial zone and differentiating xylem of Japanese cedar (Cryptomeria japonica). BMC Genomics 15:219

Mudalkar S, Golla R, Ghatty S, Reddy A (2014) De novo transcriptome analysis of an imminent biofuel crop, Camelina sativa L. using Illumina GAIIX sequencing platform and identification of SSR markers. Plant Mol Biol 84:159–171. doi:10.1007/s11103-013-0125-1

Ranjan A, Ichihashi Y, Farhi M et al (2014) De novo assembly and characterization of the transcriptome of the parasitic weed Cuscuta pentagona identifies genes associated with plant parasitism. Plant Physiol 166:1186. doi:10.1104/pp. 113.234864

Wu J, Xu Z, Zhang Y et al (2014) An integrative analysis of the transcriptome and proteome of the pulp of a spontaneous late-ripening sweet orange mutant and its wild type improves our understanding of fruit ripening in citrus. J Exp Bot 65:1651–1671. doi:10.1093/jxb/eru044

The Arabidopsis Genome Initiative (2000) Analysis of the genome sequence of the flowering plant Arabidopsis thaliana. Nature 408:796–815. doi:10.1038/35048692

Myburg AA, Grattapaglia D, Tuskan GA et al (2014) The genome of Eucalyptus grandis. Nature 510:356. doi:10.1038/nature13308

Nystedt B, Street NR, Wetterbom A et al (2013) The Norway spruce genome sequence and conifer genome evolution. Nature 497:579–584

Schmutz J, McClean PE, Mamidi S et al (2014) A reference genome for common bean and genome-wide analysis of dual domestications. Nat Genet 46:707

Sansone S-A, Rocca-Serra P, Field D et al (2012) Toward interoperable bioscience data. Nat Genet 44:121–126. doi:10.1038/ng.1054

Kolker E, Özdemir V, Martens L et al (2014) Toward more transparent and reproducible omics studies through a common metadata checklist and data publications. OMICS J Integr Biol 18:10–14. doi:10.1089/omi.2013.0149

Wruck W, Peuker M, Regenbrecht CRA (2014) Data management strategies for multinational large-scale systems biology projects. Brief Bioinform 15:65–78. doi:10.1093/bib/bbs064

Taylor CF, Field D, Sansone S-A et al (2008) Promoting coherent minimum reporting guidelines for biological and biomedical investigations: the MIBBI project. Nat Biotechnol 26:889–896. doi:10.1038/nbt0808-889

Rocca-Serra P, Brandizi M, Maguire E et al (2010) ISA software suite: supporting standards-compliant experimental annotation and enabling curation at the community level. Bioinformatics 26:2354–2356. doi:10.1093/bioinformatics/btq415

Appels R, Nystrom-Persson J, Keeble-Gagnere G (2014) Advances in genome studies in plants and animals - Springer. Funct Integr Genomics 14:1–9. doi:10.1007/s10142-014-0364-5

Stevens R, Rector A, Hull D (2010) What is an ontology? Ontogenesis

Walls RL, Athreya B, Cooper L et al (2012) Ontologies as integrative tools for plant science. Am J Bot 99:1263–1275. doi:10.3732/ajb.1200222

Cooper L, Walls RL, Elser J et al (2013) The Plant Ontology as a tool for comparative plant anatomy and genomic analyses. Plant Cell Physiol 54:e1. doi:10.1093/pcp/pcs163

Ashburner M, Ball CA, Blake JA et al (2000) Gene ontology: tool for the unification of biology. Nat Genet 25:25–29. doi:10.1038/75556

The Gene Ontology Consortium (2013) Gene ontology annotations and resources. Nucleic Acids Res 41:D530–D535. doi:10.1093/nar/gks1050

Schaeffer ML, Harper LC, Gardiner JM et al (2011) MaizeGDB: curation and outreach go hand-in-hand. Database (Oxford) 2011:bar022. doi:10.1093/database/bar022

Lamesch P, Berardini TZ, Li D et al (2012) The Arabidopsis Information Resource (TAIR): improved gene annotation and new tools. Nucleic Acids Res 40:D1202–D1210. doi:10.1093/nar/gkr1090

Monaco MK, Stein J, Naithani S et al (2014) Gramene 2013: comparative plant genomics resources. Nucleic Acids Res 42:D1193–D1199. doi:10.1093/nar/gkt1110

Kersey PJ, Allen JE, Christensen M et al (2014) Ensembl Genomes 2013: scaling up access to genome-wide data. Nucleic Acids Res 42:D546–D552. doi:10.1093/nar/gkt979

Neale DB, Wegrzyn JL, Stevens KA et al (2014) Decoding the massive genome of loblolly pine using haploid DNA and novel assembly strategies. Genome Biol 15:R59. doi:10.1186/gb-2014-15-3-r59

Shulaev V, Sargent DJ, Crowhurst RN et al (2011) The genome of woodland strawberry (Fragaria vesca). Nat Genet 43:109–116. doi:10.1038/ng.740

Varshney RK, Mir RR, Bhatia S et al (2014) Integrated physical, genetic and genome map of chickpea (Cicer arietinum L.). Funct Integr Genomics 14:59–73. doi:10.1007/s10142-014-0363-6

Rowley ER, Fox SE, Bryant DW et al (2012) Assembly and characterization of the European Hazelnut "Jefferson" transcriptome. Crop Sci 52:2679. doi:10.2135/cropsci2012.02.0065

Sharma N, Jung C-H, Bhalla PL, Singh MB (2014) RNA sequencing analysis of the gametophyte transcriptome from the liverwort, marchantia polymorpha. PLoS One 9:e97497

Liu M, Qiao G, Jiang J et al (2012) Transcriptome sequencing and de novo analysis for ma bamboo (Dendrocalamus latiflorus Munro) using the Illumina platform. PLoS One 7:e46766. doi:10.1371/journal.pone.0046766

Garcia-Hernandez M, Berardini TZ, Chen G et al (2002) TAIR: a resource for integrated Arabidopsis data. Funct Integr Genomics 2:239–253. doi:10.1007/s10142-002-0077-z

Vincent L, Coe EH, Polacco ML (2003) Zea mays ontology - a database of international terms. Trends Plant Sci 8:517–520. doi:10.1016/j.tplants.2003.09.014

Jaiswal P, Ware D, Ni J et al (2002) Gramene: development and integration of trait and gene ontologies for rice. Comp Funct Genom 3:132–136

Jaiswal P, Avraham S, Ilic K et al (2005) Plant Ontology (PO): a controlled vocabulary of plant structures and growth stages. Comp Funct Genom 6:388–397

Ilic K, Kellogg EA, Jaiswal P et al (2007) The plant structure ontology, a unified vocabulary of anatomy and morphology of a flowering plant. Plant Physiol 143:587–599. doi:10.1104/pp. 106.092825

Pujar A, Jaiswal P, Kellogg EA et al (2006) Whole-plant growth stage ontology for Angiosperms and its application in plant biology. Plant Physiol 142:414–428. doi:10.1104/pp. 106.085720

Rosse C, Mejino JLV (2007) The foundational model of anatomy ontology. In: Burger A, Davidson D, Baldock R (eds) Anatomy ontologies for bioinformatics: principles and practice. Springer, New York, NY, pp 59–117

Haendel M, Neuhaus F, Osumi-Sutherland D et al (2008) CARO - the common anatomy reference ontology. In: Burger A, Davidson D, Baldock R (eds) Anatomy ontologies for bioinformatics: principles and practice. Springer, New York, NY, pp 327–349

O'Donoghue M-T, Chater C, Wallace S et al (2013) Genome-wide transcriptomic analysis of the sporophyte of the moss Physcomitrella patens. J Exp Bot 64:3567–3581. doi:10.1093/jxb/ert190

Hill DP, Smith B, McAndrews-Hill MS, Blake J (2008) Gene Ontology annotations: what they mean and where they come from. BMC Bioinform 9:S2

Smith B, Ashburner M, Rosse C et al (2007) The OBO Foundry: coordinated evolution of ontologies to support biomedical data integration. Nat Biotechnol 25:1251–1255. doi:10.1038/nbt1346

Rosse C, Mejino JLV Jr (2003) A reference ontology for biomedical informatics: the foundational model of anatomy. J Biomed Inform 36:478–500. doi:10.1016/j.jbi.2003.11.007

Meehan T, Masci A, Abdulla A et al (2011) Logical development of the cell ontology. BMC Bioinform 12:6

Mungall CJ, Bada M, Berardini TZ et al (2011) Cross-product extensions of the gene ontology. J Biomed Inform 44:80–86. doi:10.1016/j.jbi.2010.02.002

Dentler K, Cornet R, ten Teije A, de Keizer N (2011) Comparison of reasoners for large ontologies in the OWL 2 EL profile. Semant Web 2:71–87. doi:10.3233/SW-2011-0034

Smith B, Ceusters W, Klagges B et al (2005) Relations in biomedical ontologies. Genome Biol 6:R46

Day-Richter J, Harris MA, Haendel M et al (2007) OBO-Edit an ontology editor for biologists. Bioinformatics 23:2198–2200. doi:10.1093/bioinformatics/btm112

Tirmizi S, Aitken S, Moreira D et al (2011) Mapping between the OBO and OWL ontology languages. J Biomed Semant 2:S3

Horridge M, Drummond N, Goodwin J, et al. (2006) The Manchester OWL Syntax. Proc. 2006 OWL Exp. Dir. Workshop OWL-ED2006

Horridge M, Bechhofer S (2011) The OWL API: a Java API for OWL ontologies. Semant Web 2:11–21. doi:10.3233/SW-2011-0025

Horridge M, Tudorache T, Nuylas C et al (2014) WebProtégé: a collaborative web based platform for editing biomedical ontologies. Bioinformatics 30:2384. doi:10.1093/bioinformatics/btu256

Carbon S, Ireland A, Mungall CJ et al (2009) AmiGO: online access to ontology and annotation data. Bioinformatics 25:288–289. doi:10.1093/bioinformatics/btn615

Arnaud E, Cooper L, Shrestha R, et al. (2012) Towards a reference Plant Trait Ontology for modeling knowledge of plant traits and phenotypes. Proceedings of the International Conference on Knowledge Engineering and Ontology Development, Barcelona, Spain, pp 220–225

Gkoutos G, Green E, Mallon A-M et al (2004) Using ontologies to describe mouse phenotypes. Genome Biol 6:R8

Buttigieg PL, Morrison N, Smith B et al (2013) The environment ontology: contextualising biological and biomedical entities. J Biomed Semant 4:43
Acknowledgements

The authors would like to acknowledge the contributions of the current and former members of the PO Project (http://plantontology.org/node/220) for their contributions to ontology development; the Gene Ontology Consortium (www.geneontology.org) for its leadership in the ontology field, for sharing software tools AmiGO an ontology browser, and the GO database package, which were both customized for the PO project; Christopher Sullivan (Center for Genome Research and Biocomputing at Oregon State University) for help with hosting and maintenance of the PO project web servers, and the members of the Jaiswal lab group at Oregon State University. We also acknowledge the iPlant Collaborative (http://www.iplantcollaborative.org/) for hosting a mirror site of PO (http://iplant.plantontology.org/). We extend special thanks to the numerous collaborators and domain experts (http://plantontology.org/node/8) who continue to contribute to the development and maintenance of the PO and the annotation database. This work was supported by the US National Science Foundation (Award # IOS:0822201 award).
Copyright information

© 2016 Springer Science+Business Media New York
About this protocol
Cite this protocol
Cooper, L., Jaiswal, P. (2016). The Plant Ontology: A Tool for Plant Genomics. In: Edwards, D. (eds) Plant Bioinformatics. Methods in Molecular Biology, vol 1374. Humana Press, New York, NY. https://doi.org/10.1007/978-1-4939-3167-5_5
DOI: https://doi.org/10.1007/978-1-4939-3167-5_5

Publisher Name: Humana Press, New York, NY

Print ISBN: 978-1-4939-3166-8

Online ISBN: 978-1-4939-3167-5

eBook Packages: Springer Protocols