Abstract

Glycosylated noble metal nanoparticles are a useful tool for probing biological binding events due to their aggregation-induced color changes, particularly for lectins that have multiple binding sites. To overcome the challenges of colloidal instability, which leads to false-positive results, it is essential to add polymeric coatings to these particles. Here we describe a versatile, and reliable, approach to enable coating of gold nanoparticles using well-defined polymers, with carbohydrate end groups. This produces multivalent nanoparticles that are both colloidally stable, but still retain their rapid colorimetric responses to lectin binding.
Key words
Gold nanoparticle s

Glycopolymers

RAFT polymerization

Lectins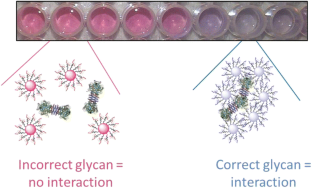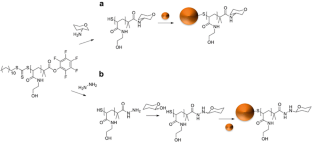 References
Schofield CL, Mukhopadhyay B, Hardy SM, McDonnell MB, Field RA, Russell DA (2008) Colorimetric detection of Ricinus communis Agglutinin 120 using optimally presented carbohydrate-stabilised gold nanoparticles. Analyst 133:626–634

Lin CC, Yeh YC, Yang CY, Chen GF, Chen YC, Wu YC, Chen CC (2003) Quantitative analysis of multivalent interactions of carbohydrate-encapsulated gold nanoparticles with concanavalin A. Chem Commun 2920–2921

Jayawardena HSN, Wang X, Yan M (2013) Classification of lectins by pattern recognition using glyconanoparticles. Anal Chem 85:10277–10281

Richards S-J, Gibson MI (2014) Optimization of the polymer coating for glycosylated gold nanoparticle biosensors to ensure stability and rapid optical readouts. ACS Macro Lett 3:1004–1008

Lin CC, Yeh YC, Yang CY, Chen CL, Chen GF, Chen CC, Wu YC (2002) Selective binding of mannose-encapsulated gold nanoparticles to type 1 Pili in Escherichia coli. J Am Chem Soc 124:3508–3509

Richards S-J, Fullam E, Besra GS, Gibson MI (2014) Discrimination between bacterial phenotypes using glyco-nanoparticles and the impact of polymer coating on detection readouts. J Mater Chem B 2:1490–1498

Marin MJ, Rashid A, Rejzek M, Fairhurst SA, Wharton SA, Martin SR, McCauley JW, Wileman T, Field RA, Russell DA (2013) Glyconanoparticles for the plasmonic detection and discrimination between human and avian influenza virus. Org Biomol Chem 11:7101–7107

Gibson MI, Paripovic D, Klok H-A (2010) Size-dependent LCST transitions of polymer-coated gold nanoparticles: cooperative aggregation and surface assembly. Adv Mater 22:4721–4725

Ieong NS, Brebis K, Daniel LE, O'Reilly RK, Gibson MI (2011) The critical importance of size on thermoresponsive nanoparticle transition temperatures: gold and micelle-based polymer nanoparticles. Chem Commun 47:11627–11629

Biggs CI, Edmondson S, Gibson MI (2015) Thiol-ene immobilisation of carbohydrates onto glass slides as a simple alternative to gold-thiol monolayers, amines or lipid binding. Biomater Sci 3:175–181

Godula K, Bertozzi CR (2010) Synthesis of glycopolymers for microarray applications via ligation of reducing sugars to a poly(acryloyl hydrazide) scaffold. J Am Chem Soc 132:9963–9965

Haiss W, Thanh NTK, Aveyard J, Fernig DG (2007) Determination of size and concentration of gold nanoparticles from UV−vis spectra. Anal Chem 79:4215–4221

Turkevich J, Stevenson PC, Hillier J (1951) A study of the nucleation and growth processes in the synthesis of colloidal gold. Discuss Faraday Soc 11:55–75
Acknowledgements

Equipment used was supported by the Innovative Uses for Advanced Materials in the Modern World (AM2), with support from Advantage West Midlands (AWM) and part funded by the European Regional Development Fund (ERDF). MIG was a Birmingham Science City Interdisciplinary Research Fellow funded by the Higher Education Funding Council for England (HEFCE). SJR acknowledges the EPSRC funded MOAC doctoral training centre for a studentship. CIB acknowledges the BBSRC for a studentship.
Copyright information

© 2016 Springer Science+Business Media New York
About this protocol
Cite this protocol
Richards, SJ., Biggs, C.I., Gibson, M.I. (2016). Multivalent Glycopolymer-Coated Gold Nanoparticles. In: Sun, XL. (eds) Macro-Glycoligands. Methods in Molecular Biology, vol 1367. Humana Press, New York, NY. https://doi.org/10.1007/978-1-4939-3130-9_14
DOI: https://doi.org/10.1007/978-1-4939-3130-9_14

Publisher Name: Humana Press, New York, NY

Print ISBN: 978-1-4939-3129-3

Online ISBN: 978-1-4939-3130-9

eBook Packages: Springer Protocols