Breast Cancer Stem Cells: Current Advances and Clinical Implications
Part of the Methods in Molecular Biology book series (MIMB, volume 1293)
Abstract
There is substantial evidence that many cancers, including breast cancer, are driven by a population of cells that display stem cell properties. These cells, termed cancer stem cells (CSCs) or tumor initiating cells, not only drive tumor initiation and growth but also mediate tumor metastasis and therapeutic resistance. In this chapter, we summarize current advances in CSC research with a major focus on breast CSCs (BCSCs). We review the prevailing methods to isolate and characterize BCSCs and recent evidence documenting their cellular origins and phenotypic plasticity that enables them to transition between mesenchymal and epithelial-like states. We describe in vitro and clinical evidence that these cells mediate metastasis and treatment resistance in breast cancer, the development of novel strategies to isolate circulating tumor cells (CTCs) that contain CSCs and the use of patient-derived xenograft (PDX) models in preclinical breast cancer research. Lastly, we highlight several signaling pathways that regulate BCSC self-renewal and describe clinical implications of targeting these cells for breast cancer treatment. The development of strategies to effectively target BCSCs has the potential to significantly improve the outcomes for patients with breast cancer.
Key words
Cancer stem cells (CSCs) 
Breast cancer 
Circulating tumor cells (CTCs) 
Phenotypic plasticity 
Patient-derived xenograft (PDX) 
1

Introduction

The mammary epithelium is mainly composed of two distinct lineages: an inner layer of luminal epithelial cells and an outer layer of basal/myoepithelial cells. At puberty, the rudimentary mammary epithelial trees, under the influence of sex hormones including estrogen and progesterone, expand considerably to form an elaborate branching network terminating in small lobular structures called terminal ductal lobular units (TDLU, for women) [1, 2]. In late pregnancy, the epithelium compartment attains maximal development, and luminal epithelial cells in TDLU undergo robust proliferation and differentiation to form lobular-alveolar buds called secretory alveoli that produce milk during lactation [3]. After weaning, these lobular-alveolar structures regress with massive apoptosis, and the mammary glands remodel to a virgin-like state for the next pregnancy cycle [3, 4]. The dynamic features of the mammary gland strongly suggest the existence of stem-like cells with the mammary epithelium. Indeed, early transplantation studies using mouse mammary fat pad segments as well as retroviral labeling of mammary epithelial cells revealed that the mammary epithelium is maintained by a multipotent mammary stem cell compartment [5, 6]. Recent prospective isolation and characterization of mammary stem cells and progenitor populations in the mouse [7, 8, 9, 10] and human [11, 12, 13, 14, 15] mammary gland provide further evidence that the mammary epithelium is organized in a hierarchical manner, and that a single mammary stem cell (MaSC), which resides in the basal/myoepithelial layer, can functionally reconstitute a mammary gland by giving rise to differentiated progenies through various lineage-restricted progenitor cells [8, 9, 16].

Despite a longstanding relationship between tumorigenesis and stem cell biology, it is only recently that advances in stem cells biology have enabled direct testing of this hypothesis. Only recently, John Dick's team provided the first evidence that human acute myeloid leukemia is organized as a hierarchy that originates from a primitive hematopoietic cell with self-renewal capacity [17]. Breast cancer, analogous to the hierarchical organization of the normal mammary epithelium, is also characterized as a highly heterogeneous disease. The heterogeneity of breast cancers is manifested by their classification into a number of distinct subtypes, each with a characteristic transcriptome and molecular expression signature [16]. There is now substantial evidence that breast cancer is hierarchically organized and driven by a small fraction of tumor cells that display stem cell properties [18, 19, 20]. This small population of breast cancer stem cells (BCSCs), also termed breast cancer initiating cells, were first identified among solid tumors by virtue of their expression of the cell surface markers EpCAM+, CD24−, and CD44+ [21]. As few as 100 cells bearing this phenotype were able to produce tumors in immune deficient NOD/SCID mice, whereas over 100-fold greater cells that did not bear this phenotype was non-tumorigenic. Furthermore, tumors generated from EpCAM+CD24−CD44+ BCSCs recapitulated the cell type heterogeneity of the initial tumor with a small fraction of tumor cells express the same stem-like signature, while the majority of bulk tumor cells do not. More recently, it has been shown that both normal and malignant breast stem cells express high level of the enzyme aldehyde dehydrogenase (ALDH) as assessed by the Aldefluor assay (Stem Cell Technologies, Inc., Vancouver, British Columbia, Canada). Moreover, ALDH1 expression serves as a predictor of poor clinical outcome in breast cancers [22]. Interestingly, the EpCAM+CD24−CD44+ and ALDH+ populations across different subtypes of breast cancers identify anatomically distinct BCSCs with respective EMT (epithelial-to-mesenchymal transition) and MET (mesenchymal-to-epithelial transition) gene expression profiles, and they dynamically transition between the mesenchymal and epithelial states reflective of their normal counterparts in the mammary epithelial hierarchy [23].

The cancer stem cell (CSC) hypothesis and the prospective isolation and identification of a small fraction of highly tumorigenic cells with stem cell properties in leukemia, breast cancers and subsequently from a wide variety of other malignancies including that of the brain [24], prostate [25, 26], colon [27, 28], pancreas [29], liver [30, 31], lung [32], and head and neck [33] in the past decade has led to a paradigm shift in terms of how cancers form, progress and relapse. In this chapter, we provide a historical review and current state of knowledge on CSCs with a major focus on BCSCs, especially regarding the prevailing methods to isolate and characterize these cells, their potential cellular origin and phenotypic plasticity, and the role of BCSCs in promoting metastasis and treatment resistance of breast cancer. We also highlight the use of circulating tumor cells (CTCs) and patient-derived xenograft (PDX) models in preclinical breast cancer research, the main signaling pathways regulating BCSC self-renewal, and potential therapeutic approaches and clinical implications of targeting these cells for breast cancer treatment.
2

Stemness as a Concept in Cancer Biology
2.1

CSC Model as a Cellular Mechanism of Carcinogenesis and Tumor Heterogeneity

Although oncology researchers have only recently began to probe cancers for tumor stem cells, the concept of stem-driven carcinogenesis dates back to the middle of the nineteenth century [34]. The German pathologist Rudolf Virchow proposed in 1855 that cancer arises from newly activated embryonic-like cells resident in a once dormant state in mature tissue [34, 35, 36]. More than 150 years later direct evidence for the existence and importance of CSCs in tumor biology emerged. For years, clinicians and research scientists have recognized that the behavior of metastatic cancers is highly reminiscent of that of stem cells. However, CSCs could not be identified until specific cell surface protein markers became available for distinguishing a rare population of cells present in acute myeloid leukemia [17]. These CSCs resident in the peripheral blood of patients with leukemia were found to be capable of initiating leukemia—at approximately 1 in every 250,000 cells—when transferred into immune-compromised mice. Moreover, subsequent analysis of populations of leukemia-initiating cells from various subtypes of the disease indicated that these cells are primitive, in other words, they are most closely related to nascent hematopoietic blood-forming cells rather than to more differentiated, function-specific blood cells. The identification of leukemia-initiating cells subsequently fostered attempts to isolate and characterize CSCs in solid tumors. Particularly, during the past decade stem cell-like populations have been identified in benign and malignant tumors of the breast, colon, brain, pancreas, liver, prostate, head and neck, and many other tissues and in melanoma [21, 22, 24, 25, 26, 27, 28, 29, 30, 31, 32, 33, 37, 38, 39, 40, 41]. The inability to identify reliable markers capable of reliably discriminating CSCs was a major impediment to progress within this field particularly when there is ample evidence that a presumptive CSC population exists for many tissue malignancies. In other cancers in which CSCs remain to be identified, researchers are beginning to investigate known stem cell markers in the various cancer cell populations in an effort to derive novel targeted therapeutics. Through this approach solid evidence supporting the role of CSCs in various cancers has materialized in recent years. These findings provide strong supporting rationale in favor of the hypothesis that a stem/early primitive progenitor cell gone awry could explain the molecular basis of tumorigenesis.

The reemergence and establishment of the CSC model as a cellular mechanism to probe tumor heterogeneity represents one of the major advances in cancer biology over the past decade. The CSC model of tumorigenesis is fundamentally different from the classic stochastic or clonal evolution model, which proposes that tumors arise via random mutation and clonal selection. According to the stochastic model, all cells within a tumor have equal possibility to acquire genetic mutations necessary to drive tumor initiation and growth. Random accumulation of genomic abnormities may lead to the generation of divergent, but coexisting tumor cell clones, which may account for intratumoral heterogeneity. However, this view of tumorigenesis is hard to reconcile with recent discoveries that only a small fraction of tumor cells harboring a "tumor initiating signature" can efficiently generate secondary tumors that recapitulate the same heterogeneous cell populations as the initial tumor. Distinct from the stochastic model, the CSC hypothesis postulates that, in the breast as well as other tissues, cancer arises from stem-like cells with dysregulated self-renewal capability. Based on this model, cancer is derived from cells harboring tumorigenic mutations and/or epigenetic modifications, which endow deregulated self-renewal capacity in these cells. Tumorigenic mutations and/or epigenetic modifications are more likely to occur and accumulate in tissue stem cells and/or their early progenitor cells due to their relatively long lifespan, leading to formation of CSCs. Alternatively, these genetic and epigenetic aberrations could hit more terminal differentiated cell populations, leading to a dedifferentiation process and endowing these cells with stem cell properties. In both scenarios, CSCs are at the top of the hierarchy to drive tumor initiation, growth, and progression. Like their normal counterparts, being able to self-renew and differentiate are two hallmarks of CSCs regardless of their cellular origins. The self-renewal process drives tumor initiation and growth, while differentiation helps to generate the bulk tumor cells and maintain tumor cell heterogeneity.
2.2

CSCs Are Not Necessarily Rare

Several studies have questioned the rarity of tumor cells with stem cell properties and tumor-initiating capacity as well as the xenotransplantation assay used to assess these cell populations. A recent publication by Sean Morrison's group suggested that melanoma cells did not in fact follow a stem cell model [42]. Therein they discovered through the use of a highly immune-compromised NOD/SCID Interleukin-2 Receptor gamma chain deficient (IL-2Rγ−/−) mouse model that tumor-initiating cell frequency rose dramatically (up to 25 % versus one in a million when using conventional NOD/SCID mice). The IL-2Rγ−/− NOD/SCID (NSG) mice lack NK function and are less able to reject tumor xenografts than the parental NOD/SCID mice. Another study supported Morrison's contention that melanoma does not arise from stem cells. Using the H3K4 demethylase JARID1B as a biomarker, Roesch and colleagues characterized a small subpopulation of slow-cycling melanoma cells that cycle with doubling times of more than 4 weeks within the rapidly proliferating main tumor population [43]. Knockdown of JARID1B led to an initial acceleration of tumor growth followed by exhaustion, suggesting that the JARID1B-positive subpopulation was essential for continuous tumor growth. Furthermore, JARID1B negative cells could become positive and a single melanoma cells irrespective of selection were found to be tumorigenic, suggesting that melanoma heterogeneity and maintenance are a dynamic process mediated by a temporarily distinct subpopulation [43]. However, this study used only established melanoma cell lines rather than primary tumors. Using primary melanoma cells as well as melanoma cell lines, Fang et al. showed that melanomas can contain a subpopulation of stem-like cells that contribute to heterogeneity and tumorigenesis [41]. Recently, Weissman's lab further demonstrated that human neural crest nerve growth factor receptor CD271 enriched for tumor initiating cells and transplantation of isolated CD271+, but not CD271−, melanoma cells into engrafted human skin or bone in T-, B-, and natural-killer-deficient Rag2 −/− γc −/− mice resulted in melanoma and metastasized [44]. Besides CD271 as a marker for melanoma CSCs, recently the expression of ALDH1 has been shown to enrich human melanoma stem cells [45] suggesting that tumorigenic cancer stem cells do exist in human melanomas. Additional CSC research will undoubtedly shed more light on this line of inquiry.

Similar to melanomas, CSCs may not necessarily constitute a minor component of the tumor in other tissue malignancies. Kelly et al. (2007) showed that, when lymphoma and leukemia of mouse origin are transplanted into histocompatible mice, a very high frequency (at least 1 in 10) of the tumor cells can seed tumor growth, suggesting that the low frequency of tumor-sustaining cells observed in xenotransplantation studies may reflect the limited ability of human tumor cells to adapt to growth in a foreign mouse environment [46]. In breast cancer, poorly differentiated and high-grade tumors displayed higher content of BCSCs than did low-grade well-differentiated tumors such as luminal breast cancers. In terms of ALDH marker expression, the basal breast carcinoma cell lines contain a higher content of Aldefluor-positive cells compared to luminal breast cancer cell lines [47]. Moreover, ALDH1 expression in human breast cancer tissues is associated with poor clinical outcome [22] and the content of ALDH1-positive cancer stem cells also predict engraftment of primary human breast tumors in NOD/SCID mice [48]. Using transcriptional profile of PKH26-label-retaining mammary epithelial cells (human MaSC signature), a recent study also supported the notion that the heterogeneous phenotypical and molecular traits of human breast cancers are a function of their CSC content [49]. Thus, in high-grade or advanced stages of breast tumors, the pool of BCSCs is greatly increased and they may not represent the minor population of cells found in the early-staged tumors.
3

Isolation and Identification of BCSCs

In order to study the basic attributes of CSCs, it is necessary to first identify, isolate, purify, and characterize these cells by employing techniques that enable one to distinguish them from the bulk tumor cell population. This objective remains extremely challenging because CSCs often constitute a small fraction of the total cell population of a tumor and may express the same cell surface markers as their more differentiated counterparts. A major challenge in the field today is to define specific CSC markers that are not expressed on differentiated bulk tumor cells. Nevertheless, the functional characteristics of CSCs including self-renewal capability and differentiation potential can be exploited by various in vitro and in vivo assays in order to identify and characterize this important cell population. Among the most useful techniques for identification and enrichment of BCSCs are side population (SP) dye exclusion, specific expression of cell surface markers, aldehyde dehydrogenase activity, tumorsphere culture and label-retention assays such as PKH staining. The putative BCSCs enriched by these techniques can be further validated functionally by the serial transplantation assay in vivo to evaluate their tumorigenic and self-renewal potential.

Dye exclusion relies on the observation that stem cells, as opposed to differentiated cells, have the ability to efflux lipophilic dyes including Rhodamine or Hoechst owing to their increased expression of the ATP-binding cassette transporter proteins such as ABCG2/BCRP1. This dye exclusion activity results in a so-called SP fraction that can be further quantitated by flow cytometry [50]. Several studies have demonstrated that the SP component is enriched in cells capable of recreating the whole cell population [51]. These observations suggest that the SP fraction may contain stem cells capable of recapitulating a tumor. To date, SP cells have been found in bone marrow, normal solid tissues, tumors, and various cancer cell lines [52, 53]. In human and mouse mammary epithelial cells, SP cells have been reported to contain stem/progenitor cell compartment [54, 55, 56, 57]. SP cells have also been identified in different subtypes of human breast cancer cells, which display a more tumorigenic phenotype than the cells do not readily efflux vital dyes [52, 58, 59, 60].

Another useful tool for identifying CSCs including BCSCs is flow cytometry utilizing expressed cell surface antigens. In breast and pancreatic cancers, the cell surface markers CD44 and CD24 are commonly used to define a population enriched in CSCs [21, 29, 61, 62]. The CD24−CD44+ BCSCs cells possess the ability to self-renew and to differentiate when injected into the mammary fat pad of NOD/SCID mice, resulting in engrafted mammary tumor formation and progression [21]. Although the CD24−CD44+ phenotypic markers have been extensively used to isolate BCSCs in different cancer subtypes especially basal-like tumors [63], a recent study showed that both CD24−CD44+ and CD24+CD44+ cell populations in ERα–negative breast tumors are tumorigenic in murine xenograft models, and a third population of tumor-initiating cells enriched in CD44+CD49fhiCD133/2hi subset displays heightened tumorigenicity and self-renewal in vivo, and the capacity to give rise to functional and molecular heterogeneity [64]. The use of cell surface markers CD49f (α6 integrin) and CD29 (β1 intergrin) together with CD24 (heat stable antigen) or EpCAM (epithelial specific antigen), have been shown to enrich for mammary stem/progenitors in the mouse and human mammary gland [8, 9, 13]. In breast cancer, elevated CD49f expression is associated with reduced survival [65] and knockdown of its partner CD104 decreases in vivo tumorigenicity [66]. Thus, CD49f+, combined with CD44+CD24−/low expression signature, may better identify and enrich BCSCs in different breast cancer subtypes.

BCSCs can also be segregated from mixed cell populations using the Aldefluor assay which relies upon aldehyde dehydrogenase (ALDH) activity [67]. ALDH is an enzyme responsible for the oxidation of intracellular aldehydes; it plays a vital role in stem cell differentiation via retinoic acid metabolism [68, 69]. The commercially available Aldefluor kit (StemCell Technologies, Inc., Vancouver, British Columbia, Canada) contains a BODIPY-aminoacetaldehyde (BAAA) substrate labeled with a fluorochrome that is converted into BODIPY-aminoacetate (BAA) by ALDH catabolism [68]. Cells expressing high ALDH activity have brighter fluorescence and can be enumerated on a standard cytometer when DEAB (an inhibitor of the enzymatic reaction) is used as the isotype control for FACS analysis. The Aldefluor assay has been used for both murine and human stem/progenitor populations in many different cancers. Those cancers known to harbor an Aldefluor positive population with stem properties include acute myeloid leukemia [70], breast [22, 47], lung [71], colon [72, 73], head and neck [38], prostate [74], and others. ALDH immunohistochemistry on a number of isoforms can readily identify CSCs within formalin-fixed, paraffin-embedded tissues with the ALDH1-A1 and ALDH1-A3 isoforms being the most preferentially expressed [22]. The combination of Aldefluor positivity with other unique stem cell surface markers such as CD133+ and CD24−CD44+ has been shown to further label and locate ovarian CSCs and BCSCs in their respective tumor tissue slides [39, 47].

BCSCs can subsequently be sorted and assayed for clonogenic potential in vitro and tumorigenicity in vivo by xenotransplantation using immune-compromised mice. The latter is the gold standard for assessing BCSC activity. Tumorsphere assays have also been frequently used to examine stem/progenitor activity in vitro for many cancers including breast cancer, glioblastoma and other tissue malignancies. Tumorspheres are generated by plating cells in a petri dish or flask under low attachment, serum-free conditions supplemented with B27, hydrocortisone, insulin, fibroblast growth factor (FGF), and epidermal growth factor (EGF) [75]. Those few cells that self-renew under this anchorage-independent condition divide and form tumorspheres. Notably, cells isolated from tumorspheres exhibit multi-lineage differentiation potential when given serum and extracellular matrix such as collagen [75].

A more recent method to characterize CSCs in vitro is the cell membrane label-retaining assay. This assay uses the PKH fluorescent dye series, which consist of a fluorophore attached to a peptide backbone that irreversibly binds to the lipid bilayer of cell membranes [76]. The PKH67/PKH26 dyes that irreversibly bound to the lipid bilayer on cell membranes get equally partitioned among daughter cells during cell division; thus the intensity decreases in an exponential manner with each round of cell cycle [77]. Stem cells including CSCs are usually maintained via an asymmetric self-renewal process, where a stem cell and a daughter cell are formed. Following asymmetric cell division, the stem cell enters a quiescent state, while the daughter cell (known as the transient amplifying cell) undergoes rapid proliferation and differentiation. As a result, the stem cell retains the PKH dye and can thus be identified and isolated by flow cytometry. This method has, for example, been used to label murine hematopoietic stem cells [78]; it has also been used to track the homing of short- and long-term repopulating cells in bone marrow [79] and to detect labeled cells by fluorescence microscopy [80]. The use of PKH dye label-retaining mammosphere assay has recently been used to identify both normal MaSCs and BCSCs [49, 81]. In these studies, normal or malignant mammary epithelial cells were stained with PKH26, grown in primary and secondary mammosphere culture, and subsequently dissociated and sorted for PKH high, low, or negative cell populations. These distinct cell populations were further tested for mammary epithelial repopulating or tumorigenic capacities, and as expected, only the PKH26high cell population was found to enrich for stem cell activities [49, 81]. This method is useful for labeling cells of interest, but these dyes can inadvertently be transferred to surrounding cells confounding results [82]. Therefore, the technique of PKH dye exclusion is most useful when combined with another stem cell characterization assays to validate stem cell phenotypes.
4

Cellular Origins and Phenotypic Plasticity of BCSCs
4.1

BCSCs Transition Between EMT- and MET-Like States

In primary breast xenografts, the CD24

−

CD44

+

and ALDH

+

BCSCs identify minimally overlapping, largely separate cell populations, with each capable of initiating tumors in NOD/SCID mice [

22

]. However, whether these different phenotypic populations identify distinct or independent BCSCs in the tumor remains an interesting question. Recently, using gene expression profiling of ALDH

+

and CD24

−

CD44

+

BCSCs isolated across different subtypes of human breast cancer tissues together with multi-marker immunofluorescence including CD24, CD44 and ALDH1, it was determined that CD24

−

CD44

+

and ALDH

+

cell populations identify anatomically distinct BCSCs with distinct EMT and MET gene-expression profiles respectively. The EMT-like CD24

−

CD44

+

BCSCs are primarily quiescent and localized at the tumor invasive front, while the MET-like BCSCs expressing ALDH1 are recycling, proliferative cells located mainly in the central part of primary tumors [

23

]. Importantly, the epithelial and mesenchymal states of BCSCs are not static; instead they display a cellular plasticity allowing them to transit between the EMT and MET states [

23

]. The interconversion of BCSCs from the EMT-like (which is EpCAM

−

CD49f

+

that expresses the stem cell markers CD24

−

CD44

+

) and MET-like (which is EpCAM

+

CD49f

+

that expresses the CSC marker ALDH) state, as illustrated in Fig.

1

, has been shown to be regulated by microRNA networks including EMT-inducing mir-9, mir-100, mir-221, and mir-155 as well as MET-inducing mir-200, mir-205, and mir-93 [

83

].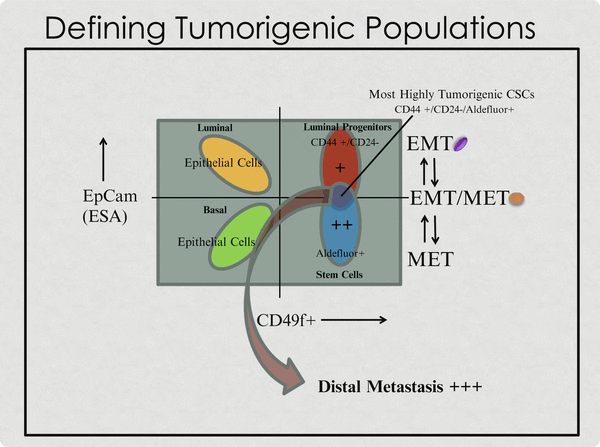 These studies, together with the findings that distinct microRNAs regulate the transition of BCSCs between the CD24
−
CD44
+
and ALDH
+
phenotypes [
83
,
84
], led to a hypothetical model (Fig.
2
) highlighting the role of different BCSC states in tumor growth and metastasis. As illustrated in Fig.
2a
, the CD24
−
CD44
+
BCSCs exist in an EMT-like state that are E-cadherin and EpCAM negative, Vimentin positive, and relatively quiescent, whereas the MET-like ALDH+ BCSCs are cycling, and E-cadherin and EpCAM positive, and Vimentin negative. The transition between these states is most likely dictated by the tumor microenvironment. For example, TGF-β generated in the tumor milieu can induce EMT by downregulation of epithelial markers such as E-cadherin and upregulation of EMT-inducing factors, such as Twist and Snail [
85
,
86
,
87
]. Both the inflammatory immune response [
87
] and the hypoxic tumor environment [
88
] have also been reported to induce EMT in cancers. On the other hand, BMP signaling has been reported to induce MET via induction of miR-205 and the miR-200 family of microRNAs that are key regulators of MET [
89
].
The demonstration that BCSCs exist in two interchangeable epithelial and mesenchymal states also helps define a model of how BCSCs drive primary tumor growth and metastasis. As illustrated in Fig. 2b, in primary breast cancer, the CD24−CD44+ mesenchymal-like BCSCs mediate the tumor invasion toward the basal membrane surrounding the tumor and into the blood, where they survive due to their intrinsic quiescence and anoikis resistance. After extravasation of the blood circulation system, these mesenchymal-like BCSCs form micro-metastasis in distant organs, where tumor microenvironment in the remote sites induces MET, which is required for BCSC self-renewal and generation of macro-metastasis. The plasticity of BCSCs from a quiescent mesenchymal state to a proliferative epithelial-like state plays a critical role for these cells to establish sizable metastatic nodules in distant organs. Indeed, there is increasing experimental evidence to suggest that such transition, termed colonization, is essential for development of successful macrometastasis [90]. For example, using a spontaneous squamous cell carcinoma mouse model, Tsai et al. recently demonstrated that turning off Twist1 to allow reversion of EMT is essential for disseminated tumor cells to proliferate and form metastases [91]. In another study, Ocaña et al. demonstrated that temporal loss of the EMT inducer Prrx1 is required for cancer cells to form lung macrometastasis [92]. In breast cancer, the content of CD24−CD44+ BCSCs in the primary tumor correlates with increased risk of distant metastasis. However, distant metastases formed from these tumors frequently show a higher differentiation rate compared to the primary tumor, as manifested by increased expression of the luminal epithelial marker CD24 [11]. Similarly, in mouse model of breast cancer driven by MMTV-PyMT oncogene, it has been shown that CD90+ circulating tumor cells are responsible for lung metastasis, however, the proportion of CD90+ tumor cells decreases again in differentiating and growing metastatic nodules [93]. Furthermore, reexpression of miR-200 family members and subsequently epithelial differentiation was found to promote metastatic colonization of breast cancer cells [94]. Most recently, specific expression of Id1 gene in breast cancer cells undergone EMT has been shown to induce MET through antagonism of Twist1, and this phenotypic switching is required for metastatic colonization in the lung [95].
4.2

Cell Origins of BCSCs and Breast Tumorigenesis

Breast cancers are highly heterogeneous with several distinct subtypes characterized by their distinct histological and molecular expression features. These include luminal breast cancers that express steroid hormone receptors including estrogen receptor (ER) and progesterone receptor (PR); HER2 positive breast cancers characterized by amplification of the ErbB2 gene; and basal breast cancers that are triple negative (TN) for the expression of ER, PR, and HER2. Clinically, the classification of breast cancers into these major molecular subtypes greatly facilitates the use of treatment strategies and helps predict treatment response and prognostic relevance. Recent advancement in global gene expression profiling of breast cancers have further subdivided this heterogeneous disease into six different subtypes, including luminal A, luminal B, HER2 overexpressing, basal-like, claudin-low, and normal breast-like [96, 97, 98, 99]. The existence of these distinct breast cancer subtypes suggests that mammary oncogenesis may be derived from different cellular origins in the mammary epithelial hierarchy. Alternatively, different subtypes of breast cancers may arise from a common precursor in the mammary epithelium, but different oncogenic events play a major role in determining the distinct tumor subtype.

An intriguing finding from recent gene expression profiling is that, both the CD24−CD44+ and ALDH+ BCSC subsets isolated in different subtypes of primary breast cancers exhibit a remarkable similarity in their patterns of gene expression, although whole-tumor gene expression profiles are distinct across different subtypes [23]. This finding, coupled with the knowledge that BCSCs transit between the EMT and MET states, suggests a potential common cell of origin for BCSCs across different breast cancer subtypes. Previous studies suggested a potential common cell origin for breast cancer cells that are resistant to chemotherapy [100, 101]. In these studies, gene expression pattern of primary tumors obtained from breast cancer patients after treatment with docetaxel showed a similar genetic profile, irrespective of their original histological phenotype [100]. Furthermore, it has been shown that molecular profile of breast tumors obtained after chemotherapy closely resembles the gene expression profile of untreated CD24−CD44+ BCSCs [101]. This BCSC signature was found in TN and hormone sensitive breast cancers treated with neoadjuvant chemotherapy and endocrine therapy respectively [101]. This study suggested that hormone-sensitive luminal breast cancers also contain a subpopulation of mesenchymal-like CD24−CD44+ BCSCs, which are hormone-resistant and are enriched following neoadjuvant endocrine therapy.

The relationship between different BCSC populations and their corresponding normal counterparts in the mammary epithelial hierarchy remains controversial. In women carrying BRCA1 germ line mutations, the relative proportion of EpCAM−CD49fhi basal epithelial cells that containing basal stem cells was shown to be decreased, whereas the proportion of EpCAM+CD49f+ luminal progenitor cells increased. This aberrant luminal progenitor cell population also showed increased clonogenic activity compared to non-BRCA1 mutation carriers. Moreover, genome-wide transcriptome analyses of different subtypes of breast cancers as well as different mammary epithelial subpopulations in human BRCA1 mutation carriers revealed that the luminal progenitor gene signature was most strongly associated with the basal subtype of breast cancer, while the basal/mammary stem cell signature was correlated to tumors classified as Normal-like and Claudin-low subtypes [13]. These studies, although suggested aberrant luminal progenitors as the cell origin of BRCA1 basal breast cancer, could not directly demonstrate a cell origin of BRCA1 mutation-associated basal breast cancers. Using a mouse model carrying conditional BRCA1 alleles, Molyneux et al. have further demonstrated that BRCA1 basal-like breast cancer originates from luminal epithelial progenitors but not from basal mammary stem cells [102]. In this study, specific deletion of BRCA1 in luminal progenitor cells by Blg-Cre led to mammary tumors that are predominantly high grade invasive ductal carcinomas of no special type (IDC-NST), which closely phenocopies human basal BRCA1 tumors. In contrast, cell-type specific deletion of BRCA1 in basal stem/myoepithelial compartment by K14-Cre generated tumors that are predominantly malignant adenomyoepitheliomas. Several other studies using mouse models and isolated mammary epithelial cell populations also indicated that basal stem cells and mature luminal epithelial cells are not important targets for tumor initiation, but rather luminal progenitor cells are emerging as key players in breast tumorigenesis [103, 104].

Although the aforementioned studies strongly suggest luminal progenitor cells as the origin of basal breast cancer, the relationship of between BCSCs and the stem/progenitor cells in the normal mammary gland remains to be defined. Recent lineage tracing studies of the mouse mammary gland suggested that distinct basal and luminal stem cells give rise to cells restricted to the basal and luminal lineage respectively under normal developmental conditions [105]. However, transplantation of the basal CD24medCD49fhi and luminal CD24hiCD49flow populations into cleared mammary fat pad of recipient mice induces their plasticity and enables either of the stem cell populations to regenerate an entire mammary epithelial tree [106]. The existence of distinct luminal and basal stem cells in the mouse mammary gland prompted us to evaluate if distinct luminal and basal stem cells with regenerative capability exist in the human mammary tissue, and if these stem cell populations are reflective of the ALDH+ and CD24−CD44+ BCSCs isolated in different subtypes of breast cancers. Indeed, recent studies have demonstrated that the human mammary gland displays a similar hierarchy organization, containing functional luminal stem cells located in the terminal lobules that are EpCAM+CD49f+ALDH+, and basal stem cells located in the mammary ducts that are CD24−CD44+EpCAM−CD49f+ [23]. Interestingly, in the luminal compartment, only EpCAM+CD49f+ALDH+ luminal stem cells, which constitute 6 % of total EpCAM+CD49f+ population, have high colony-forming activity and generate ductal/alveolar structures in 3D Matrigel [23]. These studies suggest that ALDH serves as a functional marker of the luminal stem cells and the self-renewing/proliferative state of ALDH+ luminal stem cells may increase their susceptibility to carcinogenic mutations, making them a logical cell of origin for breast cancer. This notion was supported by studies showing that expansion of lobules containing ALDH1-expressing cells is associated with loss of heterozygosity in BRCA1 mutation carriers [107]. These studies also suggest that it is the luminal stem cells instead of luminal progenitors that are involved in the tumorigenesis of BRCA1 basal breast cancer.

The studies from Liu et al. together with recent observations of luminal progenitor cells as the key players in breast tumorigenesis led to a model of breast oncogenesis in which luminal stem cells serve as a common cell origin of breast cancers, but distinct oncogenic events dictate the individual tumor subtype. For example, loss of BRCA1 or BRCA1 mutation in the luminal stem cells promotes their tumorigeneis leading to the so-called basal breast cancer. However, further oncogenic events, such as loss of P53 and Pten, may drive EMT and promote the mesenchymal-like claudin-low phenotype. The EMT process could also be induced by the tumor microenvironment, leading to the mesenchymal-like claudin-low phenotype. On the other hand, oncogenic mutations such as the PIK3CA and HER2 amplification in luminal stem cells may promote the luminal and HER2 phenotype respectively.
5

BCSCs and Treatment Resistance
5.1

BCSCs Are Associated with Treatment Resistance

Current antitumor strategies are mainly aimed at shrinking tumor mass by targeting the rapidly proliferating bulk tumor cells. These therapeutic strategies, albeit effective in reducing the size of primary tumors, frequently fail to eradicate advanced tumors and are associated with tumor relapse. The CSC hypothesis suggests that conventional antitumor strategies targeting rapidly proliferating cells may fail to target CSCs that divide infrequently in the tumor. A plethora of studies have indicated that BCSCs are relatively resistant to both ionizing radiation and chemotherapy [108, 109, 110, 111] in cultured breast cancer cell lines, in primary mammary tumor cells derived from different mouse models of human breast cancer [112, 113, 114], and in patient derived tumor xenografts in mice [109, 115, 116].

The intrinsic resistance of BCSCs to neoadjuvant chemotherapy in the clinical setting has also been documented in a number of studies. Using primary breast cancer cells isolated from tumors treated with neoadjuvant chemotherapy and those resected from chemotherapy-naive patients, Yu and colleagues examined mammosphere forming activity as well as CD24−CD44+ BCSC content in corresponding tumor samples. This study revealed a 14-fold increase in mammosphere forming activity (5.8 % vs. 0.4 %) and eightfold increase in CD24−CD44+ enriched population (74 % vs. 9 %) after neoadjuvant chemotherapy [115]. The intrinsic resistance of BCSCs to neoadjuvant chemotherapy was also reported in paired breast cancer core biopsies obtained from 31 patients before and after 12 weeks of treatment with docetaxel or doxorubicin/cyclophosphamide [117]. This study revealed that the percentage of CD24−CD44+ BCSCs and tumorsphere forming activity in the residual tumor tissues significantly increased following neoadjuvant chemotherapy. Interestingly, in a separate group of patients with HER2 amplification, treatment with HER2 and EGFR inhibitor Lapatinib following chemotherapy did not increase, but rather slightly decreased the content of CD24−CD44+ BCSCs as well as tumorsphere forming activity [117]. Since HER2 overexpression has been show to drive BCSC activity [118], this clinical study suggests that strategies combining BCSC targeting agents (e.g., Trastuzumab and Lapatinib) with conventional chemotherapy hold the potential to overcome BCSC associated treatment resistance and achieve better therapeutic outcomes.

BCSCs can also be enriched by virtue of their expression of ALDH activity and ALDH1 expression in human breast tumors is associated with poor prognosis [22]. Consistent with this observations, a clinical study examining ALDH1 expression in a cohort of primary breast cancer samples treated with sequential paclitaxel and epirubicin-based chemotherapy revealed that ALDH1 positivity was significantly associated with a low pathological complete response (pCR) rate and resistance to the therapy [119]. This study suggests that ALDH1 positive BCSCs also share the properties of resistance to conventional chemotherapy.
5.2

Mechanisms Involving Treatment Resistance in BCSCs
6

BCSCs and Tumor Metastasis

In human breast cancer tissues, one of the first identified markers to enrich BCSCs was CD44, a transmembrane glycoprotein serving as a major adhesion molecule and receptor for the extracellular matrix especially extracellular glycosaminoglycan hyaluronic acid [144]. CD44 and its alternative splicing variants have been shown to form co-receptor complexes with various receptor tyrosine kinases to modulate diverse cellular signaling events and regulate cell proliferation, migration, and invasion [144, 145, 146, 147, 148]. In line with these studies, expression of CD44 in breast cancer cells has been demonstrated to potentiate the adherence of cancer cells to bone marrow endothelial cells [149] and promotes bone metastasis by enhancing tumorigenicity, cell motility, and hyaluronan production [150]. Besides a direct role in promoting tumor cell motility, CD44 has been implicated to play a role in EMT, a process critical for embryogenesis but abnormally activated during cancer metastasis and recurrence. In a recent study, Brown et al. demonstrated that a shift in CD44 expression from variant isoforms (CD44v) to the standard isoform (CD44s) was essential for mammary epithelial cells to undergo EMT, and was required for the formation of breast tumors that display EMT characteristics in mice [151]. The role of CD44 in promoting EMT and mammary tumorigenesis is in agreement with another report showing that EMT generates cells with stem cell properties [61]. The nature of CD44+ BCSCs as the cells undergo EMT strongly suggests these cells are likely to play critical role in tumor metastasis.

The increased expression of the cell adhesion/invasion molecule CD44 in BCSCs suggests that these cells not only play important roles in tumor initiation (by definition, BCSCs are highly tumorigenic cells when implanted into immunodeficient mice), but also act as major players for tumor progression and metastasis. Indeed, several other cell adhesion molecules including CD29 (β1 integrin), CD49f (α6 integrin), and CD61 (β3 integrin) are later identified to enrich both normal and malignant mammary stem/progenitor cells [8, 9] in human and mouse mammary epithelium. In mouse breast cancer model derived by MMTV-PyMT oncogene, the subset of tumor cells defined by CD24+CD29hiCD61+ is not only highly tumorigenic but also has significantly higher motility as shown in Boyden chamber assay [152].

In contrast to elevated expression of adhesion molecules including CD44, CD29, and CD49f in BCSCs, another marker of BCSCs is the negative or low expression of heat stable antigen, CD24 [21]. Interestingly, high levels of CD24 expression have been shown to suppress CXCR4 activity [153], whereas the CXCL12/CXCR4 signaling axis has been implicated in trafficking of breast cancer cells to sites of metastasis [154]. The negative or low expression of CD24 in BCSCs may enable these cells to have high CXCL12/CXCR4 signaling activity and facilitate their metastatic spreading and ability to colonize distant organs.

In addition to the roles of BCSC markers in regulation of cancer cell migration, invasion and metastasis, the CD24−CD44+ BCSCs isolated from a variety of breast cancer lines have been shown to express higher levels of inflammatory cytokines and proteins associated with invasion and bone metastasis, including IL-1α, IL-6, IL-8, and urokinase plasminogen activator [155]. Recent gene profiling studies also suggested that BCSCs possess an "invasiveness" gene signature that is associated with decreased metastasis-free survival [156]. In support of these findings, Balic et al. have demonstrated that micrometastasis isolated from the bone marrow of early-stage breast cancer patients are highly enriched for the cells displaying the CD24−CD44+ BCSC phenotype [157]. Using human-in-mouse breast cancer orthotopic models combined with noninvasive imaging techniques, Liu et al. further showed that CD24−CD44+ BCSCs isolated from human breast tumors are involved in spontaneous metastasis [158]. Recent studies of CTCs in breast cancer blood samples also revealed that these CTCs share a BCSC phenotype [159].

Although BCSCs were initially identified with an EpCAM+CD24−CD44+ phenotype [21], subsequently it was determined that human normal and malignant mammary epithelial cells with increased ALDH activity have mammary stem/progenitor properties [22]. In breast carcinomas, high ALDH activity identifies the tumorigenic cell fraction, capable of self-renewal and of generating tumors which recapitulate the heterogeneity of the parental tumor [22]. ALDH1 expression represents the first independent prognostic marker to predict metastasis and poor patient outcome in inflammatory breast cancer (IBC), an angio-invasive form of breast cancer associated with a high incidence of early nodal and systemic metastasis [160]. ALDH+ cells as assessed by Aldefluor assay from various mammary carcinoma cell lines also display increased invasive characteristics as well as an increased ability to metastasize following intra-cardiac injection in NOD/SCID mice [161].

The properties of two BCSC states, including their invasive capacity assessed by Matrigel invasion assay, have recently been characterized [23]. These studies demonstrate that MET-like ALDH+ BCSCs are proliferative, while EMT-like CD24−CD44+ BCSCs are more dormant in cell cycling. Within the two BCSC populations, CD24−CD44+ cells were significantly more invasive than ALDH+ cells and cells that displayed all three stem cell markers have the greatest invasive capacity. These findings support the proposed model (Fig. 2b) in which EMT BCSCs that are found at the tumor invasive front enter the blood circulation where ultimately they may metastasize to distant sites. These micro-metastases are non-proliferative and remain dormant until they are induced into a transitional state to convert back to an MET "self-renewing" phenotype which can generates additional BCSCs as well as the more differentiated cells which form the tumor bulk. This model is further supported by studies which have demonstrated that both CTCs as well as disseminated tumor cells (DTCs) in the bone marrow of breast cancer patients show significant increase in the CD44+/CD24−/low cell population that are non-proliferative [155, 157]. One of the characteristics of EMT BCSCs is very low or absent expression of the epithelial marker EpCAM. Therefore, using anti-EpCAM antibodies to capture CTCs in methods such as the CellSearch™ assay may miss important populations of CTCs which display an EMT phenotype. The importance and implications of CTCs as well as alternative CTC capture technologies are discussed below.
7

Circulating Tumor Cells (CTCs)
7.1

Clinical Importance of Circulating BCSCs

More than 100 years ago, CTCs were first described by Thomas Ashworth, an Australian physician. In 1889, Steve Paget proposed "the seed and soil hypothesis" that explains the existence of cross talk between the seed (cancer cells) and the soil (microenvironment of distant organ) during the process of metastasis [162]. Prior to distant organ metastasis, cancer cells must route from primary tumor tissue to the blood stream. These so called CTCs have been documented to be enriched in CSCs [163, 164, 165]. Fortunately, most of cancer cells that enter the bloodstream from a primary tumor die as a consequence of shear force or anoikis, or are eliminated by the immune system. Therefore, only a small number of CTCs survive to extravasate to a distant organ. Successfully disseminated cancer cells may either grow to form metastatic colonies or remain dormant for many years [164].

Initially most studies focused on identifying CTCs of an epithelial phenotype [166, 167], but subsequent studies revealed that CTCs consist of several subpopulations including CSCs with different characteristics. Overall, the concept of a noninvasive liquid biopsy to explore mechanisms involved in metastasis makes CTCs an active area of cancer research. In xenograft models, metastasis initiating cells (MICs) within the CTCs have been shown to be CD44 positive. These CD44+ MICs also have been demonstrated to express other markers such as MET and CD47 [158]. In a cohort study, it has been reported that the number of CTCs with an EpCAM+/CD44+/MET+/CD47+ expression profile increased with the clinical progression without significant alterations in the bulk CTC numbers [168]. These findings that CD47 and MET are expressed in both MIC-containing CTCs and metastatic disease may have implications for developing new therapies. In another animal study, it was demonstrated that EpCAM−/ALDH1+/CD45− CTCs isolated from blood sample of breast cancer patients were capable of metastasizing to brain and lung tissues of recipient mice [169]. These CTCs showed a HER2+/EGFR+/HPSE+/Notch1+ gene expression profile that are enriched in brain metastasis. They further showed that these EpCAM-negative breast cancer CTCs with overexpression profile of brain metastasis markers increased brain metastatic capabilities and frequency. These data on metastatic potential of EpCAM-negative CTCs may explain the reason for undetectable CTCs by the CellSearch™ (Veridex LLC) method in a majority of breast cancer patients who developed brain metastasis [169].

Recent studies suggest that the CTCs and primary tumors may display different phenotypes which may reflect tumor evolution as well as differential expression of markers. In a serial CTCs monitoring study in human breast cancer, mesenchymal cells were found to be highly enriched in patients' CTCs. These isolated CTCs demonstrated expression of TGFβ pathway components and the FOXC1 transcription factor [170]. Interestingly, the same study showed that changes in the CTCs content and type in serial blood samples was correlated with primary response to therapy followed by resistance and finally disease progression.

It has been reported that HER2 plays a prominent regulatory role in the breast CSCs [118]. Moreover, in luminal breast cancers, HER2 may be selectively expressed in CSCs in the absence of HER2 gene amplification [121]. These findings might account for the reports of detection of HER2 expressing CTCs isolated from blood sample of women with HER2 "negative" breast cancers [171]. This can also explain the surprising observation that the clinical benefit of HER2 blockade in the adjuvant setting may be extended to woman whose breast tumors do not display HER2 gene amplification. In an artificial neural network (ANN) analysis of CTCs from metastatic breast cancer (MBC) patients, a linear increase of risk of death was reported with increasing CTC counts across a panel of molecularly different tumor subtypes [172]. However, the CTCs prognostic effect was less evident in the HER2+ patients following targeted therapy [172]. These findings support the concept that the number of CTCs along with the biologic characteristics may have prognostic significance.
7.2

Isolation Methods for Characterization of CTCs

A wide variety of methods has been developed to isolate and characterize CTCs. Most of these techniques are either based on immunodetection of surface markers on CTCs or size and morphology of cancer cells. Of these approaches, immunoaffinity based capture devices are more widely used for CTC isolation. In these methods, distinct antibodies are used against surface markers that are expressed exclusively on tumor cells but not present on the blood cells. Anti-EpCAM antibody is the most commonly used antibody for isolation of CTCs. In these techniques, the antibody may be chemically tethered to magnetic beads or a capture surface, ultimately allowing isolation of CTCs. These immunoaffinity based techniques which are highly specific for CTCs isolation have demonstrated the prognostic, monitoring, and molecular diagnostic potentials of CTCs. Immunocapture systems have evolved from the macroscale operation to a host of microfluidic devices being developed today.

A successful example of macroscale immunocapture system is the CellSearch™ (Veridex LLC), which is FDA approved for use with metastatic breast [164], colon [173], and prostate cancer patients [174]. The antibody in this system is raised against an epithelial surface marker, EpCAM, allowing for the separation of epithelial cancer cells from the blood. A study on blood samples from metastatic patients, patients with nonmalignant disease and healthy volunteers showed the ability of CellSearch to detect as few as 2 CTCs/7.5 ml blood in 36 % of metastatic patients versus only 0.3 % of healthy and nonmalignant samples [175]. Despite being sufficiently robust for FDA approval, the CellSearch™ system lacks high purity, recovery and sensitivity that new and improved cell capture systems need to be developed. Considering the advantages of minimized footprint, cost, and reagent expenditures coupled with a library of well-documented fabrication methods [176], it is not surprising that the field of CTC research turned to microfluidics. Microfluidic devices have been used for biological analysis in the form of "labs-on-a-chip" for the polymerase chain reaction (PCR), molecular separation, and immunosensing [177, 178] through the construction of systems with small scale mixers, pumps, reservoirs, and valves [179].

Microfluidics first appeared in field of CTC isolation in 2007 with the introduction of the CTC-chip [167]. The main advantages of this device include isolation of viable cells for further potential downstream analysis, and the ability to use the whole blood without further processing. This device has been used in the clinical setting by processing 116 samples with CTCs detected in 99 % (115 of 116) of patient samples. The immunocapture-based microfluidic CTC separation devices have been further engineered with respect to capture antibodies, geometries, and materials. The circular posts in the CTC-chip have been developed in the geometrically enhanced differential immunocapture (GEDI) chip [180]. In addition, the use of the transparent and inexpensive PDMS bonded to a transparent glass slide facilitates imaging that allows on-chip FISH (fluorescence in situ hybridization). Polymers that are cheap and easy to pattern and mold can also be used as a capture substrate in microfluidic devices such as high-throughput microsampling unit (HTMSU) [181] and the "Herringbone-chip" [182]. More recently, a novel nanomaterial graphene oxide (GO) patterned onto a silicon capture surface and conjugated with anti-EpCAM antibody that yielded both high CTC capture efficiency and unprecedented purity has been developed [183].

Although immunoaffinity techniques have the advantage of high specificity, they are limited to only isolate cells with the specified antigens. Therefore, these methods may not be appropriate for isolating all different types of CSCs at the same time from whole blood due to lack of unique surface marker that can distinguish CSCs from hematopoietic cells. Considering these limitations, researchers have focused on development of "label–free" isolation methods based on the biophysical properties of the CTCs including membrane potential, dielectric properties, size of cancer cells relative to blood cells, and their difference in adhesion preferences.

In order to move away from immunoaffinity based isolation methods, researchers focused on size based technologies to isolate CTCs derived from solid tumors that are large enough to be distinguished from blood cells. Size based filtration methods have emerged [184, 185] in which the cells are passed through pores etched in membranes, physically retaining larger cells on the top of the membrane. In this respect, an efficient membrane microfilter device was made of parylene-C for the isolation of prostate cancer cells from whole blood [186]. Moreover, researchers used two-layer membranes to filter viable prostate and breast cancer cells [187]. Two problems associated with size based methods when increasing volumes of blood are (1) easy clogging and (2) the requirement for diluting whole blood before filtering. To address these issues, a microfluidic filtration system consisting of a serpentine channel interconnected with two outer filtrate channels with rectangular apertures was developed which could isolate breast cancer cells spiked into whole blood with 50–90 % recovery rate [188]. Despite improved processing speed as compared to immunoaffinity capture methods, the volume of blood sample that can be processed without sacrificing efficiency and purity is still limited. Different approaches have been used to improve high throughput analysis of blood samples that are based on shape, geometry and distribution of microchannels [189, 190, 191]. Inertial sorting has been coupled with both positive and negative cell sorting in the CTC-iChip [192]. In this case, as with the negative sorting approach that does not require labeling of the CTCs, researchers can isolate cells from multiple cancers and phenotypes. Although these inertial microfluidics based techniques offer high throughput and sensitivity, they suffer from a lack of sufficient specificity of isolated cells. An array of precisely spaced posts has been introduced to capture cells that are not flexible enough to travel through the gaps. These cancer cells were shown to have CD44+/CD24−/claudinlow gene expression pattern and tumor initiating capacity [193]. Because of the flexibility of blood cells, this approach can be used as a secondary enrichment step following CTC separation from the blood using other label-free methods. Despite these limitations in microfluidic devices, this class of techniques offers the ideal platform for the label-free isolation of CSCs within the CTCs.

Future methods for CTC capture will aim to solve these problems, ideally increasing the specificity, yield, and throughput. These approaches will in all likelihood take the direction of integrated modules that allow the advantages of multiple techniques and the use of nanomaterials. Integrated devices such as the CTC-iChip use both inertial and immunomagnetic sorting, making feasible the selection of cells of multiple tissue types, stages, and transitional phenotypes. These devices can integrate preprocessing into the device and increase throughput while simultaneously increasing the populations of cells targeted.

The ultimate goal of CTC isolation and characterization is to achieve maximal clinical utility. Therefore, it is essential for the isolation technologies to provide consistent results optimized for yield and purity. More importantly, the isolated CTCs should represent the heterogeneity of the primary tumor cells as well as the alterations necessary to allow the disseminated cells to survive within the blood circulation and finally form metastases at secondary sites. The sensitivity and specificity of isolation methods are key factors to isolate CTCs that are free from blood cells to allow useful downstream experiments. Furthermore, the quantity of isolated CTCs is important for functional analysis and meaningful biological assays. Currently the clinical utility of CTCs is hindered by the low number of CTCs, and hence, the ability to process larger volume of blood sample can change this paradigm. To achieve these goals, isolation methods should be rapid and be able to provide reliable data with respect to the number and cellular phenotypes of CTCs to predict the disease status and treatment response.
8

Patient Derived Xenograft Models for Cancer Stem Cell Research

Despite marked progress in our understanding of cancer biology, the translation of research findings into new therapies for cancer remains an enormous barrier with a failure rate of about 90 % for new oncology drugs in the clinical settings. Part of this high failure rate is due to the lack of in vivo preclinical models that authentically reflect patient tumor biology. Historically, in vivo experimental therapeutic research has been largely dependent on either genetically engineered mouse models, or "xenograft" transplantation models, wherein established human cancer cell lines are transplanted into immune-compromised host mice. These models, although useful and informative, only partially recapitulates the primary tumors in patients. To overcome these limitations, use of patient derived xenograft (PDX) models through engraftment of actual tumor tissues into immune-deficient mice is increasing in cancer biology and preclinical drug testing. These tumor xenografts generally retain the morphology, cellular heterogeneity, genetic background and molecular expression profiles of the original patient tumors. In addition, serial passage and expansion of patient tumors through immune-deficient murine hosts permits ongoing propagation of tumor lines and the study of tumor biology without subjecting PDX tumor cells to the stressful and compromising culture conditions encountered in vitro.

Early attempts to establish human primary breast cancer tissue xenografts used athymic (nude) mice that lack T cell immunity or NOD/SCID mice that lack both T- and B-cell function but retain innate cellular immunity. However, a technical hurdle frequently presented in these studies is the low engraftment rate and the difficulty to maintain the transplantable tumor xenografts over time. The use of "humanized" NOD/SCID mice by introducing an immortalized human fibroblast cell line into the mammary fat pad before transplantation has greatly increased the efficiency to establish PDX models of human breast cancer [194]. Using primary tumor cells transplanted orthotopically in humanized cleared fat-pad of NOD/SCID mice, many serially transplantable tumor xenotransplants have been established. For example, our group has established several widely used xenotransplants derived from independent human breast cancers including MC1, UM1, UM2, and UM3. The ER−PR−ErbB2− MC1 and ER+PR+ErbB2− UM2 xenotransplants were derived from metastatic tumors of pleural effusion and ovarian metastasis respectively, while the UM1 and UM3 were from ER−PR−ErbB2− primary tumors [22]. Taking advantage of these PDX models, Ginestier et al. (2007) showed that the Aldefluor-positive tumor cell population isolated from human breast tumors xenografts has CSC properties [22].

The development and use of PDX models represents the gold standard to assess tumor stem cell activities. Although BCSCs can be propagated in vitro through non-adherent culture conditions, these culture conditions cannot recapitulate the tumor microenvironment in vivo. Tumor xenograft assays in mice measure not only tumorigenic activity but also the self-renewal and maintenance of tumor stem cell component presented in the original tumor. In the landmark study, Al Hajj et al. (2007) transplanted a number of patient tumors into the thoracic mammary fat-pad of etoposide- and estrogen-pretreated NOD/SCID mice and successfully identified a tumorigenic subpopulation in breast cancers with stem cell activities [21]. More recently, Liu et al. established additional models from primary and metastatic tumors, with the majority of these PDXs generating lung micrometastases [158].

In contrast to the use of immortalized human fibroblast cell line to "humanized" NOD/SCID mice, Derose et al. (2011) have showed that implantation of human mesenchymal stem cells (MSCs) with tumor transplants into cleared fat pad of NOD/SCID mice increased tumor growth and stability of the tumor grafts by promoting angiogenesis [195]. These studies of PDX models are in line with the studies of Liu et al. (2011) who demonstrated that ALDH+ stem cells in patient breast tumors are regulated by MSCs, and co-transplantation of MSCs via intratibial injection accelerated tumor growth by increasing the breast CSC population [161]. Besides the frequently utilized NOD-SCID mice, use of SCID/Beige and NSG mice that lack T-cell, B-cell, and NK cell function for xenotransplantation has been proved to increase the efficiency to establish tumor xenografts of human breast cancers. Recently, Michael Lewis' team at Baylor College in Houston established a large cohort of 32 stably transplantable xenograft lines in SCID/Beige and NSG mice. These tumor xenograft lines represent different breast cancer subtypes including triple negative (ER−PR−HER2−), HER2-positive (ER−PR−HER2+), ER-positive (ER+PR−HER2−), ER/PR double positive (ER+PR+HER2−), and triple-positive (ER+PR+HER2+), and provide a renewable, quality-controlled tissue resource for preclinical studies to investigate treatment response and metastasis [196]. In another study, Charafe-Jauffret et al. (2013) have also established primary breast tumor-derived xenografts in NSG mice that encompass the main diversity of human breast cancers and retain the major clinicopathologic features of primary tumors [48]. In this study, 20 PDXs were established from 74 primary breast tumors with an engraftment rate of 27 %, and 13 PDX lines were successfully maintained through serial passages with a transplantable rate of 17.5 %. Interestingly, successful engraftment of patient tumor was found to correlate with the presence of ALDH+ BCSCs, which predicted poor prognosis in patients. The correlation of ALDH+ BCSC content with increased tumor engraftment rate is in agreement with a number of other studies showing that high grade TNBCs and metastatic tumors (which contain higher BCSC content) have higher graft take rates than low grade ER+ luminal tumors [196, 197, 198, 199, 200]. These studies have further strengthened a critical role of BCSCs in initiating and maintaining tumor growth.

Endocrine therapy has proven very successful and yet only 50 % of all estrogen receptor-positive breast cancers respond to endocrine therapies [201]. Recent development of PDX models of hormone-driven breast cancer has provided a valuable assay to study hormone dependence and resistance of luminal breast cancers. Historically, tumor xenograft strategies for hormone-driven luminal breast cancers have generated limited success. This is largely due to fact that luminal tumors inherently have lower pathological grades and slower growth rates. Recent efforts focusing on generation of ER-positive luminal tumors has increased the number of stable luminal PDXs. DeRose and colleagues established four luminal B PDXs with co-transplantation of human MSCs [195]. Cottu et al. (2012) established a panel of eight luminal breast carcinoma xenografts by engrafting 423 tumors including 314 ER+ tumors, with a tumor take rate of 2.5 %, which is much lower than for non-luminal tumors (2.5 vs. 24.7 %, P < 0.0001). Histological and immunohistochemical studies on patient's tumors and xenografts revealed striking similarities in the tumor morphology as well as in the expression level of ER, PR, and HER2. In addition, six luminal models had different sensitivities to hormone therapy, thus exhibiting heterogeneity similar to what is observed in the clinic [202]. Kabos et al. (2012) recently described the development and characterization of five transplantable luminal ER+ breast cancer xenografts, derived from both primary untreated tumors and late stage metastases. Four of the tumor xenografts were found to be estrogen-dependent and tamoxifen or estrogen withdrawal abrogated estrogen-dependent growth [203]. Interestingly, examination of the BCSC population in the five ER+ PDX models revealed that tumor xenografts from untreated primary tumors generally contained low CD24−/lowCD44+ BCSCs. In contrast, xenograft derived from late stage metastases contained a significant higher CD24−/lowCD44+ population [203]. These studies further evidenced an important role of BCSCs in promoting tumor metastasis in luminal tumors.

PDX models of human breast cancer are increasingly used in preclinical study to evaluate the impact of potential breast cancer therapies to eliminate BCSCs. Ginestier et al. (2010) demonstrated that reparixin, a small-molecule inhibitor of the IL8 receptor CXCR1, has the potential to selectively target BCSCs. Administration of reparixin together with Docetaxel, but not Docetaxel alone, selectively decreased BCSC population in tumor xenografts from three different patients (MC1, UM2, and UM3) and reduced tumor growth and metastasis [204]. The signal transducer and activator of transcription 3 (Stat3) serves as an oncogene activated in many cancers including breast, prostate, lung, head and neck and colon, liver, pancreas, and multiple myeloma [205, 206, 207]. Dave et al. (2012) recently showed that targeting the SH2 domain of Stat3 with a novel small molecule inhibitor decreased the percentage of cells expressing BCSC markers (CD24−/lowCD44+ and ALDH+) and mammosphere formation in phospho-Stat3 overexpressing human breast cancer xenografts in SCID-beige mice [208]. Moreover, treatment of Stat3 inhibitor plus docetaxel resulted in a fourfold improvement in recurrence-free survival relative to docetaxel alone in the chemo-resistant tumor model [208]. These findings provide a strong impetus for the development of selective Stat3 inhibitors to target BCSCs in phospho-Stat3 overexpressing breast cancers.

The delta-like 4 ligand (DLL4) is an important component of the Notch pathway and contributes to stem cell self-renewal and vascular development. Previous studies have indicated that inhibition of DLL4 resulted in broad spectrum antitumor activity in cancer cell line-based xenograft models [209, 210, 211]. Using specific antibodies targeting DLL4, Hoey et al. (2009) demonstrated that specifically inhibiting human DLL4 in the tumor xenograft models, either alone or in combination with the chemotherapeutic agent irinotecan, reduced CSC frequency, as shown by flow cytometric and in vivo tumorigenicity studies [212]. In another study, treatment with a gamma secretase inhibitor, GSI, has been shown to reduce BCSCs in MC1 and other tumorgrafts by inhibition of the Notch pathway [213]. In addition, treatment with GSI enhanced efficacy of docetaxel and reduced BCSCs [213]. Using PDX model of breast cancer, effect of erythropoietin (EPO) on sensitivity of chemotherapy on BCSCs was also evaluated. EPO administration counteracted the effects of chemotherapeutic agents on BCSC-derived orthotopic tumor xenografts and promoted metastatic progression both in the presence and in the absence of chemotherapy treatment. This suggested that EPO acts directly on BCSC by activating specific survival pathways, resulting in BCSC protection from chemotherapy and enhanced tumor progression [214]. Taken together these studies suggest that PDX models of human breast cancers, which recapitulate the complexity and heterogeneity of patient tumors, have the advantages that more accurately reflect human breast cancer biology than other existing models. These PDX models also have great potential to facilitate the next phase of drug discovery designed to target BCSCs, and ultimately cure this disease.
9

Key Signaling Pathways Regulating the Self-Renewal of CSCs

Several signal transduction pathways such as Wnt, Notch, and Hedgehog and molecules such as Bmi-1 are known to regulate self-renewal pathways in normal stem cells, while in CSCs these pathways are normally dysregulated due to accumulated mutations and epigenetic changes. Understanding the signaling pathways through which CSCs regulate their self-renewal and maintenance and hence tumor growth and metastasis is important for developing targeted therapies to abrogate CSCs. Conventional cancer therapies normally target aberrant pathways in the rapidly proliferating bulk tumor cells, but often spare the CSCs leading to tumor recurrence and metastasis. Therefore, the design of new therapies must be based on targeting the signaling pathways that affect both CSCs as well as bulk tumor cells. Here, we discuss the main pathways that are involved in CSC self-renewal along with their potential therapeutic implications.
10

Therapy Implications of CSC-Targeted Approaches
10.1

Cancer Treatment and Prognosis: Why a New Paradigm Is Necessary

Cancer is a leading cause of disease-related mortality worldwide [269]. According to the World Health Organization there were more than 1.6 million new cases of breast cancer in 2010, a dramatic increase as compared to 640,000 cases reported in 1980 [270]. Better early detection methods are unlikely to fully account for such a dramatic rise in incidence in three decades. Over this timeframe progress in the treatment of advanced forms of the most common cancers including those of the breast have shown modest gains in terms of survival metrics. In stark contrast, spectacular advancements have been achieved in the fields of genetics and stem cell biology to characterize and understand the molecular mechanisms that foster cancer. These innovations hold the potential to transform cancer treatment only as long as this growing detailed understanding of the molecular basis of cancer can be translated into clinical benefits. Molecular analyses of tumors reveal a far greater genetic complexity leading to more variation in the pathways that drive tumor growth and metastasis than heretofore recognized. The discovery of genes directly linked to cancer and the molecular pathways influenced by these genes has allowed scientists to draw more precise maps of cancer progression and tautologies. Future drug development efforts will need to put to use this novel understanding to focus targeted therapies that tackle cancer-specific events with unparalleled precision. Currently, the overall 5-year survival rate for all cancers, relative to the anticipated survival from a comparable cohort of people without cancer is 65 % [271]. Statistics like these are sobering, albeit survival and recurrence rates following diagnosis vary greatly and mostly as a function of cancer type and stage at detection. For example, the relative survival rate 5 years following diagnosis of melanoma is greater than 90 % whereas that of cancers of the brain and nervous system is about 35 % [272]. Once a cancer has metastasized, the survival rate declines dramatically. When melanoma is diagnosed at the localized stage, 99 % of patients will survive beyond 5 years. However survival rates drop to 65 % for those diagnosed with regionally metastasized melanoma and to 15 % for those whose melanoma has spread to distant sites [272]. Once a cancer has been diagnosed, conventional treatments vary according to cancer type and severity. Resection, radiotherapy, and systemic treatments such as chemotherapy or hormone therapy represent traditional approaches designed to remove or eradicate rapidly dividing cancer cells [97, 273, 274]. These methods all have limitations for clinical use. Cancer surgeons may not be able to fully remove all of the tumor tissue due to its location, extent of spreading or degree of intercalation with healthy tissue. Radiation and chemotherapy are inherently nonspecific cytotoxic strategies that result in extensive collateral damage to healthy tissue despite their targeting rapidly dividing cancer cells. Recently, several new immune modulating agents that target specific proteins implicated in cancer molecular pathways have been developed for clinical use. These include trastuzumab, a HER2-targeting monoclonal antibody in breast cancer [275], bevacizumab which targets VEGF in colorectal and lung cancer [276], erlotnib and gefitinib which target epidermal growth factor receptor (EGFR) in lung cancer [277], imatinib which targets BCR-ABL in CML [278], and panitumumab and cetuximab which target EGFR in colorectal cancer [276]. These agents demonstrate that a targeted approach is feasible, but they are most often effective only in patients who display specific subclasses of the respective cancers, hence justifying the efforts to develop more personalized medicine. Furthermore, patients can become resistant to these therapies and most systemic immune treatments are only moderately successful unless the cancer is localized. With few exceptions, these agents fail to provide significant clinical benefit at the advanced metastatic stage of the disease. Therefore, a new paradigm is needed for the treatment of resistant and advanced disease. CSC-directed therapies offer the possibility for disease remission without recurrence. In the final section we discuss implications of the CSC hypothesis, supporting evidence for CSC clinical trials and perspectives on how CSCs could impact the development of future cancer therapy.
10.2

Clinical Implications of CSCs

The presence of and the molecular events triggered by CSCs within tumors has important implications for the development of cancer-targeting therapeutics. The CSC hypothesis suggests that tumor regrowth following traditional resection and/or chemo/radio approaches can be arrested if the repopulating cells are destroyed with a selective CSC targeting agent. This is fundamentally important because CSCs are generally found to be more aggressive, invasive and prone to promote metastasis than the bulk tumorigenic cells [83]. Aldefluor+ cells from mammary carcinoma cell lines display increased invasive characteristics as well as an increased ability to metastasize following intra-cardiac injection in NOD/SCID mice [161]. Similarly, Balic et al. observed an increase in the CD24−CD44+ breast CSC population in bone marrow metastases in patients with breast carcinomas [157]. As a result, targeting of the CSC clinically could lead to a reduction in metastasis. CSCs are presumed to be responsible for both the radiation- and chemotherapeutic-resistance commonly observed in many cancers [116]. Since stem cells are quiescent and typically cells with slower cycles than differentiated cells, stem cells are intrinsically more resistant to cell cycle altering chemotherapeutic drugs [279]. CSCs also possess a high level of drug transporters and particularly exporters such that the intracellular effective chemotherapuetic concentrations in these cells is lower than in differentiated cells resulting in the apparent decreased overall efficacy of the chemotherapeutic agent administered. Furthermore, the activity of the enzyme ALDH is high in CSCs, and this enzyme has been demonstrated to metabolize certain common chemotherapeutic drugs including cyclophosphamide into forms of metabolites with lower cytotoxicity [69]. To maximize the clinical benefits of drugs that target CSCs, these drugs should thus be used in combination with radiation or standard chemotherapy since CSC-targeting agents are typically not designed to clear the vast majority of differentiated bulk tumor cells and complications from tumor burden alone might adversely complicate patient prognosis. Because the CSC subpopulation of a tumor often constitutes a minor portion of the tumor mass, novel methods need to be implemented such as new trial designs for accurately measuring success and outcome of CSC-targeting agents. Current clinical trials use the so-called RECIST (Response Evaluation Criteria in Solid Tumors) criteria to measure tumor shrinkage. However, tumor regression frequently fails to correlate with improved survival rates [280]. CSC treatment alone would not be expected to elicit major reductions of the parameters that are measured using the RECIST evaluation criteria [19, 280]. CSC clinical trials thus need to be designed to directly measure the effect that the new drug under investigation has on CSCs. This objective could be met by conducting neo-adjuvant CSC trials. For example, CD24−CD44+ breast CSCs have been observed to increase after chemotherapy, however combination therapy using BCSC targeting agent such as HER2 and EGFR inhibitor Lapatinib with chemotherapy prevented the increase of BCSCs [117]. A similar outcome could also be accomplished by providing the CSC-targeting agent prior to surgery followed by a CSC biomarker profiling step performed on selected patient biopsies. Practically, cells from these very biopsies could be grown as tumorspheres in order to determine not only a drug's ability to target CSCs but also which signaling pathways are involved. For effectively destroying CSCs, it is necessary to understand how the various signaling pathways of these cells interact to regulate CSC-specific processes of growth, renewal, differentiation and apoptosis. The Notch, Hedgehog, HER-2/PI3K/Akt/ PTEN, p53 and Wnt signaling pathways have been shown to regulate normal and malignant stem cells [236, 281]. Notably, inhibitors of Notch, Hedgehog, Akt and Wnt targeting agents have been developed by several pharmaceutical companies [19, 282, 283]. Emerging evidence suggests that microRNAs (miRNAs) may play a pivotal role in regulating the genes that control self-renewal, differentiation and division of normal stem and CSC signaling pathways [83].
11

Future Perspectives

The critical roles of CSCs in tumor initiation, progression and recurrence has sparked enormous interest among oncology researchers to explore key signaling pathways that regulate their self-renewal and to develop novel therapeutic strategies to eradicate these lethal seeds of cancer. The combination of conventional cancer therapies together with specific CSC targeted therapies brings the promise of eradicating a cancer with no possibility of recurrence. Yet, a multitude of surmountable barriers exist before CSC therapeutics can be fully deployed and clinical benefits derived. First and foremost, close cooperation between industry and academia is urgently needed to foster early stage drug discovery, biomarker characterization, unique animal model generation, target/pathway validation and clinical trial translation. As the field is less than a decade old, more basic CSC research is prerequisite to comprehensive understanding of the molecular basis of disease and the signaling pathways underlying each cancer and unique disease subtype. Another chief impediment to CSC therapeutic development is the exceptionally high cost to translate promising basic science discoveries in stem cell biology into meaningful clinical interventions. The lack of federal mechanisms large enough to support highly innovative research is at present a significant deterrent to translational science. New funding mechanisms must be developed to bring together academic researchers, disease foundations, donors, philanthropists, angel investors, government sponsors and industry stakeholders. Since existing RECIST criteria are not suitable endpoints for CSC trials [19], novel trial designs are vitally important at this juncture.

The most promising CSC therapeutic agents to date that target Notch, Hedgehog, Wnt, NFkB, Her2, Pten, Akt, Stat3, IL6R, CXCR1 and many other CSC self-renewal pathways afford ample opportunities for new partnerships and trials. Dual or multiple pathway inhibitors will be at a significant advantage since many cancers appear to be driven by multiple cellular regulators. Novel separation methods and characterization assays for better discrimination and quantification of CSCs are desperately needed. Imaging methods either ultrasonic, magnetic resonance or conventional microscopy-based are needed to better visualize CSCs before and after treatment to assess patient response. In addition, partnerships working toward CTC capture and characterization, nanoparticle delivery mechanisms and improvement of devices capable of sensitizing CSCs to chemotherapy and/or radiation clearance (e.g., low temperature hyperthermia induction) may be of great use in the fight against cancer in the near term. Similarly, business ventures that are able to develop clinical trial protocols capable of clearly elucidating CSC therapeutic targeting is urgently needed. Stem cell targeting approaches that can be co-administered with conventional debulking agents are most apt to quickly gain regulatory approval and yield the best results. Especially promising approaches would be those that take advantage of unique cell cycling aspects, apoptosis programs, epigenetics, miRNA regulation of EMT/MET states or other features of tumor initiating cells that would spare normal stem cells and the bodies' innate regenerative capabilities.
Copyright information
© Springer Science+Business Media LLC New York 2015