Abstract

The mitochondrial respiratory chain is organized into dynamic high molecular weight complexes that associate to form supercomplexes. The function of these SCs is to minimize the production of reactive oxygen species (ROS) generated during electron transfer within them and to efficiently transfer electrons to complex IV. These supra-molecular structures as well as whole mitochondria are stress-responsive and respond to mitochondrially targeted anti-cancer agent by destabilization and induction of massive production of ROS leading to apoptosis. We have recently developed mitochondrially targeted anti-cancer agents epitomized by the mitochondrially targeted analogue of the redox-silent compound vitamin E succinate, which belongs to the group of agents that kill cancer cells via their mitochondria-destabilizing activity, referred to as mitocans. To understand the molecular mechanism of the effect of such agents, the use of native blue gel electrophoresis and clear native electrophoresis coupled with in-gel activity assays, are methods of choice. The relevant methodology is described in this chapter.
Key words
Native blue electrophosis

Immunobloting

Clear native electrophoresis

Supercomplexes

Enzymatic activity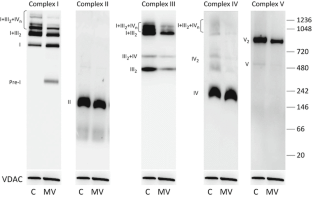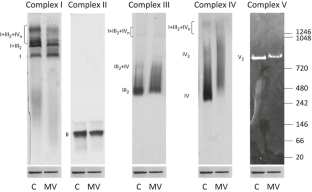 References
Acin-Perez R, Fernandez-Silva R, Peleato ML, Perez-Martos A, Enriquez JA (2008) Respiratory active mitochondrial supercomplexes. Mol Cell 32:529–539

Acin-Perez R, Enriquez JA (2013) The function of the respiratory supercomplexes: the plasticity model. Biochim Biophys Acta 1837:444–450

Lapuente-Brun E, Moreno-Loshuertos R, Acín-Pérez R, Latorre-Pellicer A, Colás C, Balsa E, Perales-Clemente E, Quirós PM, Calvo E, Rodríguez-Hernández MA, Navas P, Cruz R, Carracedo Á, López-Otín C, Pérez-Martos A, Fernández-Silva P, Fernández-Vizarra E, Enríquez JA (2013) Supercomplex assembly determines electron flux in the mitochondrial electron transport chain. Science 340:1567–1570

Neuzil J, Dong L-F, Rohlena J, Truksa J, Ralph SJ (2013) Classification of mitocans, anti-cancer drugs acting on mitochondria. Mitochondrion 13:199–208

Rohlena J, Dong LF, Ralph SJ, Neuzil J (2011) Anticancer drugs targeting the mitochondrial electron transport chain. Antioxid Redox Signal 15:2951–2974

Dong L-F, Low P, Dyason J, Wang X-F, Prochazka L, Witting PK, Freeman R, Swettenham E, Valis K, Liu J, Zobalova R, Turanek J, Spitz DR, Domann FE, Scheffler IE, Ralph SJ, Neuzil J (2008) α-Tocopheryl succinate induces apoptosis by targeting ubiquinone-binding sites in mitochondrial respiratory complex II. Oncogene 27:4324–4335

Dong LF, Jameson VJ, Tilly D, Cerny J, Mahdavian E, Marin-Hernandez A, Hernandez-Esquivel L, Rodriguez-Enriquez S, Stursa J, Witting PK, Stantic B, Rohlena J, Truksa J, Kluckova K, Dyason JC, Ledvina M, Salvatore BA, Moreno-Sanchez R, Coster MJ, Ralph SJ, Smith RA, Neuzil J (2011) Mitochondrial targeting of vitamin E succinate enhances its pro-apoptotic and anti-cancer activity via mitochondrial complex II. J Biol Chem 286:3717–3728

Dong LF, Jameson VJ, Tilly D, Prochazka L, Rohlena J, Valis K, Truksa J, Zobalova R, Mahdavian E, Kluckova K, Stantic M, Stursa J, Freeman R, Witting PK, Norberg E, Goodwin J, Salvatore BA, Novotna J, Turanek J, Ledvina M, Hozak P, Zhivotovsky B, Coster MJ, Ralph SJ, Smith RA, Neuzil J (2011) Mitochondrial targeting of α-tocopheryl succinate enhances its pro-apoptotic efficacy: a new paradigm for effective cancer therapy. Free Radic Biol Med 50:1546–1555

Schagger H, von Jagow G (1991) Blue native electrophoresis for isolation of membrane protein complexes in enzymatically active form. Anal Biochem 199:223–231

Wittig I, Carrozzo R, Santorelli FM, Schägger H (2006) Supercomplexes and subcomplexes of mitochondrial oxidative phosphorylation. Biochim Biophys Acta 1757:1066–1072

Kovarova J, Bajzikova M, Vondrusova M, Stursa J, Goodwin J, Nguyen M, Zobalova R, Pesdar EA, Truksa J, Tomasetti M, Dong L-F, Neuzil J (2014) Mitochondrial targeting of α-tocopheryl succinate enhances its anti-mesothelioma efficacy. Redox Rep 19:16–25

Gross VS, Greenberg HK, Baranov SV, Carlson GM, Stavrovskaya IG, Lazarev AV, Kristal BS (2011) Isolation of functional mitochondria from rat kidney and skeletal muscle without manual homogenization. Anal Biochem 418:213–223
Acknowledgments

This work was supported in part by grants from the National and Health Medical Research Council and the Australian Research Council, and by BIOCEV European Regional Development Fund CZ.1.05/1.1.00/02.0109 and Czech Science Foundation grants no. P301-12-1851 and P305-12-1708.
Copyright information

© 2015 Springer Science+Business Media New York
About this protocol
Cite this protocol
Vondrusova, M., Bezawork-Geleta, A., Sachaphibulkij, K., Truksa, J., Neuzil, J. (2015). The Effect of Mitochondrially Targeted Anticancer Agents on Mitochondrial (Super)Complexes. In: Weissig, V., Edeas, M. (eds) Mitochondrial Medicine. Methods in Molecular Biology, vol 1265. Humana Press, New York, NY. https://doi.org/10.1007/978-1-4939-2288-8_15
DOI: https://doi.org/10.1007/978-1-4939-2288-8_15

Publisher Name: Humana Press, New York, NY

Print ISBN: 978-1-4939-2287-1

Online ISBN: 978-1-4939-2288-8

eBook Packages: Springer Protocols