Abstract

Chromatin immunoprecipitation followed by massively parallel sequencing (ChIP-Seq) is a powerful technique to map the genomic location of a given chromatin bound factor (i.e., transcription factors, cofactors) or epigenetic marks, such as histone modification. The procedure is based on cross-linking of proteins to DNA followed by the capture of the protein-DNA complexes by "ChIP-grade" antibodies. In this chapter we describe in detail the experimental method developed in our laboratory to investigate in vivo the DNA-binding characteristics of a key heterodimeric nuclear receptor, the retinoid X receptor (RXR) in murine bone marrow-derived macrophages.
Key words
Macrophage

Chromatin

Binding site

ChIP

RXR

Cistrome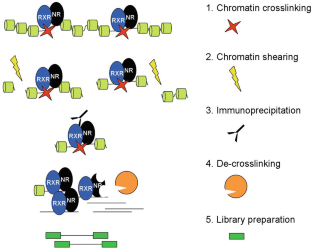 References
Nagy L, Schwabe JW (2004) Mechanism of the nuclear receptor molecular switch. Trends Biochem Sci 29:317–324

Calkin AC, Tontonoz P (2012) Transcriptional integration of metabolism by the nuclear sterol-activated receptors LXR and FXR. Nat Rev Mol Cell Biol 13:213–224

Nagy L, Szanto A, Szatmari I, Szeles L (2012) Nuclear hormone receptors enable macrophages and dendritic cells to sense their lipid environment and shape their immune response. Physiol Rev 92:739–789

Mangelsdorf DJ, Borgmeyer U, Heyman RA et al (1992) Characterization of three RXR genes that mediate the action of 9-cis retinoic acid. Genes Dev 6:329–344

Szanto A, Narkar V, Shen Q, Uray IP, Davies PJ, Nagy L (2004) Retinoid X receptors: X-ploring their (patho)physiological functions. Cell Death Differ 11(Suppl 2):S126–S143

Boehm MF, Zhang L, Badea BA et al (1994) Synthesis and structure-activity relationships of novel retinoid X receptor-selective retinoids. J Med Chem 37:2930–2941

Boehm MF, Zhang L, Zhi L et al (1995) Design and synthesis of potent retinoid X receptor selective ligands that induce apoptosis in leukemia cells. J Med Chem 38:3146–3155

Sucov HM, Dyson E, Gumeringer CL, Price J, Chien KR, Evans RM (1994) RXR alpha mutant mice establish a genetic basis for vitamin A signaling in heart morphogenesis. Genes Dev 8:1007–1018

Kastner P, Grondona JM, Mark M et al (1994) Genetic analysis of RXR alpha developmental function: convergence of RXR and RAR signaling pathways in heart and eye morphogenesis. Cell 78:987–1003

Nagy L, Thomazy VA, Shipley GL et al (1995) Activation of retinoid X receptors induces apoptosis in HL-60 cell lines. Mol Cell Biol 15:3540–3551

Szeles L, Poliska S, Nagy G et al (2010) Research resource: transcriptome profiling of genes regulated by RXR and its permissive and nonpermissive partners in differentiating monocyte-derived dendritic cells. Mol Endocrinol 24:2218–2231

Barski A, Cuddapah S, Cui K et al (2007) High-resolution profiling of histone methylations in the human genome. Cell 129:823–837

Robertson G, Hirst M, Bainbridge M et al (2007) Genome-wide profiles of STAT1 DNA association using chromatin immunoprecipitation and massively parallel sequencing. Nat Methods 4:651–657

Ostuni R, Piccolo V, Barozzi I et al (2013) Latent enhancers activated by stimulation in differentiated cells. Cell 152:157–171

Lam MT, Cho H, Lesch HP et al (2013) Rev-Erbs repress macrophage gene expression by inhibiting enhancer-directed transcription. Nature 498:511–515

Brazda P, Krieger J, Daniel B, Jonas D, Szekeres T, Langowski J et al (2014) Ligand binding shifts highly mobile RXR to chromatin-bound state in a coactivator-dependent manner as revealed by single cell imaging. Mol Cell Biol 34(7):1234–1245. doi:10.1128/MCB.01097-13

Barish GD, Downes M, Alaynick WA, Yu RT, Ocampo CB, Bookout AL et al (2005) A nuclear receptor atlas: macrophage activation. Mol Endocrinol 19:2466–2477
Acknowledgements

Work in the Nagy laboratory is supported by a grant from the Hungarian Scientific Research Fund (OTKA K100196), and TÁMOP-4.2.2.A-11/1/KONV-2012-0023 "VÉDELEM" implemented through the New Hungary Development Plan co-financed by the European Social Fund and the European Regional Development Fund. The project is funded by the Internal Research University grant entitled "Dissecting the genetic and epigenetic components of gene expression regulation in the context of the 1000 genomes project." B. L. Balint is Szodoray fellow of the University of Debrecen and recipient of the Magyary Zoltan fellowship supported by the TAÏMOP 4.2.4.A/2-11-1-2012-0001 grant, implemented through the New Hungary Development Plan co-financed by the European Social Fund and the European Regional Development Fund. Z.S.N. was a recipient of the János Bolyai Research Fellowship from the Hungarian Academy of Sciences and is supported by the NKTH-OTKA-EU 7KP (HUMAN_MB08-3-2011-0002, Marie Curie actions) Reintegration Grant.
Copyright information

© 2014 Springer Science+Business Media New York
About this protocol
Cite this protocol
Daniel, B., Balint, B.L., Nagy, Z.S., Nagy, L. (2014). Mapping the Genomic Binding Sites of the Activated Retinoid X Receptor in Murine Bone Marrow-Derived Macrophages Using Chromatin Immunoprecipitation Sequencing. In: Castoria, G., Auricchio, F. (eds) Steroid Receptors. Methods in Molecular Biology, vol 1204. Humana, New York, NY. https://doi.org/10.1007/978-1-4939-1346-6_2
DOI: https://doi.org/10.1007/978-1-4939-1346-6_2

Published:

Publisher Name: Humana, New York, NY

Print ISBN: 978-1-4939-1345-9

Online ISBN: 978-1-4939-1346-6

eBook Packages: Springer Protocols