Abstract

Dengue virus (DENV), a member of mosquito-borne flavivirus genus in the Flaviviridae family, is an important human pathogen of global significance. DENV infections are the most common arbovirus infections in the world, causing more than ~300 million cases annually. Although majority of infections result in simple self-limiting disease known as dengue fever which resolve in 7–10 days, ~500,000 cases lead to more severe complications known as dengue hemorrhagic fever/dengue shock syndrome, more frequently observed in secondary infections due to an antibody-dependent enhancement mechanism, resulting in ~25,000 deaths. Currently, there are no vaccines or antiviral drug available for the treatment of DENV infections. Several viral and host proteins have been identified as potential targets for drug development. Some of the viral targets have enzyme activities that play essential roles in viral RNA replication for which in vitro high-throughput screening (HTS) assays have been developed. In this chapter, we describe an in vitro assay for the viral serine protease that has been successfully adapted to HTS format and has been used to screen several thousand compounds to identify inhibitors of the viral protease.
Key words
Trypsin-like serine protease

Fluorescence-based screening

Bovine pancreatic trypsin inhibitor

Z′ factor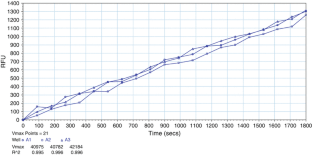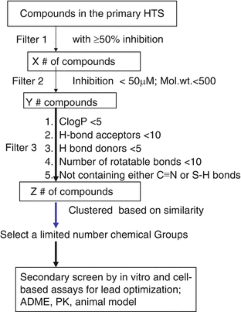 References
Lindenbach D, Thiel HJ, Rice C (2007) Flaviviridae: the viruses and their replication. In: Knipe DM, Howley PM (eds) Field's virology, vol 1, 5th edn. Lippincott-Raven Publishers, Philadelphia, pp 1101–1152

Fernandez-Garcia MD, Mazzon M, Jacobs M, Amara A (2009) Pathogenesis of flavivirus infections: using and abusing the host cell. Cell Host Microbe 5(4):318–328. doi:S1931-3128(09)00102-4, [pii] 10.1016/j.chom.2009.04.001

Cleaves GR (1985) Identification of dengue type 2 virus-specific high molecular weight proteins in virus-infected BHK cells. J Gen Virol 66(Pt 12):2767–2771

Crawford GR, Wright PJ (1987) Characterization of novel viral polyproteins detected in cells infected by the flavivirus Kunjin and radiolabelled in the presence of the leucine analogue hydroxyleucine. J Gen Virol 68(Pt 2):365–376

Padmanabhan R, Strongin AY (2010) Translation and processing of the dengue virus polyprotein. In: Hanley KA, Weaver SC (eds) Frontiers in dengue virus research. Caister Academic Press, Norfolk, pp 14–33

Bazan JF, Fletterick RJ (1989) Detection of a trypsin-like serine protease domain in flaviviruses and pestiviruses. Virology 171(2):637–639

Chambers TJ, Weir RC, Grakoui A, McCourt DW, Bazan JF, Fletterick RJ, Rice CM (1990) Evidence that the N-terminal domain of nonstructural protein NS3 from yellow fever virus is a serine protease responsible for site-specific cleavages in the viral polyprotein. Proc Natl Acad Sci U S A 87(22):8898–8902

Wengler G, Czaya G, Farber PM, Hegemann JH (1991) In vitro synthesis of West Nile virus proteins indicates that the amino-terminal segment of the NS3 protein contains the active centre of the protease which cleaves the viral polyprotein after multiple basic amino acids. J Gen Virol 72(Pt 4):851–858

Chambers TJ, Grakoui A, Rice CM (1991) Processing of the yellow fever virus nonstructural polyprotein: a catalytically active NS3 proteinase domain and NS2B are required for cleavages at dibasic sites. J Virol 65(11):6042–6050

Zhang L, Mohan PM, Padmanabhan R (1992) Processing and localization of Dengue virus type 2 polyprotein precursor NS3-NS4A-NS4B-NS5. J Virol 66(12):7549–7554

Falgout B, Pethel M, Zhang YM, Lai CJ (1991) Both nonstructural proteins NS2B and NS3 are required for the proteolytic processing of dengue virus nonstructural proteins. J Virol 65(5):2467–2475

Falgout B, Miller RH, Lai C-J (1993) Deletion analysis of dengue virus type 4 nonstructural protein NS2B: Identification of a domain required for NS2B-NS3 protease activity. J Virol 67:2034–2042

Chambers TJ, Nestorowicz A, Amberg SM, Rice CM (1993) Mutagenesis of the yellow fever virus NS2B protein: effects on proteolytic processing, NS2B-NS3 complex formation, and viral replication. J Virol 67(11):6797–6807

Zhang L, Padmanabhan R (1993) Role of protein conformation in the processing of dengue virus type 2 nonstructural polyprotein precursor. Gene 129(2):197–205

Clum S, Ebner KE, Padmanabhan R (1997) Cotranslational membrane insertion of the serine proteinase precursor NS2B-NS3(Pro) of dengue virus type 2 is required for efficient in vitro processing and is mediated through the hydrophobic regions of NS2B. J Biol Chem 272(49):30715–30723

Yusof R, Clum S, Wetzel M, Murthy HM, Padmanabhan R (2000) Purified NS2B/NS3 serine protease of dengue virus type 2 exhibits cofactor NS2B dependence for cleavage of substrates with dibasic amino acids in vitro. J Biol Chem 275(14):9963–9969

Leung D, Schroder K, White H, Fang NX, Stoermer MJ, Abbenante G, Martin JL, Young PR, Fairlie DP (2001) Activity of recombinant dengue 2 virus NS3 protease in the presence of a truncated NS2B co-factor, small peptide substrates, and inhibitors. J Biol Chem 276(49):45762–45771

Chappell KJ, Nall TA, Stoermer MJ, Fang NX, Tyndall JD, Fairlie DP, Young PR (2005) Site-directed mutagenesis and kinetic studies of the West Nile Virus NS3 protease identify key enzyme-substrate interactions. J Biol Chem 280(4):2896–2903

Mueller NH, Yon C, Ganesh VK, Padmanabhan R (2007) Characterization of the West Nile virus protease substrate specificity and inhibitors. Int J Biochem Cell Biol 39(3):606–614

Li J, Lim SP, Beer D, Patel V, Wen D, Tumanut C, Tully DC, Williams JA, Jiricek J, Priestle JP, Harris JL, Vasudevan SG (2005) Functional profiling of recombinant NS3 proteases from all four serotypes of dengue virus using tetrapeptide and octapeptide substrate libraries. J Biol Chem 280(31):28766–28774

Johnston PA, Phillips J, Shun TY, Shinde S, Lazo JS, Huryn DM, Myers MC, Ratnikov BI, Smith JW, Su Y, Dahl R, Cosford ND, Shiryaev SA, Strongin AY (2007) HTS identifies novel and specific uncompetitive inhibitors of the two-component NS2B-NS3 proteinase of West Nile virus. Assay Drug Dev Technol 5(6):737–750

Mueller NH, Pattabiraman N, Ansarah-Sobrinho C, Viswanathan P, Pierson TC, Padmanabhan R (2008) Identification and biochemical characterization of small-molecule inhibitors of west nile virus serine protease by a high-throughput screen. Antimicrob Agents Chemother 52(9):3385–3393. doi:AAC.01508-07, [pii] 10.1128/AAC.01508-07

Yang CC, Hsieh YC, Lee SJ, Wu SH, Liao CL, Tsao CH, Chao YS, Chern JH, Wu CP, Yueh A (2011) Novel Dengue Virus-Specific NS2B/NS3 Protease Inhibitor, BP2109, Discovered by a High-Throughput Screening Assay. Antimicrob Agents Chemother 55(1):229–238. doi:AAC.00855-10, [pii] 10.1128/AAC.00855-10

Inglese J, Auld DS, Jadhav A, Johnson RL, Simeonov A, Yasgar A, Zheng W, Austin CP (2006) Quantitative high-throughput screening: a titration-based approach that efficiently identifies biological activities in large chemical libraries. Proc Natl Acad Sci U S A 103(31):11473–11478. doi:10.1073/pnas.0604348103

Zheng W, Padia J, Urban DJ, Jadhav A, Goker-Alpan O, Simeonov A, Goldin E, Auld D, LaMarca ME, Inglese J, Austin CP, Sidransky E (2007) Three classes of glucocerebrosidase inhibitors identified by quantitative high-throughput screening are chaperone leads for Gaucher disease. Proc Natl Acad Sci U S A 104(32):13192–13197. doi:10.1073/pnas.0705637104

Yon C, Teramoto T, Mueller N, Phelan J, Ganesh VK, Murthy KH, Padmanabhan R (2005) Modulation of the nucleoside triphosphatase/RNA helicase and 5′-RNA triphosphatase activities of dengue virus type 2 nonstructural protein 3 (NS3) by interaction with NS5, the RNA-dependent RNA polymerase. J Biol Chem 280:27412–27419

Lipinski CA (2000) Drug-like properties and the causes of poor solubility and poor permeability. J Pharmacol Toxicol Methods 44(1):235–249, S1056-8719(00)00107-6 [pii]

Lipinski CA, Lombardo F, Dominy BW, Feeney PJ (2001) Experimental and computational approaches to estimate solubility and permeability in drug discovery and development settings. Adv Drug Deliv Rev 46(1–3):3–26

Ezgimen MD, Mueller NH, Teramoto T, Padmanabhan R (2009) Effects of detergents on the West Nile virus protease activity. Bioorg Med Chem 17(9):3278–3282. doi:S0968-0896(09)00310-1, [pii] 10.1016/j.bmc.2009.03.050
Acknowledgments

The research was supported by NIH grants AI082068 and AI70791 to R. P., U54 AI057159 to NSRB, and the Cosmos Club Foundation Young Scholars Award to M.M.
Copyright information

© 2014 Springer Science+Business Media, LLC
About this protocol
Cite this protocol
Manzano, M., Padia, J., Padmanabhan, R. (2014). Small Molecule Inhibitor Discovery for Dengue Virus Protease Using High-Throughput Screening. In: Padmanabhan, R., Vasudevan, S. (eds) Dengue. Methods in Molecular Biology, vol 1138. Humana Press, New York, NY. https://doi.org/10.1007/978-1-4939-0348-1_20
DOI: https://doi.org/10.1007/978-1-4939-0348-1_20

Published:

Publisher Name: Humana Press, New York, NY

Print ISBN: 978-1-4939-0347-4

Online ISBN: 978-1-4939-0348-1

eBook Packages: Springer Protocols