Abstract

Spiroplasma is a genus of wall-less helical bacteria with swimming motility unrelated to conventional types of bacterial motility machinery, such as flagella and pili. The swimming of Spiroplasma is suggested to be driven by five classes of MreB (MreB1-MreB5), which are members of the actin superfamily. In vitro studies of Spiroplasma MreBs have recently been conducted to evaluate their activities, such as ATPase, which is essential for the polymerization dynamics among classic actin superfamily proteins. In this chapter, we describe methods of purification and Pi release measurement of Spiroplasma MreBs using column chromatography and absorption spectroscopy with the molecular probe, 2-amino-6-mercapto-7-methylpurine riboside (MESG). Of note, the methods described here are applicable to other proteins that possess NTPase activity.
Key words
Bacterial actin cytoskeleton

E. coli expression system

Recombinant protein

Ni2+-NTA affinity chromatography

Gel filtration

Pi release assay

Absorption spectroscopy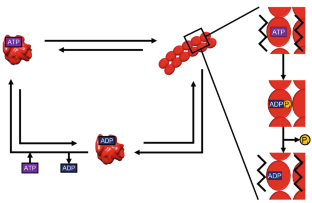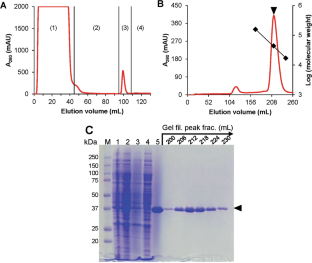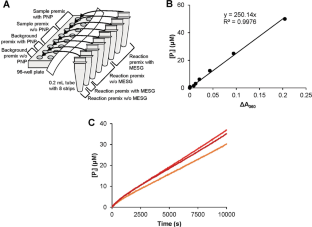 References
Paredes JC, Herren JK, Schüpfer F et al (2015) Genome sequence of the Drosophila melanogaster male-killing Spiroplasma strain MSRO endosymbiont. mBio 6(2):e02437–02414

Gasparich GE (2002) Spiroplasmas: evolution, adaptation and diversity. Front Biosci 7:d619–d640

Liu P, Zheng H, Meng Q et al (2017) Chemotaxis without conventional two-component system, based on cell polarity and aerobic conditions in helicity-switching swimming of Spiroplasma eriocheiris. Front Microbiol 8:58

Terahara N, Tulum I, Miyata M (2017) Transformation of crustacean pathogenic bacterium Spiroplasma eriocheiris and expression of yellow fluorescent protein. Biochem Biophys Res Commun 487(3):488–493

Miyata M, Robinson RC, Uyeda TQP et al (2020) Tree of motility – a proposed history of motility systems in the tree of life. Genes Cells 25(1):6–21

Nakane D, Ito T, Nishizaka T (2020) Coexistence of two chiral helices produces kink translation in Spiroplasma swimming. J Bacteriol 202(8):e00735–e00719

Shaevitz JW, Lee JY, Fletcher DA (2005) Spiroplasma swim by a processive change in body helicity. Cell 122(6):941–945

Kiyama H, Kakizawa S, Sasajima Y et al (2022) Reconstitution of minimal motility system based on Spiroplasma swimming by two bacterial actins in a synthetic minimal bacterium. Sci Adv 8(48):eabo7490

Takahashi D, Fujiwara I, Miyata M (2020) Phylogenetic origin and sequence features of MreB from the wall-less swimming bacteria Spiroplasma. Biochem Biophys Res Commun 533(4):638–644

Harne S, Duret S, Pande V et al (2020) MreB5 is a determinant of rod-to-helical transition in the cell-wall-less bacterium Spiroplasma. Curr Biol 30(23):4753–4762.e4757

Ku C, Lo WS, Kuo CH (2014) Molecular evolution of the actin-like MreB protein gene family in wall-less bacteria. Biochem Biophys Res Commun 446(4):927–932

Trachtenberg S, Dorward LM, Speransky VV et al (2008) Structure of the cytoskeleton of Spiroplasma melliferum BC3 and its interactions with the cell membrane. J Mol Biol 378(4):778–789

Kürner J, Frangakis AS, Baumeister W (2005) Cryo-electron tomography reveals the cytoskeletal structure of Spiroplasma melliferum. Science 307(5708):436–438

Shi H, Bratton BP, Gitai Z et al (2018) How to build a bacterial cell: MreB as the foreman of E. coli construction. Cell 172(6):1294–1305

Wagstaff J, Löwe J (2018) Prokaryotic cytoskeletons: protein filaments organizing small cells. Nat Rev Microbiol 16(4):187–201

Takahashi D, Fujiwara I, Sasajima Y et al (2022) ATP-dependent polymerization dynamics of bacterial actin proteins involved in Spiroplasma swimming. Open Biol 12(10):220083

Wegner A (1976) Head to tail polymerization of actin. J Mol Biol 108(1):139–150

Masson F, Pierrat X, Lemaitre B et al (2021) The wall-less bacterium Spiroplasma poulsonii builds a polymeric cytoskeleton composed of interacting MreB isoforms. iScience 24(12):103458

Pande V, Mitra N, Bagde SR et al (2022) Filament organization of the bacterial actin MreB is dependent on the nucleotide state. J Cell Biol 221(5):e202106092

Blanchoin L, Pollard TD (1999) Mechanism of interaction of Acanthamoeba actophorin (ADF/cofilin) with actin filaments. J Biol Chem 274(22):15538–15546

Webb MR (1992) A continuous spectrophotometric assay for inorganic-phosphate and for measuring phosphate release kinetics in biological-systems. Proc Natl Acad Sci U S A 89(11):4884–4887
Acknowledgments

This study was supported by Grants-in-Aid for Scientific Research (A and C) (MEXT KAKENHI, Grant Numbers JP17H01544 to MM and JP20K06591 to IF), JST CREST (Grant Number JPMJCR19S5 to MM), the Research Foundation of Opto-Science and Technology to IF, and the Osaka City University (OCU) Strategic Research Grant 2019 to IF. DT is a recipient of the Research Fellowship of the Japan Society for the Promotion of Science (22J10345).
Copyright information

© 2023 The Author(s), under exclusive license to Springer Science+Business Media, LLC, part of Springer Nature
About this protocol
Cite this protocol
Takahashi, D., Fujiwara, I., Miyata, M. (2023). Purification and ATPase Activity Measurement of Spiroplasma MreB. In: Minamino, T., Miyata, M., Namba, K. (eds) Bacterial and Archaeal Motility. Methods in Molecular Biology, vol 2646. Humana, New York, NY. https://doi.org/10.1007/978-1-0716-3060-0_30
DOI: https://doi.org/10.1007/978-1-0716-3060-0_30

Published:

Publisher Name: Humana, New York, NY

Print ISBN: 978-1-0716-3059-4

Online ISBN: 978-1-0716-3060-0

eBook Packages: Springer Protocols