Abstract

Digital bioassays, popularized by digital PCR, provide some of the most robust and accurate methods for nucleic acid quantification. In this chapter, we detail a protocol for digital, isothermal, and multiplex detection of microRNAs, which relies on a recently developed amplification method. Our approach uses programmable ultrasensitive molecular amplifiers (PUMAs) to reveal the presence of target microRNAs randomly isolated in picoliter-size microfluidic droplets. Nonspecific amplification in droplets that do not contain a target is eliminated by an active threshold mechanism. Multiple circuits can be assembled for the multiplex digital detection of up to three targets. We finally present the option of using fluorescent dropcodes to streamline the assay and analyze more than a dozen samples in parallel.
Key words
Digital assay

MicroRNA

Multiplexing

Droplet microfluidics

PUMA

Molecular programming

DNA circuit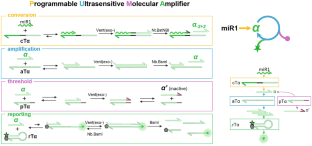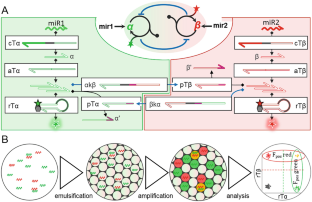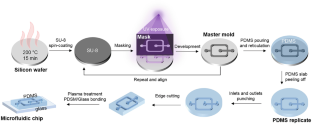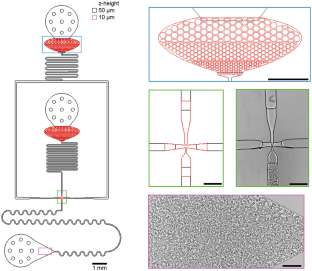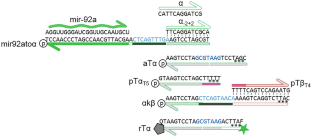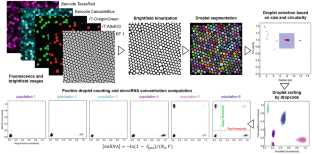 References
Vogelstein B, Kinzler KW (1999) Digital PCR. PNAS 96:9236–9241. https://doi.org/10.1073/pnas.96.16.9236

Sykes PJ, Neoh SH, Brisco MJ, Hughes E, Condon J, Morley AA (1992) Quantitation of targets for PCR by use of limiting dilution. BioTechniques 13:444–449

Stein EV, Duewer DL, Farkas N, Romsos EL, Wang L, Cole KD (2017) Steps to achieve quantitative measurements of microRNA using two step droplet digital PCR. PLoS One 12:e0188085. https://doi.org/10.1371/journal.pone.0188085

Cohen L, Hartman MR, Amardey-Wellington A, Walt DR (2017) Digital direct detection of microRNAs using single molecule arrays. Nucleic Acids Res 45:e137–e137. https://doi.org/10.1093/nar/gkx542

Zhang K, Kang D-K, Ali MM, Liu L, Labanieh L, Lu M, Riazifar H, Nguyen TN, Zell JA, Digman MA, Gratton E, Li J, Zhao W (2015) Digital quantification of miRNA directly in plasma using integrated comprehensive droplet digital detection. Lab Chip 15:4217. https://doi.org/10.1039/C5LC00650C

Gines G, Menezes R, Nara K, Kirstetter A-S, Taly V, Rondelez Y (2020) Isothermal digital detection of microRNA using background-free molecular circuit, vol 6. Sci Adv, p eaay5952

Montagne K, Plasson R, Sakai Y, Fujii T, Rondelez Y (2011) Programming an in vitro DNA oscillator using a molecular networking strategy. Mol Syst Biol 7:466. https://doi.org/10.1038/msb.2010.120

Baccouche A, Montagne K, Padirac A, Fujii T, Rondelez Y (2014) Dynamic DNA-toolbox reaction circuits: a walkthrough. Methods 67:234–249. https://doi.org/10.1016/j.ymeth.2014.01.015

Rondelez Y, Gines G (2020) Multiplex digital microRNA detection using cross-inhibitory DNA circuits. ACS Sens 5:2430. https://doi.org/10.1021/acssensors.0c00593

Yamagata A, Masui R, Kakuta Y, Kuramitsu S, Fukuyama K (2001) Overexpression, purification and characterization of RecJ protein from Thermus thermophilus HB8 and its core domain. Nucleic Acids Res 29:4617–4624

Montagne K, Gines G, Fujii T, Rondelez Y (2016) Boosting functionality of synthetic DNA circuits with tailored deactivation. Nat Commun 7:13474. https://doi.org/10.1038/ncomms13474

Glass NR, Tjeung R, Chan P, Yeo LY, Friend JR (2011) Organosilane deposition for microfluidic applications. Biomicrofluidics 5:036501. https://doi.org/10.1063/1.3625605

Menezes R, Dramé-Maigné A, Taly V, Rondelez Y, Gines G (2019) Streamlined digital bioassays with a 3D printed sample changer. Analyst 145:572. https://doi.org/10.1039/C9AN01744E

Baccouche A, Okumura S, Sieskind R, Henry E, Aubert-Kato N, Bredeche N, Bartolo J-F, Taly V, Rondelez Y, Fujii T, Genot AJ (2017) Massively parallel and multiparameter titration of biochemical assays with droplet microfluidics. Nat Protoc 12:1912–1932. https://doi.org/10.1038/nprot.2017.092
Acknowledgments

Our research is supported by grants from the University Paris Sciences et Lettres and the European Research Council (ERC-2020-STG MoP-MiP 939394).
Copyright information

© 2023 The Author(s), under exclusive license to Springer Science+Business Media, LLC, part of Springer Nature
About this protocol
Cite this protocol
Rondelez, Y., Gines, G. (2023). Programmable Ultrasensitive Molecular Amplifier for Digital and Multiplex MicroRNA Quantification. In: Dalmay, T. (eds) MicroRNA Detection and Target Identification. Methods in Molecular Biology, vol 2630. Humana, New York, NY. https://doi.org/10.1007/978-1-0716-2982-6_7
DOI: https://doi.org/10.1007/978-1-0716-2982-6_7

Published:

Publisher Name: Humana, New York, NY

Print ISBN: 978-1-0716-2981-9

Online ISBN: 978-1-0716-2982-6

eBook Packages: Springer Protocols