Abstract

Flow cytometry is a technology that rapidly detects and measures physical and chemical characteristics of single cells or particles. It is a powerful tool for many areas of research, in particular, immunology, which allows for simultaneous analysis of different immune cell populations in a tissue. Here we describe the procedures to quantify and/or purify various B fractions in mouse bone marrows by flow cytometry using their signature surface markers. This method is useful to study B-cell development during steady-state or emergency hematopoiesis such as viral infections.
Key words
B cell

Flow cytometry

Lymphopoiesis

Subpopulation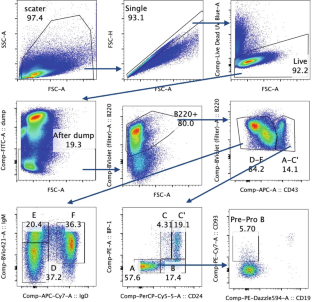 References
Boettcher S, Manz MG (2017) Regulation of inflammation- and infection-driven hematopoiesis. Trends Immunol 38:345–357

Rieger MA, Schroeder T (2012) Hematopoiesis. Cold Spring Harb Perspect Biol 4:a008250

Lee DSW, Rojas OL, Gommerman JL (2021) B cell depletion therapies in autoimmune disease: advances and mechanistic insights. Nat Rev Drug Discov 20:179–199

Martensson IL, Almqvist N, Grimsholm O et al (2010) The pre-B cell receptor checkpoint. FEBS Lett 584:2572–2579

Mckinnon KM (2018) Flow cytometry: an overview. Curr Protoc Immunol 120:5.1.1–5.1.11
Acknowledgments

This work was supported by a US National Institutes of Health research award NIAID R01AI132526 to P.W.
Conflict of Interest
The authors declare no financial or nonfinancial interest.
Copyright information

© 2023 The Author(s), under exclusive license to Springer Science+Business Media, LLC, part of Springer Nature
About this protocol
Cite this protocol
Geng, T., Wang, P. (2023). Quantitative Analysis of B-Cell Subpopulations in Bone Marrow by Flow Cytometry. In: Bai, F. (eds) West Nile Virus. Methods in Molecular Biology, vol 2585. Humana, New York, NY. https://doi.org/10.1007/978-1-0716-2760-0_8
DOI: https://doi.org/10.1007/978-1-0716-2760-0_8

Published:

Publisher Name: Humana, New York, NY

Print ISBN: 978-1-0716-2759-4

Online ISBN: 978-1-0716-2760-0

eBook Packages: Springer Protocols