Abstract

The ability to generate primordial germ cell-like cells (PGCLCs) from murine embryonic stem cells (ESCs) has enabled in vitro investigation of the molecular mechanisms regulating this process without the use of a mouse model. Here we describe the procedures from the culture of ESCs to the detection of PGCLCs in the embryoid bodies (spheroids).
Key words
Primordial germ cell-like cells

Epiblast-like cells

Embryonic stem cells

In vitro differentiation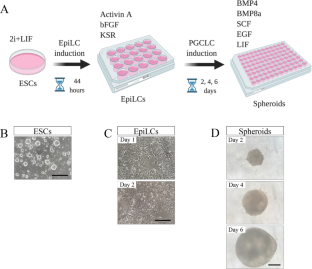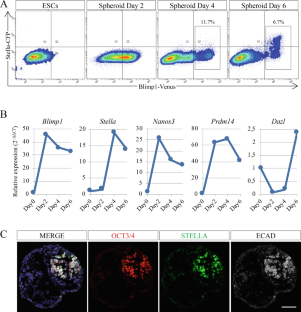 References
Ohinata Y, Payer B, O'Carroll D, Ancelin K, Ono Y, Sano M, Barton SC et al (2005) Blimp1 is a critical determinant of the germ cell lineage in mice. Nature 436:207–213

Saitou M, Payer B, O'Carroll D, Ohinata Y, Surani MA (2005) Blimp1 and the emergence of the germ line during development in the mouse. Cell Cycle 4(12):1736–1740

Saitou M, Barton S, Surani MA (2002) A molecular programme for the specification of germ cell fate in mice. Nature 418:293–300

Lawson KA, Dunn NR, Roelen BA, Zeinstra LM, Davis AM, Wright CV, Korving JP et al (1999) Bmp4 is required for the generation of primordial germ cells in the mouse embryo. Genes Dev 13:424–436

Ying Y, Liu XM, Marble A, Lawson KA, Zhao GQ (2000) Requirement of Bm8b for the generation of primordial germ cells in the mouse. Mol Endocrinol 14:1053–1063

Ying Y, Zhao G (2001) Cooperation of endoderm-derived BMP2 and extraembryonic ectoderm-derived BMP4 in primordial germ cell generation in the mouse. Dev Biol 232(2):484–492

Rivera-Pérez JA, Magnuson T (2005) Primitive streak formation in mice is preceded by localized activation of Brachyury and Wnt3. Dev Biol 288:363–371

Ben-Haim N, Lu C, Guzman-Ayala M, Pescatore L, Mesnard D, Bischofberger M, Naef F et al (2006) The nodal precursor acting via activin receptors induces mesoderm by maintaining a source of its convertases and BMP4. Dev Cell 11(3):313–323

Ohinata Y, Ohta H, Shigeta M, Yamanaka K, Wakayama T, Saitou M (2009) A signaling principle for the specification of the germ cell lineage in mice. Cell 137:571–584

Evans MJ, Kaufman MH (1981) Establishment in culture of pluripotential cells from mouse embryos. Nature 292:154–156

Martin GR (1981) Isolation of pluripotent cell line from early mouse embryos cultured in medium conditioned by teratocarcinoma stem cells. Proc Natl Acad Sci U S A 78:7634–7638

Williams RL, Hilton DJ, Pease S, Willson TA, Stewart CL, Gearing DP, Wagner EF et al (1988) Myeloid leukaemia inhibitory factor maintains the developmental potential of embryonic stem cells. Nature 336:684–687

Smith AG, Heath JK, Donaldson DD, Wong GG, Moreau J, Stahl M, Rogers D (1988) Inhibition of pluripotential embryonic stem cell differentiation by purified polypeptides. Nature 336:688–690

Hackett JA, Surani MA (2014) Regulatory principles of pluripotency: from the ground state up. Cell Stem Cell 15:416–430

Morgani SM, Canham MA, Nichols J, Sharov AA, Migueles RP, Ko MSH, Brickman JM (2013) Totipotent embryonic stem cells arise in ground-state culture conditions. Cell Rep 3(6):1945–1957

Mise N, Fuchikami T, Sugimoto M, Kobayakawa S, Ike F, Ogawa T, Tada T et al (2008) Differences and similarities sin the developmental status of embryo-derived stem cells and primordial germ cells revealed by global expression profiling. Genes Cells 13:863–877

Brons IGM, Smithers LE, Trotter MWB, Rugg-Gunn P, Sun B, de Sousa Lopes SM, Howlett SK et al (2007) Derivation of pluripotent epiblast stem cells from mammalian embryos. Nature 448:191–195

Tesar PJ, Chenoweth JG, Brook FA, Davies TJ, Evans EP, Mack DL, Gardner RL et al (2007) New cell lines from mouse epiblast share defining features with human embryonic stem cells. Nature 448:196–199

Nichols J, Smith A (2009) Naïve and primed pluripotent states. Cell Stem Cell 4:487–492

Kojima Y, Kaufman-Francis K, Studdert JB, Steiner KA, Power MD, Loebel DAF, Jones V et al (2014) The transcriptional and functional properties of mouse epiblast stem cells resemble the anterior primitive streak. Cell Stem Cell 14(1):107–120

Toyooka Y, Tsunekawa N, Akasu R, Noce T (2003) Embryonic stem cells can form germ cells in vitro. Proc Natl Acad Sci U S A 100(20):11457–11462

Hübner K, Fuhrmann G, Christenson LK, Kehler J, Reinbold R, de la Fuente R, Wood J et al (2003) Derivation of oocytes from mouse embryonic stem cells. Science 300(5623):1251–1256

Wei W, Qing T, Ye X, Liu H, Zhang D, Yang W, Deng H (2008) Primordial germ cell specification from embryonic stem cells. PLoS One 3(12):e4013

Hayashi K, Surani MA (2009) Self-renewing epiblast stem cells exhibit continual delineation of germ cells with epigenetic reprogramming in vitro. Development 136:3549–3556

Hayashi K, Ohta H, Kurimoto K, Aramaki S, Saitou M (2011) Reconstitution of the mouse germ cell specification pathway in culture by pluripotent stem cells. Cell 146:519–532

Kalkan T, Smith A (2014) Mapping the route from naïve pluripotency to lineage specification. Philos Trans R Soc Lond Ser B Biol Sci 369:20130540

Smith A (2017) Formative pluripotency: the executive phase in a developmental continuum. Development 144:365–373

Hayashi K, Saitou M (2013) Generation of eggs from mouse embryonic stem cells and induced pluripotent stem cells. Nat Protoc 8(8):1513–1524

Ohinata Y, Sano M, Shigeta M, Yamanaka K, Saitou M (2008) A comprehensive, non-invasive visualization of primordial germ cell development in mice by the Prdm1-mVenus and Dppa3-ECFP double transgenic reporter. Reproduction 136(4):503–514

Ohta H, Kurimoto K, Okamoto I, Nakamura T, Yabuta Y, Miyauchi H, Yamamoto T et al (2017) In vitro expansion of mouse primordial germ cell-like cells recapitulates an epigenetic blank slate. EMBO J 36:1888–1907

Mamo S, Gal AB, Bodo S, Dinnyes A (2007) Quantitative evaluation and selection of reference genes in mouse oocytes and embryos cultured in vivo and in vitro. BMC Dev Biol 7:14
Acknowledgements

We thank Hiroshi Ohta and Mitinori Saitou for providing us BDF1-2 ES cells. We also thank Jaromir Mikes for flow cytometry. This work was supported by Åke Wibergs Foundation, Jeanssons Foundation, Swedish Research Council (Vetenskapsradet, 2018-02557), Birgitta and Carl-Axel Rydbeck research foundation, and Karolinska Institutet to Q.D.
Copyright information

© 2022 The Author(s), under exclusive license to Springer Science+Business Media, LLC, part of Springer Nature
About this protocol
Cite this protocol
Pui, HP., Deng, Q. (2022). In Vitro Differentiation of Murine Embryonic Stem Cells (ESCs) into Primordial Germ Cell-like Cells (PGCLCs). In: Osteil, P. (eds) Epiblast Stem Cells. Methods in Molecular Biology, vol 2490. Humana, New York, NY. https://doi.org/10.1007/978-1-0716-2281-0_16
DOI: https://doi.org/10.1007/978-1-0716-2281-0_16

Published:

Publisher Name: Humana, New York, NY

Print ISBN: 978-1-0716-2280-3

Online ISBN: 978-1-0716-2281-0

eBook Packages: Springer Protocols