Abstract

The reported roles of the β-galactoside-binding lectin family, known as galectins, in disease development have been advancing at a remarkable pace. Galectins and their glycan counter-receptor ligands are now considered key functional determinants in malignant and metastatic progression, tumor immune evasion, autoimmunity, and immune homeostasis. Their influence in these processes is elicited through coordinated expression in tumor, immune and stromal cellular compartments. While analysis of galectin levels in related research efforts is routinely performed through immunoassays and RT-qPCR, detection, and identification of glycan counter-receptor ligands in their native form on the cell surface has lagged. In this report, we present methods to detect and identify glycan counter-receptor ligands to galectin (Gal)-3 and Gal-9—two galectins at the crosshairs of cancer and immunology research. As a model, we will describe (1) isolation of human B-cell subsets from fresh tonsil tissue, (2) assaying of Gal-3/-9-binding activities on human B cells, and (3) identifying Gal-3/-9 ligands on human B-cell surfaces. These methods, of course, can be implemented on any cell type to provide a cellular and molecular context capable of transmitting a galectin-mediated phenotype. Establishing a galectin-binding activity on specific counter-receptor ligand(s) can help unearth potential critical determinants capable of delivering cellular signals required for disease progression. These advances open new avenues of research investigation that result in novel therapeutic targets and approaches.
Key words
Galectins

Ligands

Receptors

B cells

T cells

Poly-N-acetyllactosamines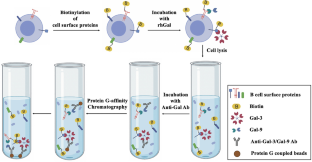 References
Broussard G, Damania B (2020) KSHV: immune modulation and immunotherapy. Front Immunol 10:3084

Navegantes KC, De Souza GR, PAT P et al (2017) Immune modulation of some autoimmune diseases: the critical role of macrophages and neutrophils in the innate and adaptive immunity. J Transl Med 15:36

Tan L, Wu H, Liu Y et al (2016) Recent advances of exosomes in immune modulation and autoimmune diseases. Autoimmunity 49:357–365

Van De Veen W, Akdis M (2019) The use of biologics for immune modulation in allergic disease. J Clin Invest 129:1452–1462

Earl LA, Bi S, Baum LG (2010) N- and O-glycans modulate galectin-1 binding, CD45 signaling, and T cell death. J Biol Chem 285:2232–2244

Cummings RD, Liu FT (2009) Galectins. In: Varki A, Cummings RD, Esko JD, Freeze HH, Stanley P, Bertozzi CR, Hart GW, Etzler ME (eds) Essentials of glycobiology. Cold Spring Harbor Laboratory Press The Consortium of Glycobiology Editors, La Jolla, California., Cold Spring Harbor (NY)

Fouillit M, Joubert-Caron R, Poirier F et al (2000) Regulation of CD45-induced signaling by galectin-1 in Burkitt lymphoma B cells. Glycobiology 10:413–419

Hoyer KK, Pang M, Gui D et al (2004) An anti-apoptotic role for galectin-3 in diffuse large B-cell lymphomas. Am J Pathol 164:893–902

Perillo NL, Pace KE, Seilhamer JJ et al (1995) Apoptosis of T cells mediated by galectin-1. Nature 378:736–739

Rabinovich GA, Riera CM, Landa CA et al (1999) Galectins: a key intersection between glycobiology and immunology. Braz J Med Biol Res 32:383–393

Cedeno-Laurent F, Barthel SR, Opperman MJ et al (2010) Development of a nascent galectin-1 chimeric molecule for studying the role of leukocyte galectin-1 ligands and immune disease modulation. J Immunol 185:4659–4672

Mendez-Huergo SP, Hockl PF, Stupirski JC et al (2019) Clinical relevance of Galectin-1 and Galectin-3 in rheumatoid arthritis patients: differential regulation and correlation with disease activity. Front Immunol 9:3057

Johannes L, Jacob R, Leffler H (2018) Galectins at a glance. J Cell Sci 131:jcs208884

Cedeno-Laurent F, Dimitroff CJ (2012) Galectin-1 research in T cell immunity: past, present and future. Clin Immunol 142:107–116

Cedeno-Laurent F, Opperman M, Barthel SR et al (2012) Galectin-1 triggers an immunoregulatory signature in Th cells functionally defined by IL-10 expression. J Immunol 188:3127–3137

Cedeno-Laurent F, Watanabe R, Teague JE et al (2012) Galectin-1 inhibits the viability, proliferation, and Th1 cytokine production of nonmalignant T cells in patients with leukemic cutaneous T-cell lymphoma. Blood 119:3534–3538

Stillman BN, Hsu DK, Pang M et al (2006) Galectin-3 and galectin-1 bind distinct cell surface glycoprotein receptors to induce T cell death. J Immunol 176:778–789

Clark MC, Pang M, Hsu DK et al (2012) Galectin-3 binds to CD45 on diffuse large B-cell lymphoma cells to regulate susceptibility to cell death. Blood 120:4635–4644

Giovannone N, Antonopoulos A, Liang J et al (2018) Human B cell differentiation is characterized by progressive remodeling of O-linked Glycans. Front Immunol 9:2857

Giovannone N, Liang J, Antonopoulos A et al (2018) Galectin-9 suppresses B cell receptor signaling and is regulated by I-branching of N-glycans. Nat Commun 9:3287

Giovannone N, Smith LK, Treanor B et al (2018) Galectin-glycan interactions as regulators of B cell immunity. Front Immunol 9:2839

Johnston A, Sigurdardottir SL, Ryon JJ (2009) Isolation of mononuclear cells from tonsillar tissue. Curr Protoc Immunol. Chapter 7:Unit 7.8
Acknowledgments

This methods chapter was supported by the National Institutes of Health (NIH)/National Cancer Institute (NCI) Alliance of Glycobiologists for Cancer Research: Biological Tumor Glycomics Laboratory (U01 CA225644 to CJ Dimitroff) and the NIH/National Institute of Allergy and Infectious Diseases (NIAID) (R21 AI146368 to CJ Dimitroff). The content is solely the responsibility of the authors and does not necessarily represent the official views of the NIH.
Copyright information

© 2022 Springer Science+Business Media, LLC, part of Springer Nature
About this protocol
Cite this protocol
Chakraborty, A., Mohammed, N.B.B., Bernasconi, A.E., Dimitroff, C.J. (2022). Analysis of Galectin-Binding Receptors on B Cells. In: Stowell, S.R., Arthur, C.M., Cummings, R.D. (eds) Galectins. Methods in Molecular Biology, vol 2442. Humana, New York, NY. https://doi.org/10.1007/978-1-0716-2055-7_30
DOI: https://doi.org/10.1007/978-1-0716-2055-7_30

Published:

Publisher Name: Humana, New York, NY

Print ISBN: 978-1-0716-2054-0

Online ISBN: 978-1-0716-2055-7

eBook Packages: Springer Protocols