Abstract

Artificial self-assembling RNA scaffolds can be produced from many types of RNA motifs that are rationally designed. These scaffolds are of interest as nanoscale organizers, with applications in drug delivery and synthetic cells. Here we describe design strategies, production methods, and imaging of micrometer-sized RNA nanotubes and lattices that assemble from RNA tiles comprising multiple distinct strands.
Key words
RNA

RNA assembly

RNA nanotubes

RNA lattices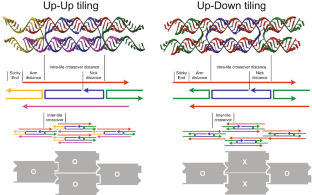 References
Jaeger L (2001) TectoRNA: modular assembly units for the construction of RNA nano-objects. Nucleic Acids Res 29:455–463

Afonin KA, Viard M, Koyfman AY et al (2014) Multifunctional RNA nanoparticles. Nano Lett 14:5662–5671

Grabow WW, Jaeger L (2014) RNA self-assembly and RNA nanotechnology. Acc Chem Res 47:1871–1880

Geary C, Rothemund PWK, Andersen ES (2014) A single-stranded architecture for cotranscriptional folding of RNA nanostructures. Science 345:799–804

Han D, Qi X, Myhrvold C et al (2017) Single-stranded DNA and RNA origami. Science 358:1–10

Qi X, Zhang F, Su Z et al (2018) Programming molecular topologies from single-stranded nucleic acids. Nat Commun 9:4579

Stewart JM, Viard M, Subramanian HKK et al (2016) Programmable RNA microstructures for coordinated delivery of siRNAs. Nanoscale 8:17542–17550

Stewart JM, Subramanian HKK, Franco E (2017) Self-assembly of multi-stranded RNA motifs into lattices and tubular structures. Nucleic Acids Res 45:5449–5457

Stewart JM, Geary C, Franco E (2019) Design and characterization of RNA nanotubes. ACS Nano 13:5214–5221

Delebecque CJ, Lindner AB, Silver PA, Aldaye FA (2011) Organization of intracellular reactions with rationally designed RNA assemblies. Science 333:470–474

Dirks RM, Lin M, Winfree E, Pierce NA (2004) Paradigms for computational nucleic acid design. Nucleic Acids Res 32:1392–1403

Zadeh JN, Steenberg CD, Bois JS et al (2011) NUPACK: analysis and design of nucleic acid systems. J Comput Chem 32:170–173

Tung CS, Carter ES 2nd (1994) Nucleic acid modeling tool (NAMOT): an interactive graphic tool for modeling nucleic acid structures. Comput Appl Biosci 10:427–433

Pettersen EF, Goddard TD, Huang CC et al (2004) UCSF chimera—a visualization system for exploratory research and analysis. J Comput Chem 25:1605–1612

Boniecki MJ, Lach G, Dawson WK et al (2016) SimRNA: a coarse-grained method for RNA folding simulations and 3D structure prediction. Nucleic Acids Res 44:e63

Ouldridge TE, Louis AA, Doye JPK (2010) DNA nanotweezers studied with a coarse-grained model of DNA. Phys Rev Lett 104:178101

Suma A, Poppleton E, Matthies M et al (2019) TacoxDNA: a user-friendly web server for simulations of complex DNA structures, from single strands to origami. J Comput Chem 40:2586–2595

Lisa M, Albright Barton E, Slatko (2000) Denaturing polyacrylamide gel electrophoresis. Curr Proto in Nucleic Acid Chem 00(1). https://doi.org/10.1002/0471142700.nca03bs00

Rabiya S, Tuma Matthew P, Beaudet Xiaokui, Jin Laurie J, Jones Ching-Ying, Cheung Stephen, Yue Victoria L, Singer (1999) Characterization of SYBR gold nucleic acid gel stain: a dye optimized for use with 300-nm ultraviolet transilluminators. Analytic Biochem 268(2):278–288. https://doi.org/10.1006/abio.1998.3067
Acknowledgments

Elisa Franco acknowledges support from the National Science Foundation through the CAREER award DMR 1938194. Jaimie Marie Stewart is a Merck Awardee of the Life Sciences Research Foundation.
Copyright information

© 2022 The Author(s), under exclusive license to Springer Science+Business Media, LLC, part of Springer Nature
About this protocol
Cite this protocol
Stewart, J.M., Subramanian, H.K.K., Franco, E. (2022). Assembly of RNA Nanostructures from Double-Crossover Tiles. In: Karim, A.S., Jewett, M.C. (eds) Cell-Free Gene Expression. Methods in Molecular Biology, vol 2433. Humana, New York, NY. https://doi.org/10.1007/978-1-0716-1998-8_18
DOI: https://doi.org/10.1007/978-1-0716-1998-8_18

Published:

Publisher Name: Humana, New York, NY

Print ISBN: 978-1-0716-1997-1

Online ISBN: 978-1-0716-1998-8

eBook Packages: Springer Protocols