Abstract

Tissue processing is the technique by which fixed tissues are made suitable for embedding within a supportive medium such as paraffin, and consists of three sequential steps: dehydration, clearing, and infiltration. In most clinical and research settings, tissue processing is accomplished using an automated tissue processor, with or without microwave-assistance. To ensure high-quality results, processing protocols should be tailored to tissue size and composition by modifying variables such as reagents used and the timing of the various steps. Herein, we provide an overview of tissue processing theory and outline a basic tissue processing method for use with a conventional automated fluid transfer/enclosed processor. The principles described will assist readers in optimizing tissue processing for their own projects.
Key words
Histotechnology

Tissue dehydration

Tissue clearing

Paraffin infiltration

conventional tissue processing

Microwave-assisted tissue processing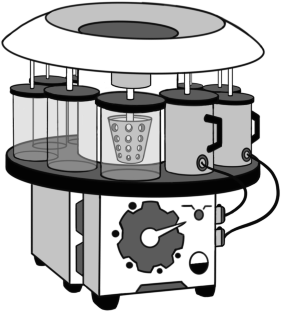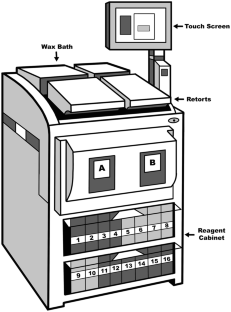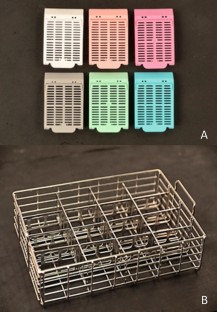 References
Carson FL, Cappellano C (2020) Histotechnology: a self-instructional text, 5th edn. American Society for Clinical Pathology, Chicago

Drury RAB, Wallington EA (1980) Carleton's histological technique, 5th edn. Oxford University Press, New York

Preece A (1959) A manual for histologic technicians. Little, Brown and Company, Toronto

Lott R, Tunnicliffe J, Sheppard E, Santiago J, Hladik C, Nasim M et al (2020) Practical guide to specimen handling in surgical pathology. College of American Pathologists, Northfield, IL

Chapman CM (2019) Troubleshooting in the histology laboratory. J Histotechnol 42(3):137–149

Buesa RJ, Peshkov MV (2009) Histology without xylene. Ann Diagn Pathol 13:246–256

Wynnchuk M (1944) Evaluation of xylene substitutes for paraffin tissue processing. J Histotechnol 17(2):143–149

Buesa RJ (2000) Mineral oil: the best xylene substitute for tissue processing yet? J Histotechnol 23(2):143–149

Metgud R, Astekar MS, Soni A, Naik S, Vanishree M (2013) Conventional xylene and xylene-free methods for routine histopathological preparation of tissue sections. Biotech Histochem 88(5):235–241

André GG, Wenger JB, Rebolloso D, Arrington JB, Mehm WJ (1994) Evaluation of clearing and infiltration mixtures (CIMs) as xylene substitutes for tissue processing. J Histotechnol 17(2):137–142

Ayala E, Enghardt MH, Horton M (1997) Cost effective, environmentally safe tissue processing method with paraffin oil. J Histotechnol 20(2):133–137

Hewitt SM, Lewis FA, Cao Y, Conrad RC, Cronin M, Danenberg KD et al (2008) Tissue handling and specimen preparation in surgical pathology: issues concerning the recovery of nucleic acids from formalin-fixed, paraffin-embedded tissue. Arch Pathol Lab Med 132:1929–1935

Wynnchuk M (1993) Minimizing artifacts in tissue processing: part 2. Theory of tissue processing. J Histotechnol 16(1):71–73

Werner M, Chott A, Alfredo F, Battifora H (2000) Effect of formalin tissue fixation and processing on immunohistochemistry. Am J Surg Pathol 24(7):1016–1019

Prophet E (1992) Tissue processing, dehydration, clearing, and infiltration. In: Prophet E, Mills B, Arrington J, Sobin L (eds) Laboratory methods in histotechnology. Armed Forces Institute of Pathology, Washington D.C.

Jali P, Donoghue M, Gadiwan M (2015) A rapid manual processing technique for resource-limited small laboratories. J Oral Maxillofac Pathol 19:306–314

Titford M (2006) A short history of histopathology technique. J Histotechnol 29(2):99–110

Boon M, Kok L, Ouwerkerk-Noordam E (1986) Microwave-stimulated diffusion for fast processing of tissue: reduced dehydrating, clearing, and impregnating times. Histopathology 10:303–309

Eltoum I, Fredenburgh J, Grizzle WE (2001) Advanced concepts in fixation: 1. Effects of fixation on immunohistochemistry, reversibility of fixation and recovery of proteins, nucleic acids and other molecules from fixed and processed tissues. 2. Developmental methods of fixation. J Histotechnol 24(3):201–210

Leong A-Y (2004) Microwaves and turnaround times in histopathology: is this a new era in histotechnology? Am J Clin Pathol 121:460–462

Morales AR, Nassiri M, Kanhoush R, Vincek V, Nadji N (2004) Experience with an automated microwave-assisted rapid tissue processing method: validation of histologic quality and impact on the timeliness of diagnostic surgical pathology. Am J Clin Pathol 121(4):528–536

Munkholm J, Talman M-L, Hasselager T (2008) Implementation of a new rapid tissue processing method - advantages and challenges. Pathol Res Pract 204:899–904

Emerson L, Tripp S, Baird B, Layfield L, Rohr L (2006) A comparison of immunohistochemical stain quality in conventional and rapid microwave processed tissues. Am J Clin Pathol 125(2):176–183

Rohr LR, Layfield LJ, Wallin D, Hardy D (2001) A comparison of routine and rapid microwave tissue processing in a surgical pathology laboratory. Quality of histologic sections and advantages of microwave processing. Am J Clin Pathol 115(5):703–708

Halilovic A, Bulte J, Jacobs Y, Braam H, van Cleef P, Schlooz-Vries M et al (2017) Brief fixation enables same-day breast cancer diagnosis with reliable assessment of hormone receptors, E-cadherin and HER2/Neu. J Clin Pathol 70(9):781–786

Visinoni F, Milios J, Leong A-Y, Boon M, Kok L, Malcangi F (1998) Ultra-rapid microwave / variable pressure-induced histoprocessing: description of a new tissue processor. J Histotechnol 21(3):219–224

Eltoum I, Fredenburgh J, Myers RB, Grizzle WE (2001) Introduction to the theory and practice of fixation of tissues. J Histotechnol 24(3):173–190

Bulte JP, Halilovic A, Burgers LJM, Diepenbroek CJM, de la Roij RAK, Mann RM et al (2020) Accelerated tissue processing with minimal formalin fixation time for 9-gauge vacuum-assisted breast biopsy specimens. Am J Clin Pathol 153(1):58–65

Allison KH, Hammond MEH, Dowsett M, McKernin SE, Carey LA, Fitzgibbons PL et al (2020) Estrogen and progesterone receptor testing in breast cancer: ASCO/CAP guideline update. J Clin Oncol 38(12):1346–1366

Rolls G (2019) 101 steps to better histology. www.leicabiosystems.com: Leica biosystems

Kaila K, Kortesluoma R-L (1998) Tissue processing practices in central hospital pathology laboratories in Finland. J Histotechnol 21(3):253–255

Hofecker JL, Moss TL, Becher MW (2007) Specialized histology for neuropathology. J Histotechnol 30(2):67–78

Grizzle WE, Stoackard CR, Billings PE (2001) The effects of processing variables other than fixation on histochemical staining and immunohistochemical detection of antigens. J Histotechnol 24(3):213–219

Wynnchuk M (1992) Minimizing artifacts in tissue processing: part 1. Importance of softening agents. J Histotechnol 15(4):321–323

Clapp TR, Mellen PF (1998) Rapid "reprocessing" of poorly prepared fatty tissues. J Histotechnol 21(1):65
Acknowledgments

The authors are grateful for help received from the following individuals: senior medical laboratory technologists Audrey Ellis, Alan Sanidad, and Sharon Wheeler and medical laboratory assistant Liz Marra for sharing their knowledge and experience; Joelle Maclean for secretarial support; Juanita Meyer for assistance with literature search; Xavier Wehrli for illustrations; and LHSC histology section head Dr. Keith Kwan for many valuable insights.
Copyright information

© 2022 Springer Science+Business Media, LLC, part of Springer Nature
About this protocol
Cite this protocol
Aziz, S.J., Zeman-Pocrnich, C.E. (2022). Tissue Processing. In: Del Valle, L. (eds) Immunohistochemistry and Immunocytochemistry. Methods in Molecular Biology, vol 2422. Humana, New York, NY. https://doi.org/10.1007/978-1-0716-1948-3_4
DOI: https://doi.org/10.1007/978-1-0716-1948-3_4

Published:

Publisher Name: Humana, New York, NY

Print ISBN: 978-1-0716-1947-6

Online ISBN: 978-1-0716-1948-3

eBook Packages: Springer Protocols