Abstract

Coronavirus disease 2019 (COVID-19), caused by severe acute respiratory syndrome coronavirus 2 (SARS-CoV-2), is a global public health emergency. Several vaccine candidates have been developed in response to the COVID-19 pandemic. One approach is to construct live-recombinant viruses expressing the SARS-CoV-2 spike protein (S) as vaccine candidates. The vesicular stomatitis virus (VSV) vector is a mature vaccine platform which was successfully developed as a vaccine against Ebola virus (EBOV), leading to its licensure by the Food and Drug Administration (FDA) in December 2019. Based on this work, we developed two live, replication-competent VSV-vectored vaccines against SARS-CoV-2: (1) a VSV expressing the S protein of SARS-CoV-2 and (2) a bivalent VSV expressing the S protein of SARS-CoV-2 and the glycoprotein (GP) of EBOV. This protocol describes the methodologies for the design, cloning, rescue, and preparation of these recombinant VSV vaccines.
Key words
SARS-CoV-2

Spike protein

Vesicular stomatitis virus

Vaccine

Reverse genetics system

Ervebo
Qixing Liu and Zhe Ding are co-first authors.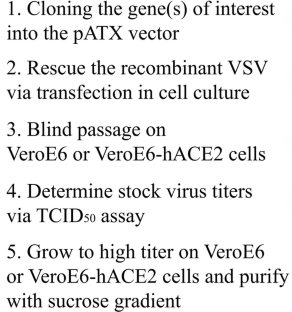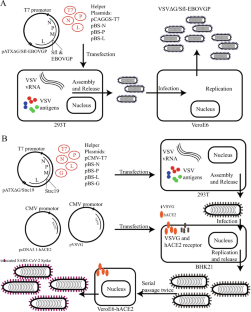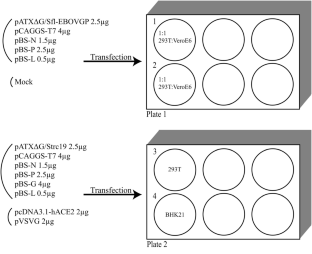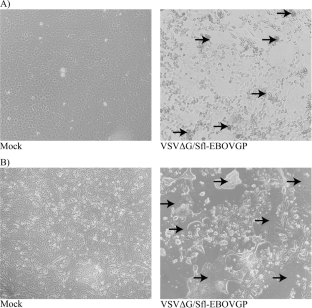 References
Lu R, Zhao X, Li J, Niu P, Yang B, Wu H, Wang W, Song H, Huang B, Zhu N (2020) Genomic characterisation and epidemiology of 2019 novel coronavirus: implications for virus origins and receptor binding. Lancet 395:565–574

Wu F, Zhao S, Yu B, Chen Y-M, Wang W, Song Z-G, Hu Y, Tao Z-W, Tian J-H, Pei Y-YJN (2020) A new coronavirus associated with human respiratory disease in China. Nature 579:265–269

Zhu N, Zhang D, Wang W, Li X, Yang B, Song J, Zhao X, Huang B, Shi W, Lu R et al (2020) A novel coronavirus from patients with pneumonia in China. N Engl J Med 382:727

Anonymous (2020) World Health Organization. COVID-2019. WHO, Geneva

Gao M, Yang L, Chen X, Deng Y, Yang S, Xu H, Chen Z, Gao X (2020) A study on infectivity of asymptomatic SARS-CoV-2 carriers. Respir Med 169:106026

Roberts M (2020) Covid-19: Pfizer/BioNTech vaccine judged safe for use in UK. https://www.bbc.com/news/health-55145696

Thomas K (n.d.) NWaSL. 2020. F.D.A. panel gives green light to pfizer's covid vaccine. https://www.msn.com/en-us/news/us/f-d-a-panel-gives-green-light-to-pfizer-s-covid-vaccine/ar-BB1bP8hN

Pavlovic J, Zürcher T, Haller O, Staeheli PJ (1990) Resistance to influenza virus and vesicular stomatitis virus conferred by expression of human MxA protein. J Virol 64:3370–3375

Wong G, Mendoza EJ, Plummer FA, Gao GF, Kobinger GP, Qiu XJ (2018) From bench to almost bedside: the long road to a licensed Ebola virus vaccine. Expert Opin Biol Ther 18:159–173

Clarke DK, Cooper D, Egan MA, Hendry RM, Parks CL, Udem SA (2006) Recombinant vesicular stomatitis virus as an HIV-1 vaccine vector. Springer, New York, NY, pp 239–253

Chattopadhyay A, Park S, Delmas G, Suresh R, Senina S, Perlin DS, Rose JK (2008) Single-dose, virus-vectored vaccine protection against Yersinia pestis challenge: CD4+ cells are required at the time of challenge for optimal protection. Vaccines 26:6329–6337

Brown KS, Safronetz D, Marzi A, Ebihara H, Feldmann H (2011) Vesicular stomatitis virus-based vaccine protects hamsters against lethal challenge with andes virus. J Virol 85:12781–12791

Kurup D, Wirblich C, Feldmann H, Marzi A, Schnell MJJ (2015) Rhabdovirus-based vaccine platforms against henipaviruses. J Virol 89:144–154

Emanuel J, Callison J, Dowd KA, Pierson TC, Feldmann H, Marzi A (2018) A VSV-based Zika virus vaccine protects mice from lethal challenge. Sci Rep 8:11043

Kapadia SU, Rose JK, Lamirande E, Vogel L, Subbarao K, Roberts A (2005) Long-term protection from SARS coronavirus infection conferred by a single immunization with an attenuated VSV-based vaccine. Virology 340:174–182

Liu R, Wang J, Shao Y, Wang X, Zhang H, Shuai L, Ge J, Wen Z, Bu Z (2018) A recombinant VSV-vectored MERS-CoV vaccine induces neutralizing antibody and T cell responses in rhesus monkeys after single dose immunization. Antivir Res 150:30–38

Case JB, Rothlauf PW, Chen RE, Kafai NM, Fox JM, Smith BK, Shrihari S, McCune BT, Harvey IB, Keeler SP, Bloyet LM, Zhao H, Ma M, Adams LJ, Winkler ES, Holtzman MJ, Fremont DH, Whelan SPJ, Diamond MS (2020) Replication-competent vesicular stomatitis virus vaccine vector protects against SARS-CoV-2-mediated pathogenesis in mice. Cell Host Microbe 28:465. https://doi.org/10.1016/j.chom.2020.07.018

Prescott J, DeBuysscher BL, Feldmann F, Gardner DJ, Haddock E, Martellaro C, Scott D, Feldmann H (2015) Single-dose live-attenuated vesicular stomatitis virus-based vaccine protects African green monkeys from Nipah virus disease. Vaccines 33:2823–2829

Furuyama W, Reynolds P, Haddock E, Meade-White K, Le MQ, Kawaoka Y, Feldmann H, Marzi A (2020) A single dose of a vesicular stomatitis virus-based influenza vaccine confers rapid protection against H5 viruses from different clades. NPJ Vaccines 5:1–10

Tsuda Y, Safronetz D, Brown K, LaCasse R, Marzi A, Ebihara H, Feldmann H (2011) Protective efficacy of a bivalent recombinant vesicular stomatitis virus vaccine in the Syrian hamster model of lethal Ebola virus infection. J Infect Dis 204(Suppl 3):S1090–S1097

Wong G, Qiu X (2016) Designing efficacious vesicular stomatitis virus-vectored vaccines against Ebola virus. Vaccine design. Springer, New York, NY, pp 245–257

Lawson ND, Stillman EA, Whitt MA, Rose JK (1995) Recombinant vesicular stomatitis viruses from DNA. Proc Natl Acad Sci U S A 92:4477–4481

Zang J, Gu C, Zhou B, Zhang C, Yang Y, Xu S, Bai L, Zhang R, Deng Q, Yuan Z, Tang H, Qu D, Lavillette D, Xie Y, Huang Z (2020) Immunization with the receptor-binding domain of SARS-CoV-2 elicits antibodies cross-neutralizing SARS-CoV-2 and SARS-CoV without antibody-dependent enhancement. Cell Discov 6:61

Beyer WR, Westphal M, Ostertag W, von Laer D (2002) Oncoretrovirus and lentivirus vectors pseudotyped with lymphocytic choriomeningitis virus glycoprotein: generation, concentration, and broad host range. J Virol 76:1488–1495

Whitt MA (2010) Generation of VSV pseudotypes using recombinant ΔG-VSV for studies on virus entry, identification of entry inhibitors, and immune responses to vaccines. J Virol Methods 169:365–374

Hoffmann M, Kleine-Weber H, Schroeder S, Krüger N, Herrler T, Erichsen S, Schiergens TS, Herrler G, Wu NH, Nitsche A, Müller MA, Drosten C, Pöhlmann S (2020) SARS-CoV-2 cell entry depends on ACE2 and TMPRSS2 and is blocked by a clinically proven protease inhibitor. Cell 181:271–280.e8

Baum A, Fulton BO, Wloga E, Copin R, Pascal KE, Russo V, Giordano S, Lanza K, Negron N, Ni M, Wei Y, Atwal GS, Murphy AJ, Stahl N, Yancopoulos GD, Kyratsous CA (2020) Antibody cocktail to SARS-CoV-2 spike protein prevents rapid mutational escape seen with individual antibodies. Science 369:1014. https://doi.org/10.1126/science.abd0831

Takada A, Robison C, Goto H, Sanchez A, Murti KG, Whitt MA, Kawaoka Y (1997) A system for functional analysis of Ebola virus glycoprotein. Proc Natl Acad Sci U S A 94:14764–14769

Dellanno C, Vega Q, Boesenberg D (2009) The antiviral action of common household disinfectants and antiseptics against murine hepatitis virus, a potential surrogate for SARS coronavirus. Am J Infect Control 37:649–652
Copyright information

© 2022 The Author(s), under exclusive license to Springer Science+Business Media, LLC, part of Springer Nature
About this protocol
Cite this protocol
Liu, Q., Ding, Z., Lan, J., Wong, G. (2022). Design of Replication-Competent VSV- and Ervebo-Vectored Vaccines Against SARS-CoV-2. In: Thomas, S. (eds) Vaccine Design. Methods in Molecular Biology, vol 2410. Humana, New York, NY. https://doi.org/10.1007/978-1-0716-1884-4_9
DOI: https://doi.org/10.1007/978-1-0716-1884-4_9

Published:

Publisher Name: Humana, New York, NY

Print ISBN: 978-1-0716-1883-7

Online ISBN: 978-1-0716-1884-4

eBook Packages: Springer Protocols