Abstract

Food allergy is a hypersensitivity reaction to food products initiated by immunologic mechanisms, which represents one of the major concerns in food safety. New therapies for food allergies including oral and epicutaneous allergen-specific immunotherapy are required, and B cell epitope-based allergy vaccines are a good promise to improve this field. In this chapter, we describe a workflow for the design of food allergy vaccines using proteomic tools. The strategy is defined based on the characterization of B cell epitopes for a particular food allergen. For that, the workflow comprises five consecutive steps: (1) shotgun proteomics analysis of different protein isoforms for a particular food allergen, (2) downloading all protein sequences for the specific allergen included in UniProtKB database, (3) analysis by protein-based bioinformatics of B cell epitopes, (4) synthesizing of the selected B cell peptide epitopes, and (5) performing of immunoassays using sera from healthy and allergic patients. The results from this method provide a rationale repository of B cell epitopes for the design of new specific immunotherapies for a particular food allergen. The strategy was optimized for all the beta-parvalbumins (β-PRVBs), which are considered as the main fish allergens. Using this workflow, a total of 35 peptides were identified as B cell epitopes, among them the top 4 B cell peptide epitopes that may induce protective immune response were selected as potential peptide vaccine candidates for fish allergy.
Key words
Food

Allergy

B cell epitopes

Vaccine

Proteomics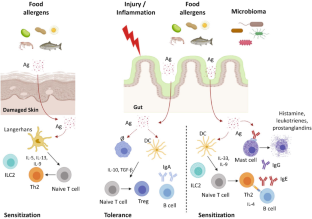 References
Turnbull JL, Adams HN, Gorard DA (2015) Review article: the diagnosis and management of food allergy and food intolerances. Aliment Pharmacol Ther 41:3–25

Yu W, Freeland DMH, Nadeau KC (2016) Food allergy: immune mechanisms, diagnosis and immunotherapy. Nat Rev Immunol 16:751–765

Sicherer SH, Sampson HA (2014) Food allergy: epidemiology, pathogenesis, diagnosis, and treatment. J Allergy Clin Immunol. 133:291–308

Sicherer SH, Sampson HA (2018) Food allergy: a review and update on epidemiology, pathogenesis, diagnosis, prevention, and management. J Allergy Clin Immunol 141:41–58

Ben-Shoshan M, Turnbull E, Clarke A (2012) Food allergy: temporal trends and determinants. Curr Allergy Asthma Rep 12:346–372

Savage J, Johns CB (2015) Food allergy: epidemiology and natural history. Immunol Allergy Clin North Am 35:45–59

Satitsuksanoa P, Jansen K, Głobińska A, van de Veen W, Akdis M (2018) Regulatory immune mechanisms in tolerance to food allergy. Front Immunol. 9:2939

Chinthrajah RS, Hernandez JD, Boyd SD, Galli SJ, Nadeau KC (2016) Molecular and cellular mechanisms of food allergy and food tolerance. J Allergy Clin Immunol 137:984–997

Schülke S, Albrecht M (2019) Mouse models for food allergies: where do we stand? Cells 8:546

Kanagaratham C, Sallis BF, Fiebiger E (2018) Experimental models for studying food allergy. CMGH 6:356–369.e1

De Martinis M, Sirufo MM, Suppa M, Ginaldi L (2020) New perspectives in food allergy. Int J Mol Sci. 21(4):1474

Iweala OI, Nagler CR (2019) The microbiome and food allergy. Annu Rev Immunol 37:377–403

Leung NYH, Wai CYY, Shu S, Wang J, Kenny TP, Chu KH, Leung PSC (2014) Current immunological and molecular biological perspectives on seafood allergy: a comprehensive review. Clin Rev Allergy Immunol 46:180–197

Commins SP, Jerath MR, Cox K, Erickson LD, Platts-Mills T (2016) Delayed anaphylaxis to alpha-gal, an oligosaccharide in mammalian meat. Allergol Int 65:16–20

Dreskin SC, Halsey NA, Kelso JM et al (2016) International Consensus (ICON): allergic reactions to vaccines. World Allergy Organ J 9(1):32

Valenta R, Karaulov A, Niederberger V et al (2018) Allergen extracts for in vivo diagnosis and treatment of allergy: is there a future? J Allergy Clin Immunol Pract 6:1845–1855.e2

Zhernov Y, Curin M, Khaitov M, Karaulov A, Valenta R (2019) Recombinant allergens for immunotherapy. Curr Opin Allergy Clin Immunol 19:402–414

Valenta R, Campana R, Focke-Tejkl M, Niederberger V (2016) Vaccine development for allergen-specific immunotherapy based on recombinant allergens and synthetic allergen peptides: lessons from the past and novel mechanisms of action for the future. J Allergy Clin Immunol 137:351–357

Valenta R, Campana R, Niederberger V (2017) Recombinant allergy vaccines based on allergen-derived B cell epitopes. Immunol Lett 189:19–26

O'Hehir RE, Prickett SR, Rolland JM (2016) T cell epitope peptide therapy for allergic diseases. Curr Allergy Asthma Rep 16:14

Woodfolk JA (2006) Epitope-specific T-cell responses and allergic phenotypes: implications for T-cell peptide therapy. Expert Rev Clin Immunol 2:309–318

Salimi N, Fleri W, Peters B, Sette A (2010) Design and utilization of epitope-based databases and predictive tools. Immunogenetics 62:185–196

Martini S, Nielsen M, Peters B, Sette A (2020) The immune epitope database and analysis resource program 2003–2018: reflections and outlook. Immunogenetics 72:57–76

Singh H, Raghava GP (2001) ProPred: prediction of HLA-DR binding sites. Bioinformatics 17(12):1236–1237

Nielsen M, Lundegaard C, Lund O (2007) Prediction of MHC class II binding affinity using SMM-align, a novel stabilization matrix alignment method. BMC Bioinformatics 8:238

Jandrlić DR, Lazić GM, Mitić NS, Pavlović MD (2016) Software tools for simultaneous data visualization and T cell epitopes and disorder prediction in proteins. J Biomed Inform 60:120–131

Yao B, Zheng D, Liang S, Zhang C (2013) Conformational B-cell epitope prediction on antigen protein structures: a review of current algorithms and comparison with common binding site prediction methods. PLoS One 8(4):e62249

Potocnakova L, Bhide M, Pulzova LB (2016) An introduction to B-cell epitope mapping and in silico epitope prediction. J Immunol Res 2016:6760830

Sharp MF, Lopata AL (2014) Fish allergy: in review. Clin Rev Allergy Immunol 46:258–271

Astwood JD, Leach JN, Fuchs RL (1996) Stability of food allergens to digestion in vitro. Nat Biotechnol 14:1269–1273

Arif SH, Jabeen M, Hasnain A-U (2007) biochemical characterization and thermostable capacity of parvalbumins: the major fish-food allergens. J Food Biochem 31:121–137

Herman RA, Roper JM, Zhang JXQ (2020) Evidence runs contrary to digestive stability predicting protein allergenicity. Transgenic Res 29:105–107

Kuehn A, Swoboda I, Arumugam K, Hilger C, Hentges F (2014) Fish allergens at a glance: variable allergenicity of parvalbumins, the major fish allergens. Front Immunol 5:179

Saptarshi SR, Sharp MF, Kamath SD, Lopata AL (2014) Antibody reactivity to the major fish allergen parvalbumin is determined by isoforms and impact of thermal processing. Food Chem 148:321–328

Eckl-Dorna J, Weber M, Stanek V et al (2019) Two years of treatment with the recombinant grass pollen allergy vaccine BM32 induces a continuously increasing allergen-specific IgG4 response. EBioMedicine 50:421–432

Focke-Tejkl M, Weber M, Niespodziana K et al (2015) Development and characterization of a recombinant, hypoallergenic, peptide-based vaccine for grass pollen allergy. J Allergy Clin Immunol 135:1207–1217.e11

Cook QS, Burks AW (2018) Peptide and recombinant allergen vaccines for food allergy. Clin Rev Allergy Immunol 55:162–171

Tabesh S, Fanuel S, Fazlollahi MR, Yekaninejad MS, Kardar GA, Razavi SA (2019) Design and evaluation of a hypoallergenic peptide-based vaccine for Salsola kali allergy. Int Immunopharmacol 66:62–68

Niespodziana K, Focke-Tejkl M, Linhart B, Civaj V, Blatt K, Valent P, Van Hage M, Grönlund H, Valenta R (2011) A hypoallergenic cat vaccine based on Fel d 1-derived peptides fused to hepatitis B PreS. J Allergy Clin Immunol 127:1562–1570.e6

Edlmayr J, Niespodziana K, Linhart B et al (2009) A combination vaccine for allergy and rhinovirus infections based on rhinovirus-derived surface protein VP1 and a nonallergenic peptide of the major Timothy Grass Pollen Allergen Phl p 1. J Immunol 182:6298–6306

Carrera M, González-Fernández Á, Magadán S, Mateos J, Pedrós L, Medina I, Gallardo JM (2019) Molecular characterization of B-cell epitopes for the major fish allergen, parvalbumin, by shotgun proteomics, protein-based bioinformatics and IgE-reactive approaches. J Proteomics 200:123–133

Carrera M, Cañas B, Vázquez J, Gallardo JM (2010) Extensive de Novo sequencing of new parvalbumin isoforms using a novel combination of bottom-up proteomics, accurate molecular mass measurement by FTICR-MS, and selected MS/MS ion monitoring. J Proteome Res 9:4393–4406

Kolaskar AS, Tongaonkar PC (1990) A semi-empirical method for prediction of antigenic determinants on protein antigens. FEBS Lett 276:172–174

Karplus PA, Schulz GE (1985) Prediction of chain flexibility in proteins - a tool for the selection of peptide antigens. Naturwissenschaften 72:212–213
Acknowledgments

This work was supported by the GAIN-Xunta de Galicia Project (IN607D 2017/01) and the Spanish AEI/EU-FEDER PID2019-103845RB-C21 project. Dr. Mónica Carrera is supported by the Ramón y Cajal contract (Ministry of Science and Innovation of Spain). Dr. Susana Magadan is supported by the Talent Retention program of Universidade de Vigo.
Copyright information

© 2022 The Author(s), under exclusive license to Springer Science+Business Media, LLC, part of Springer Nature
About this protocol
Cite this protocol
Carrera, M., Magadán, S. (2022). Proteomics for Development of Food Allergy Vaccines. In: Thomas, S. (eds) Vaccine Design. Methods in Molecular Biology, vol 2410. Humana, New York, NY. https://doi.org/10.1007/978-1-0716-1884-4_36
DOI: https://doi.org/10.1007/978-1-0716-1884-4_36

Published:

Publisher Name: Humana, New York, NY

Print ISBN: 978-1-0716-1883-7

Online ISBN: 978-1-0716-1884-4

eBook Packages: Springer Protocols