Abstract

Tetrapyrrole cofactors such as heme and chlorophyll imprint their intrinsic reactivity and properties on a multitude of natural proteins and enzymes, and there is much interest in exploiting their functional and catalytic capabilities within minimal, de novo designed protein scaffolds. Here we describe how, using only natural biosynthetic and post-translational modification pathways, de novo designed soluble and hydrophobic proteins can be equipped with tetrapyrrole cofactors within living Escherichia coli cells. We provide strategies to achieve covalent and non-covalent heme incorporation within the de novo proteins and describe how the heme biosynthetic pathway can be co-opted to produce the light sensitive zinc protoporphyrin IX for loading into proteins in vivo. In addition, we describe the imaging of hydrophobic proteins and cofactor-rich protein droplets by electron and fluorescence microscopy, and how cofactors can be stripped from the de novo proteins to aid in vitro identification.
Key words
De novo proteins

Tetrapyrroles

In vivo cofactor loading

Fluorescence imaging

Electron microscopy

Heme

Protein expression and purification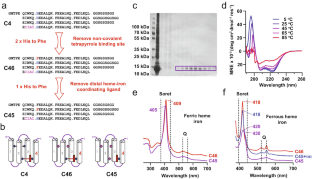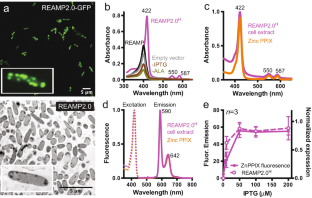 References
Huang PS, Boyken S, Baker D (2016) The coming of age of de novo protein design. Nature 537:320–327

Grayson KJ, Anderson JLR (2018) Designed for life: biocompatible de novo designed proteins and components. J R Soc Interface 15:20180472

Poulos T (2014) Heme enzyme structure and function. Chem Rev 117:3919–3962

Grayson KJ, Anderson JLR (2018) The ascent of man(made oxidoreductases). Curr Opin Struct Biol 51:149–155

Brandenburg OF, Fasan R, Arnold FH (2017) Exploiting and engineering hemoproteins for abiological carbene and nitrene transfer reactions. Curr Opin Biotechnol 47:102–111

Anderson JLR, Armstrong CT et al (2014) Constructing a man-made c-type cytochrome maquette in vivo: electron transfer, oxygen transport and conversion to a photoactive light harvesting maquette. Chem Sci 5:507–514

Watkins DW, Armstrong CT et al (2016) A suite of de novo c-type cytochromes for functional oxidoreductase engineering. Biochim Biophys Acta 1857:493–502

Watkins DW, Jenkins JMX et al (2017) Construction and in vivo assembly of a catalytically proficient and hyperthermostable de novo enzyme. Nat Commun 8:358

Hutchins GH, Noble CEM, et al. (2020) Precision design of single and multi-heme de novo proteins. BioRxiv. https://doi.org/10.1101/2020.09.24.311514

Schuster BS, Reed EH et al (2018) Controllable protein phase separation and modular recruitment to form responsive membraneless organelles. Nat Commun 9:2985

Nott T, Petsalaki E et al (2015) Phase transition of a disordered nuage protein generates environmentally responsive membraneless organelles. Mol Cell 57:936–947

Lin Y, Protter DSW et al (2015) Formation and maturation of phase-separated liquid droplets by RNA binding proteins. Mol Cell 60:208–219

Shin Y, Berry J et al (2017) Spatiotemporal control of intracellular phase transitions using light-activated optoDroplets. Cell 168:159–171

Curnow P, Hardy BJ et al (2020) Small-residue packing motifs modulate the structure and function of a minimal de novo membrane protein. Sci Rep 10:15203

Arslan E, Schulz H et al (1998) Overproduction of the Bradyrhizobium japonicum c-type cytochrome subunits of the cbb3 oxidase in Escherichia coli. Biochem Biophys Res Commun 251:744–747

Berry EA, Trumpower BL (1987) Simultaneous determination of hemes a, b and c from pyridine hemochrome spectra. Anal Biochem 161:1–15

Teale FW (1959) Cleavage of the haem-protein link by acid methylethylketone. Biochem Biophys Acta 35:543

Létoffé S, Heuck G et al (2009) Bacteria capture iron from heme by keeping tetrapyrrole skeleton intact. Proc Natl Acad Sci U S A 106:11719–11724
Acknowledgments

The authors wish to thank Lorna Hodgson and Paul Verkade for their support with the methods for cell imaging. This work was supported at the University of Bristol by the BBSRC (grant no: BBI014063/1, BB/R016445/1 and BB/M025624/1).
Copyright information

© 2022 The Author(s), under exclusive license to Springer Science+Business Media, LLC, part of Springer Nature
About this protocol
Cite this protocol
Curnow, P., Anderson, J.L.R. (2022). Expression and In Vivo Loading of De Novo Proteins with Tetrapyrrole Cofactors. In: Magnani, F., Marabelli, C., Paradisi, F. (eds) Enzyme Engineering. Methods in Molecular Biology, vol 2397. Humana, New York, NY. https://doi.org/10.1007/978-1-0716-1826-4_8
DOI: https://doi.org/10.1007/978-1-0716-1826-4_8

Published:

Publisher Name: Humana, New York, NY

Print ISBN: 978-1-0716-1825-7

Online ISBN: 978-1-0716-1826-4

eBook Packages: Springer Protocols