Abstract

Here we describe methods for synthesizing cationic contrast agents for computed tomography (CT) of cartilage for early diagnosis of tissue degeneration. CT imaging of soft tissues like cartilage is possible only if radio-opaque contrast agents (e.g., ioxaglate) can penetrate through the full thickness of tissue in sufficient concentrations. Ioxaglate (IOX), however, is anionic and is repelled by the negatively charged cartilage matrix resulting in poor CT attenuation. Here we demonstrate cartilage penetrating cationic contrast agents using multi-arm Avidin (mAv) conjugated to ioxaglate (mAv-IOX). mAv-IOX rapidly penetrates through the full thickness of cartilage in high concentrations owing to weak-reversible nature of electrostatic interactions resulting in high CT attenuation even with low doses unlike IOX. The technology has the potential for enabling clinical CT of cartilage and other negatively charged soft tissues.
Key words
Bio-electrostatics

Computed tomography (CT)

Cartilage

Negatively charged tissues

Cationic contrast agents

Ioxaglate

Avidin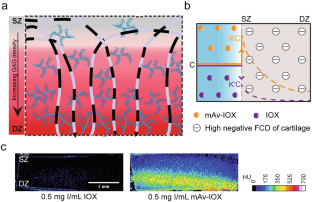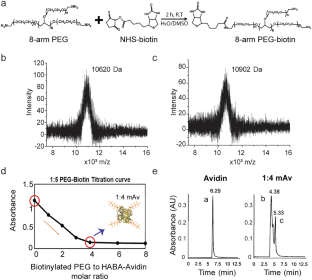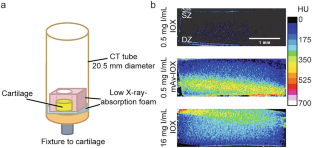 References
Pouran B, Arbabi V, Bajpayee AG, van Tiel J, Toyras J, Jurvelin JS, Malda J, Zadpoor AA, Weinans H (2018) Multi-scale imaging techniques to investigate solute transport across articular cartilage. J Biomech 78:10–20. https://doi.org/10.1016/j.jbiomech.2018.06.012

Bajpayee AG, Wong CR, Bawendi MG, Frank EH, Grodzinsky AJ (2014) Avidin as a model for charge driven transport into cartilage and drug delivery for treating early stage post-traumatic osteoarthritis. Biomaterials 35:538–549. https://doi.org/10.1016/j.biomaterials.2013.09.091

Vedadghavami A, Wagner EK, Mehta S, He T, Zhang C, Bajpayee AG (2019) Cartilage penetrating cationic peptide carriers for applications in drug delivery to avascular negatively charged tissues. Acta Biomater 93:258–269. https://doi.org/10.1016/j.actbio.2018.12.004

Bajpayee AG, Grodzinsky AJ (2017) Cartilage-targeting drug delivery: can electrostatic interactions help? Nat Rev Rheumatol 13:183–193. https://doi.org/10.1038/nrrheum.2016.210

Bajpayee AG, De la Vega RE, Scheu M, Varady NH, Yannatos IA, Brown LA, Krishnan Y, Fitzsimons TJ, Bhattacharya P, Frank EH, Grodzinsky AJ, Porter RM (2017) Sustained intra-cartilage delivery of low dose dexamethasone using a cationic carrier for treatment of post traumatic osteoarthritis. Eur Cell Mater 34:341–364. https://doi.org/10.22203/eCM.v034a21

Bajpayee AG, Scheu M, Grodzinsky AJ, Porter RM (2014) Electrostatic interactions enable rapid penetration, enhanced uptake and retention of intra-articular injected avidin in rat knee joints. J Orthop Res 32:1044–1051. https://doi.org/10.1002/jor.22630

Bajpayee AG, Scheu M, Grodzinsky AJ, Porter RM (2015) A rabbit model demonstrates the influence of cartilage thickness on intra-articular drug delivery and retention within cartilage. J Orthop Res 33:660–667. https://doi.org/10.1002/jor.22841

He T, Zhang C, Vedadghavami A, Mehta S, Clark HA, Porter RM, Bajpayee AG (2019) Multi-arm Avidin nano-construct for intra-cartilage delivery of small molecule drugs. JCR. https://doi.org/10.1016/j.jconrel.2019.12.020

Bajpayee AG, Quadir MA, Hammond PT, Grodzinsky AJ (2016) Charge based intra-cartilage delivery of single dose dexamethasone using Avidin nano-carriers suppresses cytokine-induced catabolism long term. Osteoarthritis Cartilage 24:71–81. https://doi.org/10.1016/j.joca.2015.07.010

Stewart RC, Patwa AN, Lusic H, Freedman JD, Wathier M, Snyder BD, Guermazi A, Grinstaff MW (2017) Synthesis and preclinical characterization of a cationic iodinated imaging contrast agent (CA4+) and its use for quantitative computed tomography of ex vivo human hip cartilage. J Med Chem 60:5543–5555. https://doi.org/10.1021/acs.jmedchem.7b00234

Byrd HCM, McEwen CN (2000) The limitations of MALDI-TOF mass spectrometry in the analysis of wide polydisperse polymers. Anal Chem 72:4568–4576. https://doi.org/10.1021/ac0002745

Shanreld S, Campbell P, Baumgarten M, Bloebaum R, Sarmiento A (1988) Synovial fluid osmolality in osteoarthritis and rheumatoid arthritis. Clin Orthop Relat Res 235:289–295

Mehta S, Akhtar S, Porter RM, Onnerfjord P, Bajpayee AG (2019) Interleukin-1 receptor antagonist (IL-1Ra) is more effective in suppressing cytokine-induced catabolism in cartilage-synovium co-culture than in cartilage monoculture. Arthritis Res Ther 21:238. https://doi.org/10.1186/s13075-019-2003-y
Acknowledgements

This work was supported by the United States Department of Defense through the Congressionally Directed Medical Research Programs (CDMRP) and National Institutes of Health (R03 EB025903; Trailblazer R21 EB028385). We are grateful to Prof. Julia Charles from Brigham and Women's Hospital for access to the μCT 35 machine.
Copyright information

© 2022 Springer Science+Business Media, LLC, part of Springer Nature
About this protocol
Cite this protocol
Zhang, C., Bajpayee, A.G. (2022). Cationic Contrast Agents for Computed Tomography of Cartilage for Early Diagnosis of Osteoarthritis. In: Ossandon, M.R., Baker, H., Rasooly, A. (eds) Biomedical Engineering Technologies. Methods in Molecular Biology, vol 2393. Humana, New York, NY. https://doi.org/10.1007/978-1-0716-1803-5_42
DOI: https://doi.org/10.1007/978-1-0716-1803-5_42

Published:

Publisher Name: Humana, New York, NY

Print ISBN: 978-1-0716-1802-8

Online ISBN: 978-1-0716-1803-5

eBook Packages: Springer Protocols