Abstract

The transition from silenced heterochromatin to a biologically active state and vice versa is a fundamental part of the implementation of cell type-specific gene expression programs. To reveal structure–function relationships and dissect the underlying mechanisms, experiments that ectopically induce transcription are highly informative. In particular, the approach to perturb chromatin states by recruiting fusions of the catalytically inactive dCas9 protein in a sequence-specific manner to a locus of interest has been used in numerous applications. Here, we describe how this approach can be applied to activate pericentric heterochromatin (PCH) in mouse cells as a prototypic silenced state by providing protocols for the following workflow: (a) Recruitment of dCas9 fusion constructs with the strong transcriptional activator VPR to PCH. (b) Analysis of the resulting changes in chromatin compaction, epigenetic marks, and active transcription by fluorescence microscopy-based readouts. (c) Automated analysis of the resulting images with a set of scripts in the R programming language. Furthermore, we discuss how parameters for chromatin decondensation and active transcription are extracted from these experiments and can be combined with other readouts to gain insights into PCH activation.
Keywords
Pericentric heterochromatin

Decondensation

Chromocenter

CRISPR

dCas9

Fluorescence microscopy

Mouse embryonic fibroblasts

Image quantification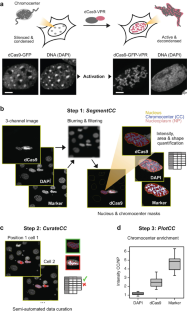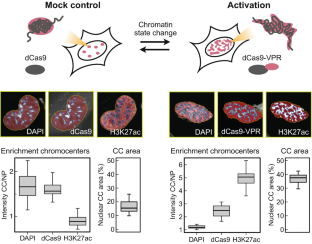 References
Probst AV, Almouzni G (2008) Pericentric heterochromatin: dynamic organization during early development in mammals. Differentiation 76(1):15–23. https://doi.org/10.1111/j.1432-0436.2007.00220.x

Fodor BD, Shukeir N, Reuter G, Jenuwein T (2010) Mammalian Su(var) genes in chromatin control. Annu Rev Cell Dev Biol 26:471–501. https://doi.org/10.1146/annurev.cellbio.042308.113225

Probst AV, Okamoto I, Casanova M, El Marjou F, Le Baccon P, Almouzni G (2010) A strand-specific burst in transcription of pericentric satellites is required for chromocenter formation and early mouse development. Dev Cell 19(4):625–638. https://doi.org/10.1016/j.devcel.2010.09.002

Muller-Ott K, Erdel F, Matveeva A, Mallm JP, Rademacher A, Hahn M, Bauer C, Zhang Q, Kaltofen S, Schotta G, Hofer T, Rippe K (2014) Specificity, propagation, and memory of pericentric heterochromatin. Mol Syst Biol 10(8):746. https://doi.org/10.15252/msb.20145377

Tosolini M, Brochard V, Adenot P, Chebrout M, Grillo G, Navia V, Beaujean N, Francastel C, Bonnet-Garnier A, Jouneau A (2018) Contrasting epigenetic states of heterochromatin in the different types of mouse pluripotent stem cells. Sci Rep 8(1):5776. https://doi.org/10.1038/s41598-018-23822-4

Chavez A, Scheiman J, Vora S, Pruitt BW, Tuttle M, PRI E, Lin S, Kiani S, Guzman CD, Wiegand DJ, Ter-Ovanesyan D, Braff JL, Davidsohn N, Housden BE, Perrimon N, Weiss R, Aach J, Collins JJ, Church GM (2015) Highly efficient Cas9-mediated transcriptional programming. Nat Methods 12(4):326–328. https://doi.org/10.1038/nmeth.3312

Erdel F, Rademacher A, Vlijm R, Tunnermann J, Frank L, Weinmann R, Schweigert E, Yserentant K, Hummert J, Bauer C, Schumacher S, Al Alwash A, Normand C, Herten DP, Engelhardt J, Rippe K (2020) Mouse heterochromatin adopts digital compaction states without showing hallmarks of HP1-driven liquid-liquid phase separation. Mol Cell 78(2):236–249.e237. https://doi.org/10.1016/j.molcel.2020.02.005

Le Berre G, Hossard V, Riou JF, Guieysse-Peugeot AL (2019) Repression of TERRA expression by subtelomeric DNA methylation is dependent on NRF1 binding. Int J Mol Sci 20(11):2791. https://doi.org/10.3390/ijms20112791

Brane AC, Tollefsbol TO (2019) Targeting telomeres and telomerase: studies in aging and disease utilizing CRISPR/Cas9 technology. Cell 8(2):186. https://doi.org/10.3390/cells8020186

Qin P, Parlak M, Kuscu C, Bandaria J, Mir M, Szlachta K, Singh R, Darzacq X, Yildiz A, Adli M (2017) Live cell imaging of low- and non-repetitive chromosome loci using CRISPR-Cas9. Nat Commun 8:14725. https://doi.org/10.1038/ncomms14725

Chen B, Gilbert LA, Cimini BA, Schnitzbauer J, Zhang W, Li GW, Park J, Blackburn EH, Weissman JS, Qi LS, Huang B (2013) Dynamic imaging of genomic loci in living human cells by an optimized CRISPR/Cas system. Cell 155(7):1479–1491. https://doi.org/10.1016/j.cell.2013.12.001

Janicki SM, Tsukamoto T, Salghetti SE, Tansey WP, Sachidanandam R, Prasanth KV, Ried T, Shav-Tal Y, Bertrand E, Singer RH, Spector DL (2004) From silencing to gene expression: real-time analysis in single cells. Cell 116(5):683–698. https://doi.org/10.1016/s0092-8674(04)00171-0

Rademacher A, Erdel F, Trojanowski J, Schumacher S, Rippe K (2017) Real-time observation of light-controlled transcription in living cells. J Cell Sci 130(24):4213–4224. https://doi.org/10.1242/jcs.205534

R Core Team (2013) R: A language and environment for statistical computing. R Foundation for Statistical Computing, Vienna, Austria

RStudio Team (2015) RStudio: Integrated Development for R. RStudio, Inc., Boston, MA

Pau G, Fuchs F, Sklyar O, Boutros M, Huber W (2010) EBImage—an R package for image processing with applications to cellular phenotypes. Bioinformatics 26(7):979–981. https://doi.org/10.1093/bioinformatics/btq046

Schindelin J, Arganda-Carreras I, Frise E, Kaynig V, Longair M, Pietzsch T, Preibisch S, Rueden C, Saalfeld S, Schmid B, Tinevez JY, White DJ, Hartenstein V, Eliceiri K, Tomancak P, Cardona A (2012) Fiji: an open-source platform for biological-image analysis. Nat Methods 9(7):676–682. https://doi.org/10.1038/nmeth.2019

Schneider CA, Rasband WS, Eliceiri KW (2012) NIH Image to ImageJ: 25 years of image analysis. Nat Methods 9(7):671–675

Gunkel M, Chung I, Worz S, Deeg KI, Simon R, Sauter G, Jones DTW, Korshunov A, Rohr K, Erfle H, Rippe K (2017) Quantification of telomere features in tumor tissue sections by an automated 3D imaging-based workflow. Methods 114:60–73. https://doi.org/10.1016/j.ymeth.2016.09.014
Acknowledgments

This work was funded by the Deutsche Forschungsgemeinschaft (DFG) Priority Program 2191 "Molecular Mechanisms of Functional Phase Separation" via grant RI1283/16-1 and the START-HD project of the HMLS program of the University of Heidelberg. Data storage at SDS@hd was supported by the Ministry of Science, Research and the Arts Baden-Württemberg (MWK) and the DFG through grants INST 35/1314-1 FUGG and INST 35/1503-1 FUGG.
1

Electronic Supplementary Material

R image segmentation and quantification scripts and functions with associated sample data: The script SegmentCC.R with associated external functions makeNucMask() and makeChromocenterMask() (as .R files) is used for image segmentation with subsequent quantification. The scripts curateCC.R and plotCC.R enable semi-automated curation and plotting of results obtained by SegmentCC.R (see Fig. 1b–d for workflow). Furthermore, sample .tif images are provided, intended for use with the SegmentCC.R script. Images are z-maximum intensity projections of image stacks acquired for iMEFs that have been transfected with MSR-targeting sgRNA and dCas9-GFP-VPR constructs. All scripts and sample data are also available at https://github.com/RippeLab/Chromocenters.
Copyright information

© 2021 The Author(s), under exclusive license to Springer Science+Business Media, LLC, part of Springer Nature
About this protocol
Cite this protocol
Frank, L., Weinmann, R., Erdel, F., Trojanowski, J., Rippe, K. (2021). Transcriptional Activation of Heterochromatin by Recruitment of dCas9 Activators. In: Borggrefe, T., Giaimo, B.D. (eds) Enhancers and Promoters. Methods in Molecular Biology, vol 2351. Humana, New York, NY. https://doi.org/10.1007/978-1-0716-1597-3_17
DOI: https://doi.org/10.1007/978-1-0716-1597-3_17

Published:

Publisher Name: Humana, New York, NY

Print ISBN: 978-1-0716-1596-6

Online ISBN: 978-1-0716-1597-3

eBook Packages: Springer Protocols