Abstract

CAR-T cell therapy is one of the most successful cell-based therapies. T cells are the most common cells to be genetically modified for cancer therapy, not only because T cells have cytotoxicity but also because they are easily cultured ex vivo and genetically modified with viral vectors. Hence, for nonexperts, T cell engineering is an ideal starting point for mammalian cell engineering or for development of therapeutics. Here, we have described a basic procedure for lentiviral transduction of human primary T cells to generate a CAR-T cell and assays to confirm CAR expression and function.
Key words
CAR-T cell

Lentivirus vector

Dynabeads

PEG precipitation

Retronectin

Flow cytometry

CAR-T cell activation assay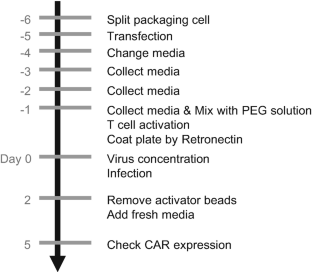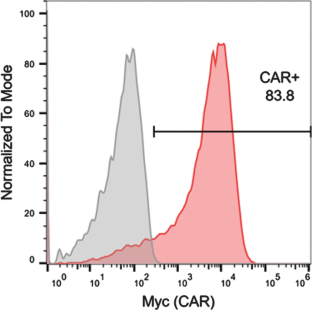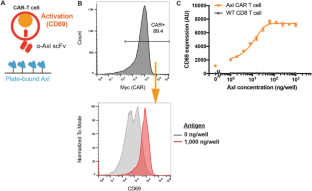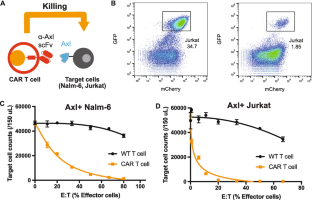 References
June CH, O'Connor RS, Kawalekar OU, Ghassemi S, Milone MC (2018) CAR T cell immunotherapy for human cancer. Science 359:1361–1365

Grupp SA, Kalos M, Barrett D et al (2013) Chimeric antigen receptor–modified T cells for acute lymphoid leukemia. N Engl J Med 368:1509–1518

Maude SL, Frey N, Shaw PA et al (2014) Chimeric antigen receptor T cells for sustained remissions in leukemia. N Engl J Med 371:1507–1517

Search of: CAR-T cell—List Results—ClinicalTrials.gov. https://clinicaltrials.gov/ct2/results?cond=&term=CAR-T+cell&cntry=&state=&city=&dist=. Accessed 14 May 2020

MacKay M, Afshinnekoo E, Rub J et al (2020) The therapeutic landscape for cells engineered with chimeric antigen receptors. Nat Biotechnol 38:233–244

Morsut L, Roybal KT, Xiong X, Gordley RM, Coyle SM, Thomson M, Lim WA (2016) Engineering customized cell sensing and response behaviors using synthetic notch receptors. Cell 164:780–791

Roybal KT, Williams JZ, Morsut L, Rupp LJ, Kolinko I, Choe JH, Walker WJ, McNally KA, Lim WA (2016) Engineering T cells with customized therapeutic response programs using synthetic notch receptors. Cell 167:419–432.e16

Cho JH, Okuma A, Al-Rubaye D, Intisar E, Junghans RP, Wong WW (2018) Engineering Axl specific CAR and SynNotch receptor for cancer therapy. Sci Rep 8:1–8

Cho JH, Collins JJ, Wong WW (2018) Universal chimeric antigen receptors for multiplexed and logical control of T cell responses. Cell 173:1426–1438.e11

Cho JH, Okuma A, Sofjan K, Lee S, Collins JJ, Wong WW (2021) Engineering advanced logic and distributed computing in human CAR immune cells. Nat Commun. 12:792

Milone MC, O'Doherty U (2018) Clinical use of lentiviral vectors. Leukemia 32:1529–1541

Marcucci KT, Jadlowsky JK, Hwang W-T et al (2018) Retroviral and lentiviral safety analysis of gene-modified T cell products and infused HIV and oncology patients. Mol Ther 26:269–279

Long AH, Haso WM, Shern JF et al (2015) 4-1BB Costimulation ameliorates T cell exhaustion induced by tonic signaling of chimeric antigen receptors. Nat Med 21:581–590

Broad Institute Cancer Cell Line Encyclopedia (CCLE). https://portals.broadinstitute.org/ccle. Accessed 14 May 2020
Acknowledgments

I thank Wilson W. Wong (Boston University) and Jang Hwan Cho (Broad Institute, MIT) for kindly sharing their T cell transduction procedure and accepting to use the data in this paper. I also thank Satoshi Mimura (Hitachi Ltd.) for helping to optimize this procedure. This work was supported by Leading Initiative for Excellent Young Researchers grant from Japan Society for the Promotion of Science.
Copyright information

© 2021 Springer Science+Business Media, LLC, part of Springer Nature
About this protocol
Cite this protocol
Okuma, A. (2021). Generation of CAR-T Cells by Lentiviral Transduction. In: Kojima, R. (eds) Mammalian Cell Engineering. Methods in Molecular Biology, vol 2312. Humana, New York, NY. https://doi.org/10.1007/978-1-0716-1441-9_1
DOI: https://doi.org/10.1007/978-1-0716-1441-9_1

Published:

Publisher Name: Humana, New York, NY

Print ISBN: 978-1-0716-1440-2

Online ISBN: 978-1-0716-1441-9

eBook Packages: Springer Protocols