Abstract

Heparin, a glycosaminoglycan-based anticoagulant drug, is prepared as an extract of animal tissues. Heparosan, an Escherichia coli (E. coli) K5 capsular polysaccharide with the structure →4)-β-D-glucuronic acid (1 → 4)-β-D-N-acetylglucosamine (1→, corresponds to the precursor backbone in the Golgi-based biosynthesis of heparin. Anticoagulant heparin is prepared in a one-pot synthesis using a chemically prepared derivative of heparosan called N-sulfoheparosan (NSH), recombinant Golgi enzymes expressed in E. coli, and the 3-phosphoadenosine-5-phosphosulfate (PAPS) cofactor.
Key words
Heparin

Heparan sulfate

Heparosan

Enzymes

3-Phosphoadenosine-5-phosphosulfate

Biosynthesis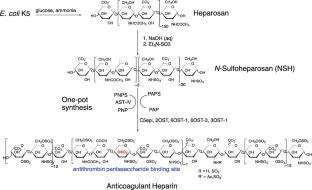 References
Bhaskar U, Sterner E, Hickey AM, Onishi A, Zhang F, Dordick JS, Linhardt RJ (2012) Engineering of routes to heparin and related polysaccharides. Appl Microbiol Biot 93:1–16

Linhardt RJ (2003) Heparin: structure and activity. J Med Chem 46:2551–2554

Bigelow WG (1990) Mysterious heparin: the key to open heart surgery. McGraw-Hill Ryerson, Toronto, ON

Keire D, Mulloy B, Chase C, Al-Hakim A, Cairatti D, Gray E, Hogwood J, Morris TS, Mourão P, Da Luz Carvalho Soares M, Szajek A (2015) Diversifying the global heparin supply chain: reintroduction of bovine heparin in the United States. Pharm Technol 39(11):28–35

Liu H, Zhang Z, Linhardt RJ (2009) Lessons learned from the contamination of heparin. Nat Prod Rep 26:313–321

Szajek AY, Chess E, Johansen K, Gratzl G, Gray E, Keire D, Linhardt RJ, Liu J, Morris T, Mulloy B, Nasr M, Shriver Z, Torralba P, Viskov C, Williams R, Woodcock J, Workman W, Al-Hakim A (2016) The US regulatory and pharmacopeia response to the global heparin contamination crisis. Nat Biot 34:625–630

Lindahl U (2014) A personal voyage through the proteoglycan field. Matrix Biol 35:3–7

Li JP, Gong F, El Darwish K, Jalkanen M, Lindahl U (2001) Characterization of the D-glucuronyl C5-epimerase involved in the biosynthesis of heparin and heparan sulfate. J Biol Chem 276:20069–20077

Zhang L, Beeler DL, Lawrence R, Lech M, Liu J, Davis JC, Shriver Z, Sasisekharan R, Rosenberg RD (2001) 6-O-sulfotransferase-1 represents a critical enzyme in the anticoagulant heparan sulfate biosynthetic pathway. J Biol Chem 276:42311–42321

Kuberan B, Lech M, Borjigin J, Rosenberg RD (2004) Light-induced 3-O-sulfotransferase expression alters pineal heparan sulfate fine structure. A surprising link to circadian rhythm. J Biol Chem 279:5053–5054

Chen J, Avci FY, Muñoz EM, McDowell LM, Chen M, Pedersen LC, Zhang L, Linhardt RJ, Liu J (2005) Enzymatic redesigning of biologically active heparan sulfate. J Biol Chem 280:42817–42825

Zhang X, Pagadala V, Jester HM, Lim AM, Pham TQ, Goulas AMP, Liu J, Linhardt RJ (2017) Chemoenzymatic synthesis of heparan sulfate and heparin oligosaccharides and NMR analysis: paving the way to a diverse library for glycobiologists. Chem Sci 8:7883–8466

Vaidyanathan D, Williams A, Dordick JS, Koffas MAG, Linhardt RJ (2016) Engineered heparins as new anticoagulant drugs. Bioeng Transl Med 2:17–30

Xu Y, Chandarajoti K, Zhang X, Pagadala V, Dou W, Hoppensteadt DM, Sparkenbaugh E, Cooley B, Daily S, Key NS, Severynse-Stevens D, Fareed J, Linhardt RJ, Pawlinski R, Liu J (2017) Synthetic oligosaccharides can replace animal-sourced low-molecular weight heparins. Sci Transl Med 9:eaan5954

Bhaskar U, Li G, Fu L, Onishi A, Suflita M, Dordick JS, Linhardt RJ (2015) Combinatorial one-pot chemoenzymatic synthesis of heparin. Carbohydr Polym 122:399–407

Wang Z, Ly M, Zhang F, Zhong W, Suen A, Dordick JS, Linhardt RJ (2010) E. coli K5 fermentation and the preparation of heparosan, a bioengineered heparin precursor. Biotechnol Bioeng 107:968–977

Wang Z, Li J, Cheong S, Bhaskar U, Akihiro O, Zhang F, Dordick JS, Linhardt RJ (2011) Response surface optimization of the heparosan N-deacetylation in producing bioengineered heparin. J Biotechnol 156:188–196

Zhang J, Suflita M, Li G, Zhong W, Li L, Dordick JS, Linhardt RJ, Zhang F (2015) High cell density cultivation of recombinant Escherichia coli strains expressing 2-O-sulfotransferase and C5-epimerase for the production of bioengineered heparin. Appl Biochem Biotechnol 175(6):2986–2995

Bhaskar U, Paul P, Lin L, Rosa MD, Dordick JS, Linhardt RJ (2013) High cell density cultivation of a recombinant E. coli strain expressing a key enzyme in bioengineered heparin production. Appl Microbiol Biotechnol 97(9):3893–3900

Zhang J, Suflita M, Fiaschetti CM, Li G, Li L, Zhang F, Dordick JS, Linhardt RJ (2015) High cell density cultivation of a recombinant Escherichia coli strain expressing a 6-O-sulfotransferase for the production of bioengineered heparin. J Appl Microbiol 118(1):92–98

Jin W, Li S, Chen J, Liu B, Li J, Li X, Zhang F, Linhardt RJ, Zhong W (2018) Increased soluble heterologous expression of a rat brain 3-O-sulfotransferase1 – a key enzyme for heparin biosynthesis. Protein Expr Purif 151:23–29

Lohse DL, Linhardt RJ (1992) Purification and characterization of heparin lyases from flavobacterium heparinum. J Biol Chem 267:24347–24355

Yang B, Chang Y, Weyers AM, Sterner E, Linhardt RJ (2012) Disaccharide analysis of glycosaminoglycan mixtures by ultra-performance liquid chromatography-mass spectrometry. J Chromatogr A 1225:91–98

Li G, Steppich J, Wang Z, Sun Y, Xue C, Linhardt RJ, Li L (2014) Bottom-up LMWH analysis using LC-FTMS for extensive characterization. Anal Chem 86:6626–6632

Sterner E, Li L, Paul P, Beaudet JM, Liu J, Linhardt RJ, Dordick JS (2014) Assays for determining heparan sulfate and heparin O-sulfotransferase activity and specificity. Anal Bioanal Chem 406:525–536

Linhardt RJ (1994) Analysis of glycosaminoglycans with polysaccharide lyases. In: Varki A (ed) Current protocols in molecular biology, analysis of glycoconjugates, vol 2. Wiley Interscience, Hoboken, NJ, pp 17.13.17–17.13.32
Acknowledgments

The authors are grateful for funding from the National Institutes of Health in the form of grants # DK111958 and CA231074.
Copyright information

© 2022 Springer Science+Business Media, LLC, part of Springer Nature
About this protocol
Cite this protocol
Fu, L., Linhardt, R.J. (2022). One-Pot Enzymatic Synthesis of Heparin from N-Sulfoheparosan. In: Balagurunathan, K., Nakato, H., Desai, U., Saijoh, Y. (eds) Glycosaminoglycans. Methods in Molecular Biology, vol 2303. Humana, New York, NY. https://doi.org/10.1007/978-1-0716-1398-6_1
DOI: https://doi.org/10.1007/978-1-0716-1398-6_1

Published:

Publisher Name: Humana, New York, NY

Print ISBN: 978-1-0716-1397-9

Online ISBN: 978-1-0716-1398-6

eBook Packages: Springer Protocols