Abstract

Western blot and enzyme-linked immunosorbent assay (ELISA) are antibody-mediated techniques which are widely used for the detection and characterization of alterations in host protein expression following H. pylori infection . Both techniques are highly specific and sensitive for protein detection, with Western blot detection sensitivity as low as picogram amounts of the protein of interest, while the typical ELISA detection range is 0.01–0.1 ng. Here we provide an experimental example to demonstrate the application of these techniques for the determination of macrophage inflammatory responses following H. pylori infection .
Key words
Protein expression

ELISA

Western

Inflammatory cytokines

Innate Immune response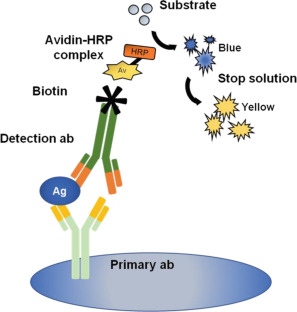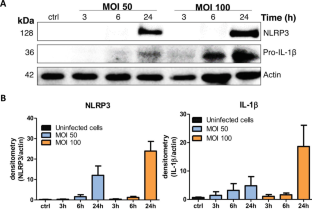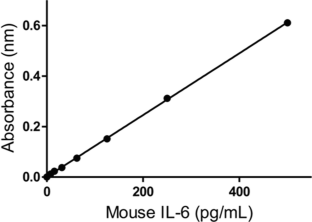 References
Weischenfeldt J, Porse B (2008) Bone marrow-derived macrophages (BMM): isolation and applications. CSH Protoc 2008:pdb.prot5080

Semper RP, Mejias-Luque R, Gross C et al (2014) Helicobacter pylori-induced IL-1beta secretion in innate immune cells is regulated by the NLRP3 inflammasome and requires the Cag pathogenicity island. J Immunol 193:3566–3576

Kim DJ, Park JH, Franchi L et al (2013) The Cag pathogenicity island and interaction between TLR2/NOD2 and NLRP3 regulate IL-1beta production in Helicobacter pylori-infected dendritic cells. Eur J Immunol 43:2650–2658

Koch KN, Hartung ML, Urban S et al (2015) Helicobacter urease-induced activation of the TLR2/NLRP3/IL-18 axis protects against asthma. J Clin Invest 125:3297–3302

Gravel P (2009) Protein blotting by the semidry method. In: Walker JM (ed) The protein protocols handbook. Springer Protocols Handbooks. Humana Press, Totowa, NJ

Walker JM (2009) The bicinchoninic acid (BCA) assay for protein quantitation. In: Walker JM (ed) The protein protocols handbook. Springer Protocols Handbooks. Humana Press, Totowa, NJ
Acknowledgments

This study was supported by funding from the Irish Research Council (GOIPG 2018/3047 to C.N.); a TCD John Scott Fellowship to G.B.; and EU Horizon 2020 Research and Innovation Programme (Marie Sklodowska-Curie grant agreement No 721906 to E.F.).
Copyright information

© 2021 Springer Science+Business Media, LLC, part of Springer Nature
About this protocol
Cite this protocol
Nulty, C., Barber, G., Flis, E., Creagh, E.M. (2021). Evaluating Host Responses to Helicobacter pylori Using ELISA and Western Blot. In: Smith, S.M. (eds) Helicobacter Pylori. Methods in Molecular Biology, vol 2283. Humana, New York, NY. https://doi.org/10.1007/978-1-0716-1302-3_16
DOI: https://doi.org/10.1007/978-1-0716-1302-3_16

Published:

Publisher Name: Humana, New York, NY

Print ISBN: 978-1-0716-1301-6

Online ISBN: 978-1-0716-1302-3

eBook Packages: Springer Protocols