Abstract

The application of forward chemical genetics to insulin secretion in high-throughput has been uncommon because of high costs and technical challenges. However, with the advancement of secreted luciferase tools, it has become feasible for small laboratories to screen large numbers of compounds for effects on insulin secretion. The purpose of this chapter is to outline the methods involved in high-throughput screening for small molecules that chronically impact pancreatic beta cell function. Attention is given to specific points in the protocol that help to improve the dynamic range and reduce variability in the assay. Using this approach in 384-well format, at least 48 and as many as 144 plates can theoretically be processed per week. This protocol serves as a guideline and can be modified as required for alternate stimulation paradigms and improved upon as new technologies become available.
Key words
High-throughput screening

Insulin secretion

Gaussia luciferase

Small molecules

Pancreatic beta cells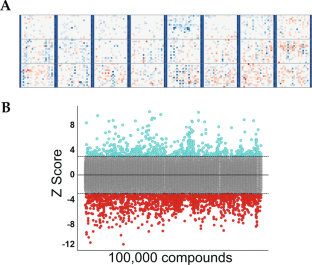 References
International Diabetes Federation (2017) IDF Diabetes Atlas, Eighth edition. Brussels, Belgium

Wu W et al (2008) Identification of glucose-dependent insulin secretion targets in pancreatic beta cells by combining defined-mechanism compound library screening and siRNA gene silencing. J Biomol Screen 13(2):128–134

Lee JA et al (2011) Open innovation for phenotypic drug discovery: the PD2 assay panel. J Biomol Screen 16(6):588–602

Burns SM et al (2015) High-throughput luminescent reporter of insulin secretion for discovering regulators of pancreatic beta-cell function. Cell Metab 21(1):126–137

Kalwat MA et al (2016) Insulin promoter-driven Gaussia luciferase-based insulin secretion biosensor assay for discovery of beta-cell glucose-sensing pathways. ACS Sens 1(10):1208–1212

Kalwat M, Cobb MH (2019) Measuring relative insulin secretion using a co-secreted luciferase surrogate. J Vis Exp 148

Kalwat MA et al (2018) Chromomycin A2 potently inhibits glucose-stimulated insulin secretion from pancreatic beta cells. J Gen Physiol 150(12):1747–1757

Burns SM, Wagner BK, and Vetere A (2018) Compounds and methods for regulating insulin secretion. International Patent Number: WO2018175324A1

Ohmiya Y, Wu C (2010) Stabilizing composition and stabilizing method of coelenterazine solution for high-throughput measurement of luciferase activity. U.S. Patent 7,718,389 B2

Henquin JC (2000) Triggering and amplifying pathways of regulation of insulin secretion by glucose. Diabetes 49(11):1751–1760
Acknowledgments

Thanks to Derk Binns for technical assistance and proofreading this manuscript. Thank you to the UTSW High-Throughput Screening Core facility, especially Shuguang Wei, for helpful discussions and advice. Thank you to Magdalena Grzemska for technical assistance. This work was supported by a Juvenile Diabetes Research Foundation Strategic Research Award 2-SRA-2019-702-Q-R (to MAK). Early parts of the development of this methodology were supported by an F32 DK100113 to Michael A. Kalwat and an R37 DK034128 and Welch (I-1243) to Melanie H. Cobb. The UTSW HTS facility is supported by an NIH NCI grant P30 CA142543.
Copyright information

© 2021 Springer Science+Business Media, LLC, part of Springer Nature
About this protocol
Cite this protocol
Kalwat, M.A. (2021). High-Throughput Screening for Insulin Secretion Modulators. In: Niedergang, F., Vitale, N., Gasman, S. (eds) Exocytosis and Endocytosis. Methods in Molecular Biology, vol 2233. Humana, New York, NY. https://doi.org/10.1007/978-1-0716-1044-2_9
DOI: https://doi.org/10.1007/978-1-0716-1044-2_9

Published:

Publisher Name: Humana, New York, NY

Print ISBN: 978-1-0716-1043-5

Online ISBN: 978-1-0716-1044-2

eBook Packages: Springer Protocols