Abstract

Powerful DNA barcodes have been much more difficult to define in plants than in animals. In 2009, the international Consortium for the Barcoding Of Life (CBOL) chose the combination of the chloroplast genes (rbcL + matK) as the proposed official barcode for plants. However, this system has got important limits. First, any barcode system will only be useful if there is a clear barcode gap and if species are monophyletic. Second, chloroplast and mitochondrial (COI gene used for animals) barcodes will not be usable for discriminating hybrid species. Moreover, it was also shown that, using chloroplast regions, maximum species discrimination would be around 70% and very variable among plant groups. This is why many authors have more recently advocated for the addition of the nuclear ITS region to this barcode because it reveals more variations and allows the resolution of hybrid or closely related species. We tested different chloroplast genes (rbcL, matK, psaB, psbC) and the nuclear ITS region in the genus Vanilla, a taxonomically complex group and therefore a good model to test for the efficiency of different barcode systems. We found that the CBOL official barcode system performed relatively poorly in Vanilla (76% species discrimination), and we demonstrate that adding ITS to this barcode system allows to increase resolution (for closely related species and to the subspecies level) and to identify hybrid species. The best species discrimination attained was 96.2% because of one paraphyletic species that could not be resolved.
Key words
DNA barcoding

ITS

rbcL

matK

Barcode gap

Species discrimination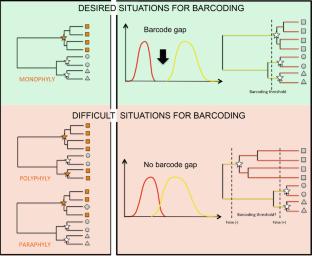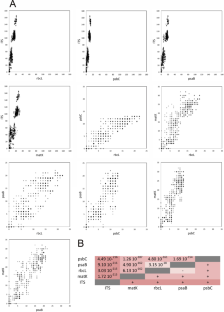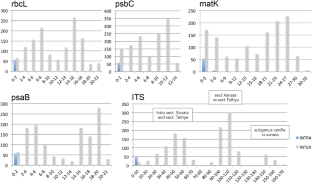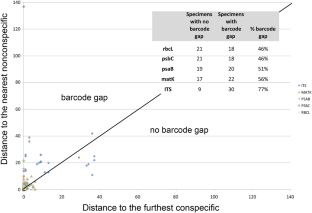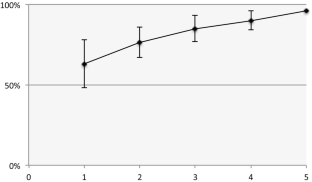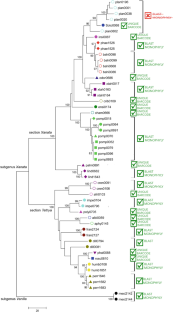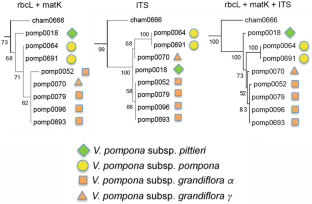 References
Stoeckle M (2003) Taxonomy, DNA, and the bar code of life. Bioscience 53:796–797. https://doi.org/10.1641/0006-3568(2003)053[0796:TDATBC]2.0.CO;2

Hebert PDN, Ratnasingham S, deWaard JR (2003) Barcoding animal life: cytochrome c oxidase subunit 1 divergences among closely related species. Proc Biol Sci 270(Suppl 1):S96–S99. https://doi.org/10.1098/rsbl.2003.0025

Brown WM, George M, Wilson AC (1979) Rapid evolution of animal mitochondrial DNA. Proc Natl Acad Sci 76:1967–1971. https://doi.org/10.1073/pnas.76.4.1967

Avise JC (2000) Phylogeography: the history and formation of species. Harvard university press, Cambridge

Kress WJ, Wurdack KJ, Zimmer EA, Weigt LA, Janzen DH (2005) Use of DNA barcodes to identify flowering plants. Proc Natl Acad Sci 102:8369–8374. https://doi.org/10.1073/pnas.0503123102

Chase MW, Salamin N, Wilkinson M, Dunwell JM, Kesanakurthi RP, Haidar N, Savolainen V (2005) Land plants and DNA barcodes: short-term and long-term goals. Philos Trans R Soc B Biol Sci 360:1889–1895. https://doi.org/10.1098/rstb.2005.1720

Chase MW, Cowan RS, Hollingsworth PM, van den Berg C, Madriñán S, Petersen G, Seberg O, Jørgsensen T, Cameron KM, Carine M (2007) A proposal for a standardised protocol to barcode all land plants. Taxon 56:295–299. https://doi.org/10.1002/tax.562004

Cowan RS, Chase MW, Kress WJ, Savolainen V (2006) 300,000 species to identify: problems, progress, and prospects in DNA barcoding of land plants. Taxon 55:611–616. https://doi.org/10.2307/25065638

Fazekas AJ, Burgess KS, Kesanakurti PR, Graham SW, Newmaster SG, Husband BC, Percy DM, Hajibabaei M, Barrett SCH (2008) Multiple multilocus DNA barcodes from the plastid genome discriminate plant species equally well. PLoS One 3:e2802. https://doi.org/10.1371/journal.pone.0002802

Hollingsworth ML, Andra Clark A, Forrest LL, Richardson J, Pennington RT, Long DG, Cowan R, Chase MW, Gaudeul M, Hollingsworth PM (2009) Selecting barcoding loci for plants: evaluation of seven candidate loci with species-level sampling in three divergent groups of land plants. Mol Ecol Resour 9:439–457. https://doi.org/10.1111/j.1755-0998.2008.02439.x

Kress WJ, Erickson DL (2007) A two-locus global DNA barcode for land plants: the coding rbcL gene complements the non-coding trnH-psbA spacer region. PLoS One 2:e508. https://doi.org/10.1371/journal.pone.0000508

Lahaye R, van der Bank M, Bogarin D, Warner J, Pupulin F, Gigot G, Maurin O, Duthoit S, Barraclough TG, Savolainen V (2008) DNA barcoding the floras of biodiversity hotspots. Proc Natl Acad Sci U S A 105:2923–2928. https://doi.org/10.1073/pnas.0709936105

Newmaster S, Fazekas A, Ragupathy S (2006) DNA barcoding in land plants: evaluation of rbcL in a multigene tiered approach. Botany 84:335–341. https://doi.org/10.1139/b06-047

Taberlet P, Coissac E, Pompanon F, Gielly L, Miquel C, Valentini A, Vermat T, Corthier G, Brochmann C, Willerslev E (2007) Power and limitations of the chloroplast trn L (UAA) intron for plant DNA barcoding. Nucleic Acids Res 35:e14–e14. https://doi.org/10.1093/nar/gkl938

Presting GG (2006) Identification of conserved regions in the plastid genome: implications for DNA barcoding and biological function. Botany 84:1434–1443. https://doi.org/10.1139/b06-117

Rubinoff D, Cameron S, Will K (2006) Are plant DNA barcodes a search for the holy grail? Trends Ecol Evol 21:1–2. https://doi.org/10.1016/j.tree.2005.10.019

Hollingsworth PM, Graham SW, Little DP (2011) Choosing and using a plant DNA barcode. PLoS One 6:e19254. https://doi.org/10.1371/journal.pone.0019254

CBOL Plant Working Group, Hollingsworth PM, Forrest LL, Spouge JL, Hajibabaei M, Ratnasingham S, van der Bank M, Chase MW, Cowan RS, Erickson DL (2009) A DNA barcode for land plants. Proc Natl Acad Sci 106:12794–12797. https://doi.org/10.1073/pnas.0905845106

Ratnasingham S, Hebert PD (2007) BOLD: the barcode of life data system (http://www.barcodinglife.org). Mol Ecol Notes 7:355–364. https://doi.org/10.1111/j.1471-8286.2007.01678.x

Liu D, Liu L, Guo G, Wang W, Sun Q, Parani M, Ma J (2013) BOLDMirror: a global mirror system of DNA barcode data. Mol Ecol Resour 13:991–995. https://doi.org/10.1111/1755-0998.12048

Fazekas AJ, Kesanakurti PR, Burgess KS, Percy DM, Graham SW, Barrett SCH, Newmaster SG, Hajibabaei M, Husband BC (2009) Are plant species inherently harder to discriminate than animal species using DNA barcoding markers? Mol Ecol Resour 9(Suppl s1):130–139. https://doi.org/10.1111/j.1755-0998.2009.02652.x

Li D-Z, Gao L-M, Li H-T, Wang H, Ge X-J, Liu J-Q, Chen Z-D, Zhou S-L, Chen S-L, Yang J-B, Fu C-X, Zeng C-X, Yan H-F, Zhu Y-J, Sun Y-S, Chen S-Y, Zhao L, Wang K, Yang T, Duan G-W (2011) Comparative analysis of a large dataset indicates that internal transcribed spacer (ITS) should be incorporated into the core barcode for seed plants. Proc Natl Acad Sci U S A 108:19641–19646. https://doi.org/10.1073/pnas.1104551108

Hollingsworth PM (2011) Refining the DNA barcode for land plants. Proc Natl Acad Sci U S A 108:19451–19452. https://doi.org/10.1073/pnas.1116812108

Chen S, Yao H, Han J, Liu C, Song J, Shi L, Zhu Y, Ma X, Gao T, Pang X, Luo K, Li Y, Li X, Jia X, Lin Y, Leon C (2010) Validation of the ITS2 region as a novel DNA barcode for identifying medicinal plant species. PLoS One 5:e8613. https://doi.org/10.1371/journal.pone.0008613

Yao H, Song J, Liu C, Luo K, Han J, Li Y, Pang X, Xu H, Zhu Y, Xiao P, Chen S (2010) Use of ITS2 region as the universal DNA barcode for plants and animals. PLoS One 5:e13102. https://doi.org/10.1371/journal.pone.0013102

Coleman AW (2003) ITS2 is a double-edged tool for eukaryote evolutionary comparisons. Trends Genet 19:370–375. https://doi.org/10.1016/S0168-9525(03)00118-5

Wang X-C, Liu C, Huang L, Bengtsson-Palme J, Chen H, Zhang J-H, Cai D, Li J-Q (2015) ITS1: a DNA barcode better than ITS2 in eukaryotes? Mol Ecol Resour 15:573–586. https://doi.org/10.1111/1755-0998.12325

Li H, Bai H, Yu S, Han M, Ning K (2018) Holmes-ITS2: consolidated ITS2 resources and search engines for plant DNA-based marker analyses. bioRxiv 263541. https://doi.org/10.1101/263541

Merget B, Koetschan C, Hackl T, Förster F, Dandekar T, Müller T, Schultz J, Wolf M (2012) The ITS2 database. J Vis Exp (61):e3806. https://doi.org/10.3791/3806

Ankenbrand MJ, Keller A, Wolf M, Schultz J, Förster F (2015) ITS2 database V: twice as much. Mol Biol Evol 32:3030–3032. https://doi.org/10.1093/molbev/msv174

Arenas MS, Cameron K (2003) Vanilla. In: Genera Orchidacearum: Orchidoideae. Oxford University Press, New York, pp 321–334

Arenas MAS, Cribb P (2009) A new infrageneric classification and synopsis of the genus Vanilla Plum. ex Mill.(Orchidaceae: Vanillinae). Lankesteriana 9:355–398. https://doi.org/10.15517/lank.v0i0.12071

Bory S, Brown S, Duval M-F, Besse P (2010) Evolutionary processes and diversification in the genus Vanilla. In: Vanilla. Crc Press, Florida, pp 15–29

Ennos RA, French GC, Hollingsworth PM (2005) Conserving taxonomic complexity. Trends Ecol Evol 20:164–168. https://doi.org/10.1016/j.tree.2005.01.012

Rodolphe G, Séverine B, Michel G, Pascale B (2011) Biodiversity and evolution in the Vanilla genus. In: The dynamical processes of biodiversity –case studies of evolution and spatial distribution, pp 1–27

Nielsen LR, Siegismund HR (1999) Interspecific differentiation and hybridization in Vanilla species (Orchidaceae). Heredity 83:560–567. https://doi.org/10.1046/j.1365-2540.1999.00588.x

Nielsen LR (2000) Natural hybridization between Vanilla claviculata (W. Wright) Sw. and V. barbellata Rchb. f.(Orchidaceae): genetic, morphological, and pollination experimental data. Bot J Linn Soc 133:285–302. https://doi.org/10.1111/j.1095-8339.2000.tb01547.x

Lubinsky P, Cameron KM, Molina MC, Wong M, Lepers-Andrzejewski S, Gómez-Pompa A, Kim S (2008) Neotropical roots of a Polynesian spice: the hybrid origin of Tahitian vanilla, Vanilla tahitensis (Orchidaceae). Am J Bot 95:1040–1047. https://doi.org/10.3732/ajb.0800067

Bory S, Catrice O, Brown S, Leitch IJ, Gigant R, Chiroleu F, Grisoni M, Duval M-F, Besse P (2008) Natural polyploidy in Vanilla planifolia (Orchidaceae). Genome 51:816–826. https://doi.org/10.1139/G08-068

Bouetard A, Lefeuvre P, Gigant R, Bory S, Pignal M, Besse P, Grisoni M (2010) Evidence of transoceanic dispersion of the genus Vanilla based on plastid DNA phylogenetic analysis. Mol Phylogenet Evol 55:621–630. https://doi.org/10.1016/j.ympev.2010.01.021

Duvignau M (2012) Utilisation de marqueurs moléculaires pour une avancée dans la résolution de la phylogénie du genre# Vanilla. Master 2 thesis, Montpellier 2

Gigant R (2008) L'aphyllie dans le genre Vanilla: étude phylogénétique des espèces de l'Océan Indien. Master 2 thesis Biodiversité et écosystèmes tropicaux, Université de la Réunion

Tamura K, Peterson D, Peterson N, Stecher G, Nei M, Kumar S (2011) MEGA5: molecular evolutionary genetics analysis using maximum likelihood, evolutionary distance, and maximum parsimony methods. Mol Biol Evol 28:2731–2739. https://doi.org/10.1093/molbev/msr121

Collins RA, Cruickshank RH (2013) The seven deadly sins of DNA barcoding. Mol Ecol Resour 13:969–975. https://doi.org/10.1111/1755-0998.12046

Meyer CP, Paulay G (2005) DNA barcoding: error rates based on comprehensive sampling. Plos Biol 3:e422. https://doi.org/10.1371/journal.pbio.0030422

Blagoev G, Hebert P, Adamowicz S, Robinson E (2009) Prospects for using DNA barcoding to identify spiders in species-rich genera. ZooKeys 16:27. https://doi.org/10.3897/zookeys.16.239

Azofeifa-Bolaños JB, Gigant LR, Nicolás-García M, Pignal M, Tavares-González FB, Hágsater E, Salazar-Chávez GA, Reyes-López D, Archila-Morales FL, García-García JA (2017) A new vanilla species from Costa Rica closely related to V. planifolia (Orchidaceae). Eur J Taxon 284:1–26. https://doi.org/10.5852/ejt.2017.284

Soto-Arenas MA, Dressler RL (2010) A revision of the Mexican and Central American species of Vanilla Plumier ex Miller with a characterization of their ITS region of the nuclear ribosomal DNA. Lankesteriana 9:285–354. https://doi.org/10.15517/lank.v0i0.12065
Acknowledgments

We thank M. Duvigneau for generating many of the sequences used and A. Vancassel for preliminary analyses of barcode data during their MSc thesis. This work was partly funded by the Vanitax (ANR Bibliothèque du Vivant) and ANR (ANR11-EBIM-005-01) and Reunion Regional Council (DGADD/PE/20120590 and 20120589) through the VaBiome project (ERA-NET-Net-Biome funded project).
Copyright information

© 2021 Springer Science+Business Media, LLC, part of Springer Nature
About this protocol
Cite this protocol
Besse, P., Da Silva, D., Grisoni, M. (2021). Plant DNA Barcoding Principles and Limits: A Case Study in the Genus Vanilla. In: Besse, P. (eds) Molecular Plant Taxonomy. Methods in Molecular Biology, vol 2222. Humana, New York, NY. https://doi.org/10.1007/978-1-0716-0997-2_8
DOI: https://doi.org/10.1007/978-1-0716-0997-2_8

Published:

Publisher Name: Humana, New York, NY

Print ISBN: 978-1-0716-0996-5

Online ISBN: 978-1-0716-0997-2

eBook Packages: Springer Protocols