Abstract

Modified mRNA (modRNA) is a promising new gene therapy approach that has safely and effectively delivered genes into different tissues, including the heart. Current efforts to use DNA-based or viral gene therapy to induce cardiac regeneration postmyocardial infarction (MI) or in heart failure (HF) have encountered key challenges, e.g., genome integration and delayed and noncontrolled expression. By contrast, modRNA is a transient, safe, non-immunogenic, and controlled gene delivery method that is not integrated into the genome. For most therapeutic applications, especially in regenerative medicine, the ability to deliver genes to the heart transiently and with control is vital for achieving therapeutic effect. Additionally, modRNA synthesis is comparatively simple and inexpensive compared to other gene delivery methods (e.g., protein), though a simple, clear in vitro transcription (IVT) protocol for synthesizing modRNA is needed for it to be more widely used. Here, we describe a simple and improved step-by-step IVT protocol to synthesize modRNA for in vitro or in vivo applications.
Key words
Modified mRNA

Gene therapy

mRNA stability

mRNA translation

Myocardial infarction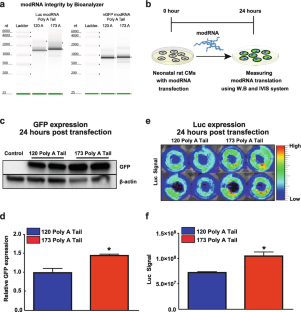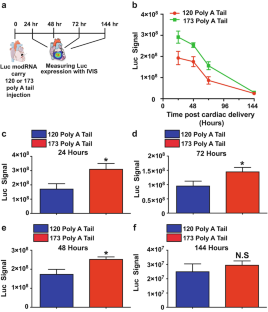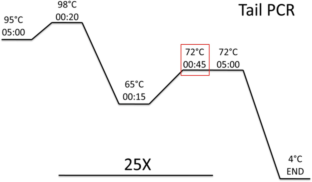 References
Go AS et al (2014) Heart disease and stroke statistics—2014 update: a report from the American Heart Association. Circulation 129(3):e28–e292

Dargie H (2005) Heart failure post-myocardial infarction: a review of the issues. Heart 91(Suppl 2):ii3–ii6. discussion ii31, ii43-8

Magadum A, Kaur K, Zangi L (2019) mRNA-based protein replacement therapy for the heart. Mol Ther 27(4):785–793

Sahin U, Kariko K, Tureci O (2014) mRNA-based therapeutics—developing a new class of drugs. Nat Rev Drug Discov 13(10):759–780

McIvor RS (2011) Therapeutic delivery of mRNA: the medium is the message. Mol Ther 19(5):822–823

Kariko K et al (2008) Incorporation of pseudouridine into mRNA yields superior nonimmunogenic vector with increased translational capacity and biological stability. Mol Ther 16(11):1833–1840

Zangi L et al (2013) Modified mRNA directs the fate of heart progenitor cells and induces vascular regeneration after myocardial infarction. Nat Biotechnol 31(10):898–907

Magadum A et al (2018) Ablation of a single N-glycosylation site in human FSTL 1 induces cardiomyocyte proliferation and cardiac regeneration. Mol Ther Nucleic Acids 13:133–143

Sultana N et al (2017) Optimizing cardiac delivery of modified mRNA. Mol Ther 25(6):1306–1315

Heiser A et al (2002) Autologous dendritic cells transfected with prostate-specific antigen RNA stimulate CTL responses against metastatic prostate tumors. J Clin Invest 109(3):409–417

Morse MA et al (2002) The feasibility and safety of immunotherapy with dendritic cells loaded with CEA mRNA following neoadjuvant chemoradiotherapy and resection of pancreatic cancer. Int J Gastrointest Cancer 32(1):1–6

Morse MA et al (2003) Immunotherapy with autologous, human dendritic cells transfected with carcinoembryonic antigen mRNA. Cancer Investig 21(3):341–349

Rittig SM et al (2011) Intradermal vaccinations with RNA coding for TAA generate CD8+ and CD4+ immune responses and induce clinical benefit in vaccinated patients. Mol Ther 19(5):990–999

Su Z et al (2005) Telomerase mRNA-transfected dendritic cells stimulate antigen-specific CD8+ and CD4+ T cell responses in patients with metastatic prostate cancer. J Immunol 174(6):3798–3807

Weide B et al (2009) Direct injection of protamine-protected mRNA: results of a phase 1/2 vaccination trial in metastatic melanoma patients. J Immunother 32(5):498–507

Wilgenhof S et al (2013) A phase IB study on intravenous synthetic mRNA electroporated dendritic cell immunotherapy in pretreated advanced melanoma patients. Ann Oncol 24(10):2686–2693

Creusot RJ et al (2010) A short pulse of IL-4 delivered by DCs electroporated with modified mRNA can both prevent and treat autoimmune diabetes in NOD mice. Mol Ther 18(12):2112–2120

Mitchell DA et al (2008) Selective modification of antigen-specific T cells by RNA electroporation. Hum Gene Ther 19(5):511–521

Okumura K et al (2008) Bax mRNA therapy using cationic liposomes for human malignant melanoma. J Gene Med 10(8):910–917

Wang Y et al (2013) Systemic delivery of modified mRNA encoding herpes simplex virus 1 thymidine kinase for targeted cancer gene therapy. Mol Ther 21(2):358–367

Kariko K et al (2012) Increased erythropoiesis in mice injected with submicrogram quantities of pseudouridine-containing mRNA encoding erythropoietin. Mol Ther 20(5):948–953

Kormann MS et al (2011) Expression of therapeutic proteins after delivery of chemically modified mRNA in mice. Nat Biotechnol 29(2):154–157

Mays LE et al (2013) Modified Foxp3 mRNA protects against asthma through an IL-10-dependent mechanism. J Clin Invest 123(3):1216–1228

Zimmermann O et al (2012) Successful use of mRNA-nucleofection for overexpression of interleukin-10 in murine monocytes/macrophages for anti-inflammatory therapy in a murine model of autoimmune myocarditis. J Am Heart Assoc 1(6):e003293

Kondrat J, Sultana N, Zangi L (2017) Synthesis of modified mRNA for myocardial delivery. Methods Mol Biol 1521:127–138
Acknowledgments

We thank Nadia Hossain for her assistance. This work was funded in part by a seed package from the Icahn School of Medicine at Mount Sinai. Nishat Sultana and Mohammad Tofael Kabir Sharkar contributed equally to this work.
Copyright information

© 2021 Springer Science+Business Media, LLC, part of Springer Nature
About this protocol
Cite this protocol
Sultana, N., Sharkar, M.T.K., Hadas, Y., Chepurko, E., Zangi, L. (2021). In Vitro Synthesis of Modified RNA for Cardiac Gene Therapy. In: Poss, K.D., Kühn, B. (eds) Cardiac Regeneration. Methods in Molecular Biology, vol 2158. Humana, New York, NY. https://doi.org/10.1007/978-1-0716-0668-1_21
DOI: https://doi.org/10.1007/978-1-0716-0668-1_21

Published:

Publisher Name: Humana, New York, NY

Print ISBN: 978-1-0716-0667-4

Online ISBN: 978-1-0716-0668-1

eBook Packages: Springer Protocols