Abstract

T-cell diversity is multifactorial and includes variability in antigen specificity, differentiation, function, and cell-trafficking potential. Spectral overlap limits the ability of traditional flow cytometry to fully capture the diversity of T-cell subsets and function. The development of mass cytometry permits deep immunoprofiling of T-cell subsets, activation state, and function simultaneously from even small volumes of blood. This chapter describes our methods for mass cytometry and high-throughput data analysis of T cells in patient cohorts. We provide a pipeline that includes practical considerations when customizing a panel for mass cytometry. We also provide protocols for the conjugation and titration of metal-labeled antibodies (including two T-cell panels) and a staining procedure. Finally, with the aim to support translational science, we provide R scripts that contain a detailed workflow for initial evaluation of high-dimensional data generated from cohorts of patients.
Key words
Mass cytometry

CyTOF

T cells

Systems biology

High-throughput analysis

R

Clustering

Data processing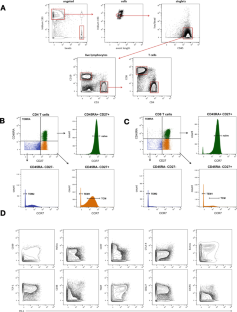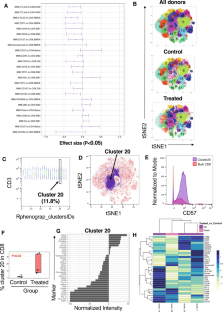 References
Brodie TM, Tosevski V (2018) Broad immune monitoring and profiling of T cell subsets with mass cytometry. Methods Mol Biol 1745:67–82. https://doi.org/10.1007/978-1-4939-7680-5_4

Bengsch B, Ohtani T, Khan O, Setty M, Manne S, O'Brien S, Gherardini PF, Herati RS, Huang AC, Chang KM, Newell EW, Bovenschen N, Pe'er D, Albelda SM, Wherry EJ (2018) Epigenomic-guided mass cytometry profiling reveals disease-specific features of exhausted CD8 T cells. Immunity 48(5):1029–1045.e5. https://doi.org/10.1016/j.immuni.2018.04.026

Good Z, Borges L, Vivanco Gonzalez N, Sahaf B, Samusik N, Tibshirani R, Nolan GP, Bendall SC (2019) Proliferation tracing with single-cell mass cytometry optimizes generation of stem cell memory-like T cells. Nat Biotechnol 37(3):259–266. https://doi.org/10.1038/s41587-019-0033-2

Lakshmikanth T, Brodin P (2019) Systems-level immune monitoring by mass cytometry. Methods Mol Biol 1913:33–48. https://doi.org/10.1007/978-1-4939-8979-9_3

Leipold MD, Newell EW, Maecker HT (2015) Multiparameter phenotyping of human PBMCs using mass cytometry. Methods Mol Biol 1343:81–95. https://doi.org/10.1007/978-1-4939-2963-4_7

Patin E, Hasan M, Bergstedt J, Rouilly V, Libri V, Urrutia A, Alanio C, Scepanovic P, Hammer C, Jönsson F, Beitz B, Quach H, Lim YW, Hunkapiller J, Zepeda M, Green C, Piasecka B, Leloup C, Rogge L, Huetz F, Peguillet I, Lantz O, Fontes M, Di Santo JP, Thomas S, Fellay J, Duffy D, Quintana-Murci L, Albert ML (2018) Natural variation in the parameters of innate immune cells is preferentially driven by genetic factors. Nat Immunol 19(3):302–314. https://doi.org/10.1038/s41590-018-0049-7

Chen H, Lau MC, Wong MT, Newell EW, Poidinger M, Chen J (2016) Cytofkit: a bioconductor package for an integrated mass cytometry data analysis pipeline. PLoS Comput Biol 12(9):e1005112
Acknowledgements

We thank Divij Matthew, University of Pennsylvania, USA, for his help with the titration figure, as well as Jacob Bergstedt, Lund University, Sweden, for his help with the R scripts.
Copyright information

© 2020 Springer Science+Business Media, LLC, part of Springer Nature
About this protocol
Cite this protocol
O'Boyle, K.C. et al. (2020). Exploration of T-Cell Diversity Using Mass Cytometry. In: Liu, C. (eds) T-Cell Receptor Signaling. Methods in Molecular Biology, vol 2111. Humana, New York, NY. https://doi.org/10.1007/978-1-0716-0266-9_1
DOI: https://doi.org/10.1007/978-1-0716-0266-9_1

Published:

Publisher Name: Humana, New York, NY

Print ISBN: 978-1-0716-0265-2

Online ISBN: 978-1-0716-0266-9

eBook Packages: Springer Protocols