Epidemiology of Dementia: The Burden on Society, the Challenges for Research
Part of the Methods in Molecular Biology book series (MIMB, volume 1750)
Abstract
Dementia is among the leading causes of death and disability. Due to the ageing population, its prevalence is expected to nearly triple worldwide by 2050, urging the development of preventive and curative interventions. Various modifiable risk factors have been identified in community-based cohort studies, but insight into the underlying pathophysiological mechanisms is lacking. Clinical trials have thus far failed in the development of disease-modifying therapy in patients with dementia, thereby triggering a shift of focus toward the presymptomatic phase of disease. The extensive preclinical disease course of Alzheimer's disease warrants reliable, easily obtainable biomarkers to aid in timely application of preventive strategies, selecting participants for neuroprotective trials, and disease monitoring in trials and clinical practice. Biomarker and drug discovery may yield the fruits from technology-driven developments in the field of genomics, epigenetics, metabolomics, and brain imaging. In that context, bridging the gap between translational and population research may well prove a giant leap toward development of successful preventive and curative interventions against dementia.
Key words
Dementia 
Alzheimer's disease 
Epidemiology 
Population-based 
Omics 
Prevention 
Genetics 
Imaging 
1

Introduction: The Burden of Disease

At present, 48 million people worldwide are suffering from dementia, and this number is projected to increase to 131 million by 2050 [

1

]. The enormous burden this poses on patients, their caregivers, and society as a whole is only in part reflected by the estimated $818 billion per annum needed for dementia care worldwide. Costs for dementia already exceed those for any other disease [

2

,

3

], and as the number of patients with dementia grows the annual health expenditure is projected to reach one trillion dollars as soon as 2018 [

1

]. Every year, nearly ten million people develop dementia, with a median age at diagnosis of around 80 years (Fig.

1

). Similar to other disorders with steeply increasing prevalence at higher ages, the burden of dementia arises predominantly from disability rather than mortality. In industrialized countries, 80% of those in care homes have dementia or significant cognitive problems, and despite good care less than half experience a good quality of life [

4

]. Prior to institutionalization, caregivers alleviate much of the burden of disease, but often at the cost of their own well-being [

5

].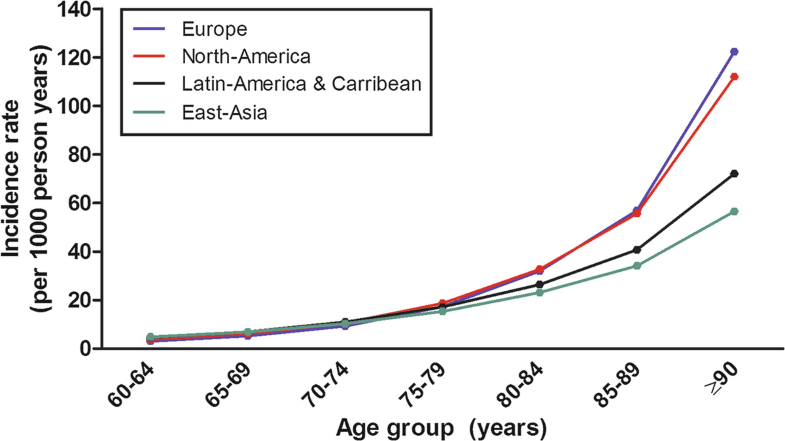 Meanwhile, health expenditure continues to fall short in anticipating long-term care costs. A 2012 study in the UK found that every £10 of health and social care costs attributable to dementia are counterbalanced by only £0.08 for dementia research [6]. This is particularly striking, as investments in long-term prevention are projected to result in cost-effective gains in quality-adjusted life years in the population [7]. Driven by the projections of the burden on public health, governments have only recently designated dementia as a major public health threat, and started to prioritize research in their federal budgets accordingly. This will undoubtedly spark advances in research and clinical care, but time is not on our side. Subclinical alterations in brain health are thought to occur decades before diagnosis of dementia [8], and the social and economic burden of dementia will thus increase enormously, unless curative and preventive measures can be rapidly established.
As the burden of dementia grows across the globe, the largest increase will occur in low- and middle-income countries, such that by 2050 roughly two-thirds of people with dementia will live in these regions (Fig.
2
). Yet, only a minority of patients receive (extensive) investigation or a formal diagnosis, particularly in settings poor in resources [
9
,
10
]. Together with differences in patient care, the low rate of diagnoses accounts for a stark contrast in global healthcare expenditure, where over 90% of current dementia care costs are incurred in high-income countries [
11
]. It shows above all that wide availability and accessibility of diagnostics, preventive measures, and feature disease-modifying agents will be vital to control the global dementia epidemic.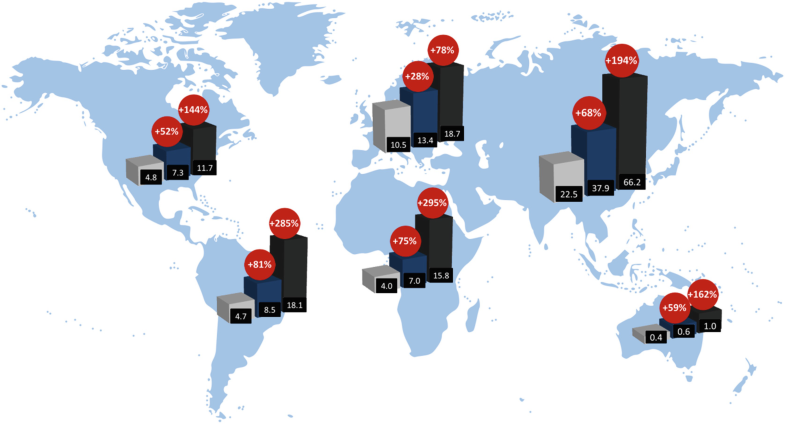 In this chapter, we shall provide a brief overview of the current state of affairs in preventive and curative medicine, and highlight the main challenges and opportunities encountered in etiological research and drug development.
2

Preventive and Curative Efforts: Small Successes in the Light of Failure

The urgency for new drugs is reflected in a steep increase in the number of trials registered for drugs against Alzheimer's disease . Over the past 20 years, hundreds of registered trials set out to determine the efficacy of potential drugs for dementia, but this has resulted in only four drugs offering limited symptom relief (Table

1

), while thus far no disease-modifying therapies are available. The cost of these trials culminates to billions of euros. Of 244 compounds that were assessed in 413 trials in the past decade, none have made it to the market since the approval of

memantine

for symptom relief in 2003 [

12

]. Of every 100 compounds entering phase 1 trials for Alzheimer's disease, 28% make it to phase 2, in which 8% succeed [

12

]. For comparison, success rates of phase 1 and phase 2 trials for infectious disease are 70% and 43%, respectively, while for cardiovascular disease these percentages are 59% and 24% [

13

]. As of 2016, another large phase 3 Alzheimer trial, assessing the efficacy of amyloid antibody

solanezumab

, has joined the long list of unsuccessful intervention for (mild) Alzheimer's disease, along with the 5-HT6 antagonist

idalopirdine

that was aimed at symptom relief. Nevertheless, over 20 phase 3 trials are currently ongoing, of which the majority is directed against amyloid, either by antibodies, vaccines, or inhibiting beta-secretase 1 (BACE).

Table 1

Overview of currently approved drugs for Alzheimer's disease
| Generic drug (brand name) | Approval for disease stage | Year of approval | Indication |
| --- | --- | --- | --- |
| Donepezil (Aricept) | All stages | 1996 | Symptom relief |
| Rivastigmine (Exelon) | All stages | 2000 | Symptom relief |
| Galantamine (Razadyne) | Mild-moderate | 2001 | Symptom relief |
| Memantine (Namenda) | Moderate-severe | 2003 | Symptom relief |
With regard to prevention, various modifiable risk factors have been identified in community-based cohort studies over the past 20–30 years. Midlife hypertension, obesity, smoking, diabetes mellitus, low educational attainment, and physical activity are consistently associated with an increased risk of disease, and account for about 25% of all cases of dementia [14, 15]. As these risk factors are largely shared with other (cardiovascular) diseases, improvements in cardiovascular risk management may have had positive effects on dementia risk over the past decades also. In fact, multiple reports now suggest a decline in the incidence of dementia in industrialized countries by about 20% per decade since the 1970s [16, 17, 18]. However, the precise causes of this trend have not been accounted for, data from low- and middle-income countries are not available, and even if the current trend continues it will not suffice to offset the effects of a rapidly ageing population on the number of patients with dementia. In addition, trials assessing the efficacy of specific preventive interventions for lowering the risk of dementia have thus far been largely unsuccessful [19]. Following the failures of these dementia prevention trials in the late 1990s and early 2000s, subsequent trials have determined the effect of interventions on cognition as a more sensitive outcome measure than dementia, with more positive results in particular for trials assessing the efficacy of physical activity and multi-domain interventions [19]. For example, the Scandinavian FINGER trial (a multi-domain intervention involving diet, exercise, vascular risk monitoring, and cognitive training) has shown benefit on cognitive function [20], and participants continue to be surveyed for the incidence of dementia. Despite generally modest effect sizes at the individual level, these preventive efforts could greatly reduce the burden of disease at the population level. If preventive efforts succeed in delaying the onset of dementia by merely 5 years, this could reduce the incidence of dementia by as much as 50% over the next decades [3]. Yet again, in an unselected population of elderly Dutch people (the preDIVA trial), multi-domain vascular care intervention did not significantly lower dementia incidence, and the French Multi-domain Alzheimer Prevention Trial (MAPT—testing similar interventions plus omega-3 supplements) found no significant benefit on cognitive decline over a 3-year period [21, 22]. These inconsistencies across trials employing closely aligned interventions emphasize that much work remains to be done to understand the specific pathways underlying successes and failures of these preventive trials.
Summarizing the small successes and many disappointing past attempts to halt dementia at any stage of disease, the question rises why so many efforts have thus far failed. What are the difficulties medical research faces in developing treatments against dementia and specifically Alzheimer's disease, while successful battles have been fought against many other similarly common and age-related diseases? The next section will therefore focus on the challenges and opportunities in striving to improve the process and outcomes of drug discovery.
3

Challenges in Clinical Trials

Part of the lagging behind of dementia treatments, compared to improvements in treatment of cardiovascular disease and cancer, could be linked to lack of research funding [6]. Every £10 of health and social care costs attributable to dementia are counterbalanced by £0.08 for dementia research in the UK, compared with £1.08 for cancer and £0.65 for heart disease [6]. This 8–14-fold difference in research investment may reflect the differences in disease perception and heterogeneous nature of cancer as a disease entity, as well as less direct effects of preventive measures for dementia, compared to acute vascular events. Today's intervention might prevent tomorrow's myocardial infarction, whereas the long preclinical phase of dementia precludes return of investment within several years from initiation of preventive measures. Nevertheless, a Swedish-Finnish study that modeled cost and utilities of such investments suggests that long-term prevention can in fact result in a cost-effective gain in quality-adjusted life years in the population [7], emphasizing the necessity of prioritizing dementia research funding.

Other challenges in dementia research pertain to the disease course and impairment of dementia itself, which make it different from other diseases that medicine has successfully engaged. These include high attrition rates in trials , insensitive or inaccurate outcome assessments [23], and—perhaps foremost—a long and variable presymptomatic disease phase that has repeatedly been put forward as an explanation for why so many clinical trials have failed. By the time of diagnosis, the brain of patients with dementia shows high degrees of degeneration that vary greatly across patients and are unlikely to be ameliorated by treatment. Moreover, markers for risk of neurodegeneration may arise years before diagnosis of dementia [8], and intervention at the time of disease may consequently be too late. Trials have therefore moved from including patients in any stage of disease to those with mild dementia only, and, driven by yet again disappointing results, ongoing trials now focus on presymptomatic individuals. As such, the Alzheimer Prevention Initiative's A4 trial currently enrols cognitively healthy individuals in the USA, Canada, and Australia for 39 months of treatment with intravenous solanezumab or placebo (ClinicalTrials.gov Identifier NCT02008357). However, when targeting earlier, presymptomatic stages of the disease, enrichment of people at highest risk of developing the disease is vital for the trial to be sufficiently powered. Strategies for enrichment include targeting individuals who are at increased genetic risk, and several studies now focus exclusively on genetically high-risk individuals, such as crenezumab for preclinical PSEN1 mutation carriers of Colombian kindred (ClinicalTrials.gov Identifier NCT01998841), and the Generation Study for individuals aged 60–75 years who carry two copies of the apolipoprotein E epsilon 4 allele (ClinicalTrials.gov Identifier NCT02565511). Although this might in part circumvent the problem of eleventh-hour interventions, it could render results less applicable to the large population at risk due to the strong selection on relatively rare genetic variants. In addition, time to event in these preventive trials remains prolonged, making them costly and unable to provide rapid answers to urgent questions. The feasibility of future trials will therefore depend on the ability to either recruit (representative) individuals at risk of developing disease during the trial period or develop reliable biomarkers that can serve as surrogate endpoints for preventive trials .
4

Biomarkers and Treatment Targets: The Search Continues

Risk stratification of individuals for a certain disease generally starts with easily obtainable demographics and details about personal history. This approach has been highly effective in predicting for instance long-term risk of cardiovascular disease in the community [24], short-term risk of stroke in patients with transient ischemic attack [25], or odds of having pulmonary embolism [26]. However, for dementia, such simple models using demographics and personal history have thus far proven of limited predictive value in the general population [27]. Of potential predictors, educational attainment, a positive family history, and subjective memory complaints appear most informative, but their incremental value over merely age and gender is limited. In the setting of memory clinics, additional, more advanced tools are generally available for diagnosis. Biomarker levels of (phosphorylated) tau and β-amyloid in cerebrospinal fluid are consistently associated with a diagnosis of dementia or mild cognitive impairment due to AD [28], but this does not automatically translate into improved diagnostic accuracy above and beyond clinical observations [29]. Similarly, prediction of conversion from mild cognitive impairment to dementia might be improved by advanced (PET) imaging, but currently available data are deemed insufficient to recommend these expensive investigations for routine use in clinical setting [30]. Regardless, the stage at which patients present at memory clinics may be too late in the disease process to initiate a prevention trial, because those patients are symptomatic per definition. Standardization of any marker will be vital to prevent the large inter-site variability in measurements that currently hampers definition of prediction rules across clinical sites [31]. Moreover, diagnostic value cannot simply be inferred from association studies, and diagnostic accuracy strongly depends on the screening strategy and setting [32]. For example a biomarker with high sensitivity and low specificity can be very useful as a first screening phase in primary care, while it will likely not be very helpful in clinical setting. Similarly, a biomarker that is more reflective of late-state disease can be very useful in the monitoring disease course, whereas it will be of limited value in risk stratification in asymptomatic individuals. Screening strategy and setting will also largely affect cost-effectiveness, which should be taken into account in the development of any biomarker. While investigations in memory clinics generally include state-of-the-art brain imaging and cerebrospinal fluid samples, screening strategies in the general population, by contrast, should rely on more readily attainable measures from for instance blood, urine, or saliva. In any case, high intraindividual reliability is essential for disease monitoring, and for these tests to be applied in clinical trials. Given the multifactorial nature of dementia, incremental value of biomarkers for the prediction of dementia, or even Alzheimer's disease, is likely to be found only by the combination of multiple entities, rather than individual markers. Lastly, any candidate (set of) biomarker(s) will require validation in independent samples to confirm and establish their predictive value.

Similar to biomarker development, identification and validation of potential treatment targets is an important combined task for population, clinical, and translational medicine. As highlighted above, many modifiable risk factors for dementia have been identified, but lack of understanding of their biological underpinning has long hampered drug development. Amyloid has been the major target for drug interventions, but the string of negative trial results has led to fierce criticism in the field that amyloid might be a downstream result of changes leading to Alzheimer's disease [33]. The challenge for alternative theories is to explain why amyloid accumulates in the brain if it is not causing neurodegeneration while proposing reasonable alternative mechanisms for neurodegeneration in Alzheimer's disease. Alternatives that have been put forward include (but are not limited to) mechanisms related to microvascular function and neurovascular coupling, inflammation, angiogenesis, and lipid or iron metabolism. While these ideas frequently originate from observations in clinical or population studies, identification of the biological underpinning of these mechanisms relies on translational medicine. Yet, also at the preclinical stage, models in the past decades have been mostly aimed at overexpression of amyloid or tau, thereby overlooking a range of important determinants of dementia in population studies. Animal models are generally built on rare familial types of Alzheimer's disease, and may therefore not reflect the pathology of the common late onset, in which for example vascular disease and diabetes are prominent features. Although therapeutic targets may produce desired effects in transgenic mouse models, current animal studies have not been able to aid discovery of Alzheimer therapy, and have consequently faced criticism about questionable validity to reflect human disease [34]. At the same time, limitations to in vivo imaging of amyloid and tau have long precluded etiological research of amyloid and tau in humans, and still the required tracers at a price of around €1500 per acquired brain scan are generally beyond the scope of (large) population studies. Aside efforts to incorporate these types of research on a population level, the matching of findings from preclinical models to observations in clinical and population studies is vital to unravel pathophysiological mechanisms. It is this translation of group differences to the individual variation that is the biological underpinning of the disease. Understanding the interindividual differences in pathology and clinical presentation is the step forward to developing and electing proper treatments for very individual (future) patient.
5

Big Data and Precision Medicine

"Doctors have always recognized that every patient is unique, and doctors have always tried to tailor their treatments as best they can to individuals. You can match a blood transfusion to a blood type –that was an important discovery. What if matching a cancer cure to our genetic code was just as easy, just as standard? What if figuring out the right dose of medicine was as simple as taking our temperature?" With these words US President Barack Obama kicked of the Precision Medicine Initiative in early 2015. Aside short-term goals for personalizing cancer care, the long-term ambitions of the program focus on all areas of health, including neurological disease. And given the multifactorial and complex pathophysiological nature of dementia, a personalized approach in the development of interventions may benefit dementia as much as cancer therapy.

Over the past decades, the quest for unraveling the etiology of common diseases has led to instigation of multiple large studies in the general population. These studies' sizes range from 10,000 to 15,000 participants for community-based cohorts like the Framingham Heart Study and the Rotterdam Study [35, 36] to an intended 500,000 subjects examined for the UK Biobank and 1,000,000 for the US Precision Medicine Initiative. Already, these types of studies have shown to be valuable in identifying genetic risk alleles and imaging markers predisposing for dementia. Since the first genome-wide association studies in the early 2000s, increasingly large quantities of genetic data have revolutionized the way aforementioned research questions can be addressed. Together with epigenetics and proteomics, genomics and neuroimaging have yielded previously unimagined opportunities to obtain rich information about the influence of an individual's biological sketch and the environment on virtually any phenotype. But big data does not just allude to large quantity. More than sheer numbers, it is the opportunities presented by the combination of aforementioned modalities that allows hypothesis-free research of the -omics data. Also, the linkage of these cohort data to potential drug targets holds promise for drug development, as is increasingly acknowledged among researchers, funding agencies (e.g., the U.S. National Institutes of Health BD2K project), pharmaceutical industry, and consultant companies alike. By no means does such an approach substitute detailed study about disease pathways and singular treatment targets. On the contrary, sometimes this may lead directly to development of new drugs, such as for PCSK9 inhibitors [37, 38, 39], while arguably more often (genetic) data could be applied to increase success rate of drug development by selecting genetically supported drug targets from potential candidates [40, 41]. Also for Alzheimer's disease, genomics approaches have recently shown interest in identifying disease-relevant tissues, variants, and regulators [42].

At the same time, the diverse and often complex methods pose new challenges of their own. Data harmonization, storage, access and sharing, and analysis are some of the main hurdles to large-scale analyses and collaborations that can be taken only by international standardization , improvements in infrastructure for collaboration, and advanced technology for data acquisition, storage, and analyses. In addition, unlike genetic studies, application of proteomics and epigenetics is vulnerable to selection bias, confounding, and other biases that traditionally hamper research [43]. For example, while the UK Biobank achieves its intended 10% response rate [44], this is far lower than the response rates of about 60–80% in population-based cohort studies. Sufficient response rates are important to avoid selection bias and guarantee generalizability of findings to a larger population. Similarly, other fundamentals of epidemiology need to be upheld, such as avoidance of attrition, accuracy of outcome assessment, and accounting for potential biases. These methodological challenges cannot be counterbalanced by quantity, and warrant careful study design and choice of appropriate methods for data analysis. If, and only if, these hurdles can be overcome, the combination of powerful computational methods and large-scale -omics data with biological information about the disease from translational models has the potential to boost drug discovery and biomarker development. It may well be the bridge between observations in large-scale population data and (molecular) biology of a disease that can transform the -omics era into that of precision medicine, with Alzheimer's disease as one of its primary targets.
6

Concluding Remarks

The increasingly heavy burden of dementia on society poses one of the greatest challenges for modern medicine. Despite our best efforts, to date no disease-modifying treatments have evolved from identification of various risk factors in (clinical) populations. It is therefore not simply an option, but a necessity to combine insights and approaches in laboratory, clinics, and population setting toward the development of biomarkers and treatments for dementia. Science presents us with an increasing number of research tools to this aim. In the coming years, we are to use these tools inventively and in compliance with fundamental epidemiological principles, if we are to fulfil the potential for the development of preventive and curative interventions that these approaches hold.
Copyright information
© Springer Science+Business Media, LLC 2018