Systems Medicine for Lung Diseases: Phenotypes and Precision Medicine in Cancer, Infection, and Allergy
Part of the Methods in Molecular Biology book series (MIMB, volume 1386)
Abstract
Lung diseases cause an enormous socioeconomic burden. Four of them are among the ten most important causes of deaths worldwide: Pneumonia has the highest death toll of all infectious diseases, lung cancer kills the most people of all malignant proliferative disorders, chronic obstructive pulmonary disease (COPD) ranks third in mortality among the chronic noncommunicable diseases, and tuberculosis is still one of the most important chronic infectious diseases. Despite all efforts, for example, by the World Health Organization and clinical and experimental researchers, these diseases are still highly prevalent and harmful. This is in part due to the specific organization of tissue homeostasis, architecture, and immunity of the lung. Recently, several consortia have formed and aim to bring together clinical and molecular data from big cohorts of patients with lung diseases with novel experimental setups, biostatistics, bioinformatics, and mathematical modeling. This "systems medicine" concept will help to match the different disease modalities with adequate therapeutic and possibly preventive strategies for individual patients in the sense of precision medicine.
Key words
Asthma 
Allergy 
Infection 
Pneumonia 
Mycobacteria 
Immunology 
Transplantation 
Model organisms 
Gas exchange 
Personalized medicine 
1

Introduction

Among the ten most common causes of death worldwide, there are four pulmonary diseases, killing 9.5 million people per year (Fig.

1

) [

1

]. In addition, pneumonia, COPD, tuberculosis, and lung cancer are also among the ten most common causes of disability-adjusted life years (DALYs) lost worldwide. Pneumonia alone is the single most important cause of DALYs lost, more important than HIV/AIDS, ischemic heart disease, cerebrovascular disease, or diarrhea [

2

]. The total cost of lung diseases in the European Union amounts to more than €380 billion annually. In addition to the abovementioned diseases, asthma alone causes costs of over €72 billion, consisting of €19.5 billion for direct medical costs, €14.4 billion for lost productivity (work absence, early retirement, etc.), and €38.3 billion for monetized value of DALYs. Lung cancer causes the greatest socioeconomical loss from disability and premature mortality. Because of late diagnosis and limited treatment options, most treatment costs are concentrated within the year of the diagnosis. Therefore, the total annual costs per case are calculated as €364,000 for lung cancer [

2

].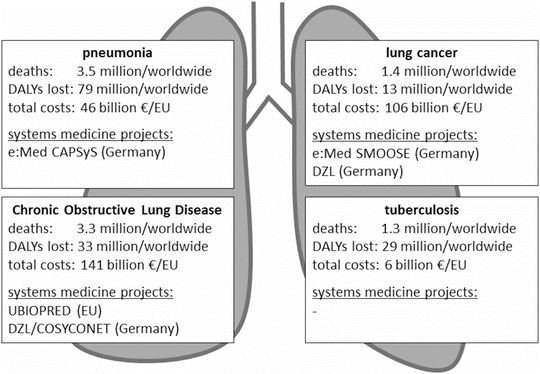 The lung and airways provide many unique features in terms of anatomy, physiology, and immunology. This paves the way for manifold pathologies and presents challenges for pulmonary clinicians and researchers. The lung is the body's largest organ, but contains about four liters of air and only about half a liter of tissue and the same amount of blood [3]. Therefore, the organ tissue has to be organized in a sophisticated and delicate way. The main function of the lung is the exchange of two gases, O2 and CO2, between the air that we breathe and the bloodstream. Three main processes are involved in this: ventilation of air along the bronchial tree, passive diffusion of gases, and perfusion of blood through the alveolar capillaries [4]. These processes are tightly regulated, and not every part of the lung is equally ventilated and perfused. Every day, about 10,000 l of air—containing pollutants, allergens, pathogens, etc.—is ventilated through the about 23 generations of dichotomically dividing airways and over a lung surface of about 130 m2 that is condensed mainly in over 300 million alveoli. The capillary surface has about the same size. Diffusion of oxygen critically depends on a short diffusion distance over the air–blood barrier [3]. In healthy lungs, the mean thickness of this tissue barrier is about 0.6 μm, consisting of very thin parts of alveolar epithelial type I cells and capillary endothelial cells sharing one single layer of basement membrane [5]. This delicate architecture is only possible due to the surfactant layer that lines the alveolar surface, reduces its surface tension, and is released by alveolar epithelial type II cells.
3

Methodological Challenges: "The Mouse Trap"

The basic aim of systems medicine is to model human pathophysiology and disease to advance our understanding and to improve clinical diagnosis and treatment. Therefore, it is a logical and straightforward strategy to establish big and well-characterized patient cohorts to collect as many clinical and molecular data as possible—and suitable—as a solid base for this modeling process. However, certain processes or features cannot be observed or tested neither in healthy volunteers nor in patients. This includes the early origins of disease, e.g., environmental influence on asthma predisposition that may be epigenetically transferred from mother to child, the initial pathophysiological events in the alveolus during development of an influenza virus-induced pneumonia, and many more. In part, these problems can be resolved by the use of cell culture or tissue culture models [26]. However, some aspects can only be addressed in a living organism. In the past, for academic experimental research as well as for drug candidate studies for subsequent human trials, mice have been used to model human diseases because of the practical convenience (easy handling and low costs), the possibility to generate transgenic or gene knockout animals, and the availability of molecular and immunological tools [27]. However, certain caveats have to be kept in mind: Firstly, some of the lung diseases, e.g., asthma, are unique to humans and do not occur naturally in mice. Secondly, the anatomy and (patho-)physiology may differ significantly between mice and humans. Besides the obvious size difference—the human lung has a volume of 5 l, and the murine lung has a volume of 1 ml—there are also significant anatomical and physiological differences. For instance, the human airways have 23 generations, and the murine has only 13–16, the human airway division is dichotomic, and the murine airway division is monopod; mice do not have respiratory bronchioli, and the cellular composition and vascularization of the lung are different for both species [5, 27, 28]. Moreover, mice strains differ in their likelihood to react to stressors with certain pathophysiological events. In addition, there is increasing evidence that the immune systems of mice and men differ significantly. For trauma, burns, and endotoxemia, Seok and co-workers compared gene response patterns between human subjects and corresponding mouse models: They found that these stressors resulted in highly similar patterns in humans, whereas the responses in corresponding mouse models showed only poor correlations with human conditions and also among each other [29]. Accordingly, there are several examples where the reliance on animal models misguided the pathophysiological understanding [28], led to unsuccessful clinical trials [29], or even resulted in disastrous outcomes of clinical studies [30]. This may be in part due to differences in the molecular repertoire of immune cells in mice and humans: For example, the inherent versatility of macrophages harbors the potential for a plethora of different activation subtypes [31]. Inappropriate polarization can be detrimental to the host, as macrophages can potentiate an inapt immune response and thus aggravate a pathological condition: In rodents, alveolar macrophages have been found to play an important role for the development of airway hyperresponsiveness in allergic animals [32, 33]. In mice, solid markers for macrophage polarization are established, as is exemplified by the well-described induction of NOS2 in M1(IFNγ) and of ArgI in M2 (IL-4) macrophages. Corresponding functional markers in the human system are yet to be found, and there are notable differences between human and murine macrophage activation patterns on the transcriptional level [34]. Accordingly, a comparative study of M2 (IL-4) polarization in mouse and man shows very limited interspecies consistency, as only transglutaminase 2 (TGM2) was found to be a functional marker shared by both [35].
5

Perspectives

Despite all clinical and scientific efforts so far, lung diseases cause an enormous suffering and death toll from patients and socioeconomical costs for our societies and health-care systems, especially in the fields of infection, malignancies, chronic noncommunicable diseases, and allergy. This may be in part due to complicated, even prenatal, timelines, and heterogeneous clinical phenotypes. On the other hand, new scientific insights, e.g., in the role of the microbiome and noncoding RNA, and new technological developments, e.g., the new sequencing technologies, may help us to improve our clinical performance in future. But these tremendous amounts of clinical and molecular data require a new way of organizational, technological, and intellectual cooperation between many clinical, experimental, and theoretical disciplines, called "systems medicine." Many questions remain to be answered: What type and amount of clinical data do we need and can we afford to collect and analyze? What will be the role of animal models, human tissue models, complex cell culture models, or even artificial organs on a chip? How can we bring all these complex and multilevel data together by means of mathematics and computer science? Improving clinical practice in respiratory medicine will require enthusiasm and hard work from all participating physicians and scientists, as well as sustained support by our governments, funding agencies, and all stakeholders of our health-care systems.
Notes
Acknowledgments
We thank many collaborators for fruitful discussion, especially Annalisa Marsico, Brian Caffrey, and Martin Vingron. Part of this work has been funded by BMBF (e:bio miRSys, FKZ 0316175B, and e:Med CAPSYS, FKZ 01X1304E) to B.S. and J.V., and DFG (SFB/TR-84) and HMWK (LOEWE Medical RNomics—FKZ 519/03/00.001-(0003)) to B.S. We would like to apologize to all colleagues whose excellent contributions to the field could not be included in this text due to space constraints.
References
1.

2.

Gibson GJ, Loddenkemper R, Sibille Y, Lundbäck B (2013) The European lung white book. European Respiratory Society, Sheffield

Google Scholar

3.

Murray JF (2010) The structure and function of the lung. Int J Tubercul Lung Dis 14:391–396

Google Scholar

4.

Wagner PD (2015) The physiological basis of pulmonary gas exchange: implications for clinical interpretation of arterial blood gases. Eur Respir J 45:227–243

CrossRef

PubMed

Google Scholar

5.

6.

Angus DC, Marrie TJ, Obrosky DS et al (2002) Severe community-acquired pneumonia: use of intensive care services and evaluation of American and British Thoracic Society Diagnostic criteria. Am J Respir Crit Care Med 166:717–723

CrossRef

PubMed

Google Scholar

7.

Ewig S, Birkner N, Strauss R et al (2009) New perspectives on community-acquired pneumonia in 388 406 patients. Results from a nationwide mandatory performance measurement programme in healthcare quality. Thorax 64:1062–1069

PubMedCentral

CrossRef

PubMed

Google Scholar

8.

9.

10.

Horby PW, Pfeiffer D, Oshitani H (2013) Prospects for emerging infections in East and Southeast Asia 10 years after severe acute respiratory syndrome. Emerg Infect Dis 19:853–860

PubMedCentral

CrossRef

PubMed

Google Scholar

11.

12.

13.

14.

Accordini S, Corsico AG, Braggion M et al (2013) The cost of persistent asthma in Europe: an international population-based study in adults. Int Arch Allergy Immunol 160:93–101

CrossRef

PubMed

Google Scholar

15.

16.

17.

Gonem S, Desai D, Siddiqui S et al (2011) Evidence for phenotype-driven treatment in asthmatic patients. Curr Opin Allergy Clin Immunol 11:381–385

CrossRef

PubMed

Google Scholar

18.

19.

Sethi S, Murphy TF (2008) Infection in the pathogenesis and course of chronic obstructive pulmonary disease. N Engl J Med 359:2355–2365

CrossRef

PubMed

Google Scholar

20.

Huang JB, Liang J, Zhao XF et al (2013) Epigenetics: novel mechanism of pulmonary hypertension. Lung 191:601–610

CrossRef

PubMed

Google Scholar

21.

Colvin KL, Yeager ME (2015) Proteomics of pulmonary hypertension: could personalized profiles lead to personalized medicine? Proteomics Clin Appl 9:111–120

CrossRef

PubMed

Google Scholar

22.

23.

Reck M, Heigener DF, Mok T et al (2013) Management of non-small-cell lung cancer: recent developments. Lancet 382:709–719

CrossRef

PubMed

Google Scholar

24.

25.

Kurmi OP, Arya PH, Lam KB et al (2012) Lung cancer risk and solid fuel smoke exposure: a systematic review and meta-analysis. Eur Respir J 40:1228–1237

CrossRef

PubMed

Google Scholar

26.

Hocke AC, Becher A, Knepper J et al (2013) Emerging human Middle East respiratory syndrome coronavirus causes widespread infection and alveolar damage in human lungs. Am J Respir Crit Care Med 188:882–886

CrossRef

PubMed

Google Scholar

27.

Holmes AM, Solari R, Holgate ST (2011) Animal models of asthma: value, limitations and opportunities for alternative approaches. Drug Discov Today 16:659–670

CrossRef

PubMed

Google Scholar

28.

Mullane K, Williams M (2013) Alzheimer's therapeutics: continued clinical failures question the validity of the amyloid hypothesis-but what lies beyond? Biochem Pharmacol 85:289–305

CrossRef

PubMed

Google Scholar

29.

30.

Horvath C, Andrews L, Baumann A et al (2012) Storm forecasting: additional lessons from the CD28 superagonist TGN1412 trial. Nat Rev Immunol 12:740

CrossRef

PubMed

Google Scholar

31.

32.

Zaslona Z, Przybranowski S, Wilke C et al (2014) Resident alveolar macrophages suppress, whereas recruited monocytes promote, allergic lung inflammation in murine models of asthma. J Immunol 193:4245–4253

PubMedCentral

CrossRef

PubMed

Google Scholar

33.

Pouliot P, Spahr A, Careau E et al (2008) Alveolar macrophages from allergic lungs are not committed to a pro-allergic response and can reduce airway hyperresponsiveness following ex vivo culture. Clin Exp Allergy 38:529–538

CrossRef

PubMed

Google Scholar

34.

Martinez FO, Gordon S (2014) The M1 and M2 paradigm of macrophage activation: time for reassessment. F1000prime reports 6:13

Google Scholar

35.

Martinez FO, Helming L, Milde R et al (2013) Genetic programs expressed in resting and IL-4 alternatively activated mouse and human macrophages: similarities and differences. Blood 121:e57–69

CrossRef

PubMed

Google Scholar

36.

37.

Mochan E, Swigon D, Ermentrout GB et al (2014) A mathematical model of intrahost pneumococcal pneumonia infection dynamics in murine strains. J Theor Biol 353:44–54

PubMedCentral

CrossRef

PubMed

Google Scholar

38.

39.

Klapdor B, Ewig S, Pletz MW et al (2012) Community-acquired pneumonia in younger patients is an entity on its own. Eur Respir J 39:1156–1161

CrossRef

PubMed

Google Scholar

40.

Marino S, Kirschner DE (2004) The human immune response to Mycobacterium tuberculosis in lung and lymph node. J Theor Biol 227:463–486

CrossRef

PubMed

Google Scholar

41.

Segovia-Juarez JL, Ganguli S, Kirschner D (2004) Identifying control mechanisms of granuloma formation during M. tuberculosis infection using an agent-based model. J Theor Biol 231:357–376

CrossRef

PubMed

Google Scholar

42.

Sud D, Bigbee C, Flynn JL et al (2006) Contribution of CD8+ T cells to control of Mycobacterium tuberculosis infection. J Immunol 176:4296–4314

CrossRef

PubMed

Google Scholar

43.

44.

Ray JC, Wang J, Chan J et al (2008) The timing of TNF and IFN-gamma signaling affects macrophage activation strategies during Mycobacterium tuberculosis infection. J Theor Biol 252:24–38

PubMedCentral

CrossRef

PubMed

Google Scholar

45.

Ray JC, Flynn JL, Kirschner DE (2009) Synergy between individual TNF-dependent functions determines granuloma performance for controlling Mycobacterium tuberculosis infection. J Immunol 182:3706–3717

PubMedCentral

CrossRef

PubMed

Google Scholar

46.

Magombedze G, Mulder N (2013) Understanding TB latency using computational and dynamic modelling procedures. Infect Genet Evol 13:267–283

CrossRef

PubMed

Google Scholar

47.

Venegas JG, Winkler T, Musch G et al (2005) Self-organized patchiness in asthma as a prelude to catastrophic shifts. Nature 434:777–782

CrossRef

PubMed

Google Scholar

48.

Brook BS, Peel SE, Hall IP et al (2010) A biomechanical model of agonist-initiated contraction in the asthmatic airway. Respir Physiol Neurobiol 170:44–58

CrossRef

PubMed

Google Scholar

49.

50.

51.

Chernyavsky IL, Croisier H, Chapman LC et al (2014) The role of inflammation resolution speed in airway smooth muscle mass accumulation in asthma: insight from a theoretical model. PLoS One 9:e90162

PubMedCentral

CrossRef

PubMed

Google Scholar

52.

Bel EH, Sousa A, Fleming L et al (2011) Diagnosis and definition of severe refractory asthma: an international consensus statement from the Innovative Medicine Initiative (IMI). Thorax 66:910–917

CrossRef

PubMed

Google Scholar

53.

Auffray C, Adcock IM, Chung KF et al (2010) An integrative systems biology approach to understanding pulmonary diseases. Chest 137:1410–1416

CrossRef

PubMed

Google Scholar

54.

55.

56.

57.

58.

Wolfe RA, Roys EC, Merion RM (2010) Trends in organ donation and transplantation in the United States, 1999–2008. Am J Transplant 10:961–972

CrossRef

PubMed

Google Scholar

59.

Pison C, Magnan A, Botturi K et al (2014) Prediction of chronic lung allograft dysfunction: a systems medicine challenge. Eur Respir J 43:689–693

CrossRef

PubMed

Google Scholar

60.

61.

Newton PK, Mason J, Bethel K et al (2013) Spreaders and sponges define metastasis in lung cancer: a Markov chain Monte Carlo mathematical model. Cancer Res 73:2760–2769

PubMedCentral

CrossRef

PubMed

Google Scholar

62.

63.

Chakraborty S, Balakotaiah V, Bidani A (2007) Multiscale model for pulmonary oxygen uptake and its application to quantify hypoxemia in hepatopulmonary syndrome. J Theor Biol 244:190–207

CrossRef

PubMed

Google Scholar

64.

65.

66.

Markovetz MR, Corcoran TE, Locke LW et al (2014) A physiologically-motivated compartment-based model of the effect of inhaled hypertonic saline on mucociliary clearance and liquid transport in cystic fibrosis. PLoS One 9:e111972

PubMedCentral

CrossRef

PubMed

Google Scholar
Copyright information
© Springer Science+Business Media New York 2016