Abstract
If your city or region is big enough to have transit at all, it's big enough to have debates about how to apportion service among different communities. Every transit system serves areas where ridership is high and other areas where it's lower. Should higher ridership lead to better service? If not, how should a transit system divide up its resources among the communities it serves? To answer this unavoidable question, you have to think about why you're running public transit at all.
Keywords
Public Transit

Transit System

Residential Density

Dwelling Unit

Transit Line
These keywords were added by machine and not by the authors. This process is experimental and the keywords may be updated as the learning algorithm improves.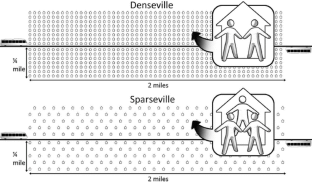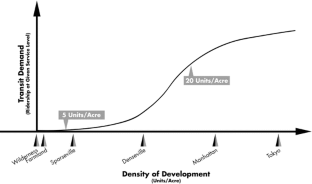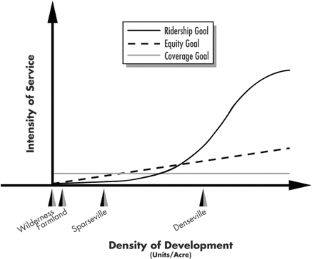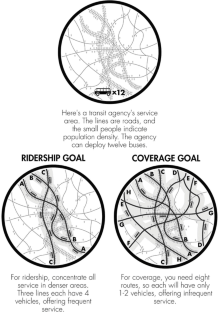 Notes
1.

This chapter is based on my 2008 paper "Purpose Driven Public Transport: Creating a Clear Conversation about Public Transport Goals," Journal of Transport Geography 16 (2008): 436-42. That paper contains additional detail on techniques for developing the suggested policies.

2.

To avoid clutter, I omit metric conversions of the simple distances used in this section. A mile is about 1.6 km. A square mile is about 2.6 square km or 259 hectares.

3.

A boarding is the event of one person stepping onto a transit vehicle.(Each round-trip, of course, is two boardings.)

4.

As often, I use the word bus here because there is no word for "transit vehicle of any technology." The references to overloading here assume a standard bus with around forty seats, but apart from that, this entire section is based on facts of geometry that are the same for buses, trains, streetcars, ferries, and so on.

5.

In practice, a network designed to a Ridership Goal may serve Sparseville via a large park-and-ride nearby, which allows Sparseville residents to gather at one stop so that they can be served efficiently. Service that circulates through Sparseville, however, is rarely justified by a Ridership Goal.
About this chapter
Cite this chapter
Walker, J. (2012). Ridership or Coverage? The Challenge of Service Allocation. In: Human Transit. Island Press, Washington, DC. https://doi.org/10.5822/978-1-61091-174-0_10
DOI: https://doi.org/10.5822/978-1-61091-174-0_10

Publisher Name: Island Press, Washington, DC

Online ISBN: 978-1-61091-174-0