The Impossible Trinity in China
Abstract
The Impossible Trinity, also known as the trilemma, is a policy-choice problem based on the Mundell–Flemming model (Mundell 1963; Flemming 1962), which states that it is impossible for a country to have control of all three of the following variables at the same time (Figure 1.1): a fixed exchange rate (i.e. control of the exchange rate); an open capital account (i.e. control of the capital account); and an independent monetary policy (i.e. control of the interest rate). It is both a hypothesis based on the uncovered interest rate parity condition
1
and an empirical finding showing that governments that have tried to simultaneously pursue all three goals have failed.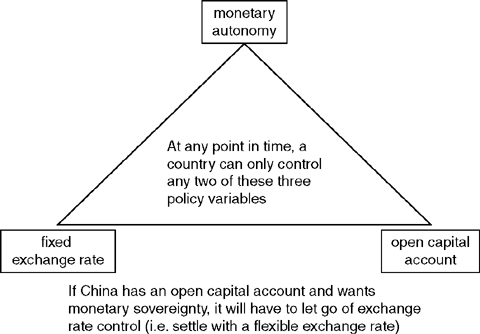 Keywords
Exchange Rate 
Foreign Direct Invest 
Capital Inflow 
Capital Account 
Exchange Rate Stability 
These keywords were added by machine and not by the authors. This process is experimental and the keywords may be updated as the learning algorithm improves.