Presenteeism: A Costly Affair for Employers
Abstract
The term
presenteeism
was coined by Cary Cooper, professor of Organizational Psychology and Health, Lancaster University. 'Dictionary.com' defines presenteeism from two different angles: 'The practice of coming to work despite illness, injury, anxiety, etc., often resulting in reduced productivity'; and 'The practice of working long hours at a job without the real need to do so'. In fact, various authors have described the nature and impact of presenteeism differently to reflect how they view this type of employee behaviour. Some of their definitions are presented in Box 2.1.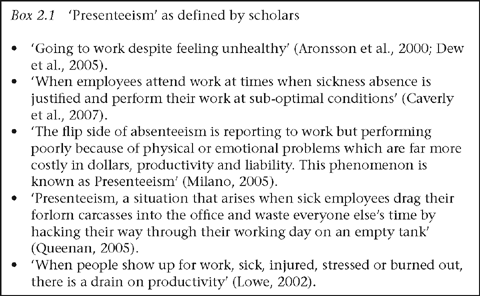 Keywords
Sickness Absence 
Productivity Loss 
Emotional Exhaustion 
Sickness Presenteeism 
Obese Worker 
These keywords were added by machine and not by the authors. This process is experimental and the keywords may be updated as the learning algorithm improves.